Miami Dade College Selects First Female President In School's 60 Year History
Twenty months and two presidential searches later—Miami Dade College finally has its next president.
The Board of Trustees unanimously selected Madeline Pumariega, the daughter of Cuban immigrants and a former basketball player at Kendall Campus, as the College's fifth permanent president Tuesday morning. 
She is the school's first female president.
"To every young girl out there, I was the first Hispanic and first female Chancellor [of the Florida College System] and I'm now the first female president of the College," Pumariega said in an interview with The Reporter. "We can [do it] together—we can for sure."
The BOT deliberated for less than 15 minutes before trustee Marcell Felipe made a motion recommending Pumariega. Within seconds, the rest of the board supported the decision.
"Madeline is someone that has combined local knowledge of the community and the state-level experience to understand the Florida college system and all the politics that go into it," Felipe said. "[She] is always putting students first. She knows that the whole mission behind the institution is to help students get ahead in education. She focuses on lowering tuition to make sure it is accessible. Her focus on students is excellent."
Pumariega, 53, who was inducted into the MDC Hall of Fame in 2018, will return to her alma mater seven years after she left the College to serve as president and chief executive officer of Take Stock in Children, an organization that provides mentors and scholarships to low-income kids.
"Madeline is a graduate of the College, as well as a former campus president, and has proven again and again her commitment to the College and to the students," said Mark Richard, former president and current counsel to the United Faculty of Miami Dade College. "The process was transparent and the trustees kept their word that it would be fair. We're looking forward to working with Madeline so she can continue to do her good work at MDC."
Hialeah Girl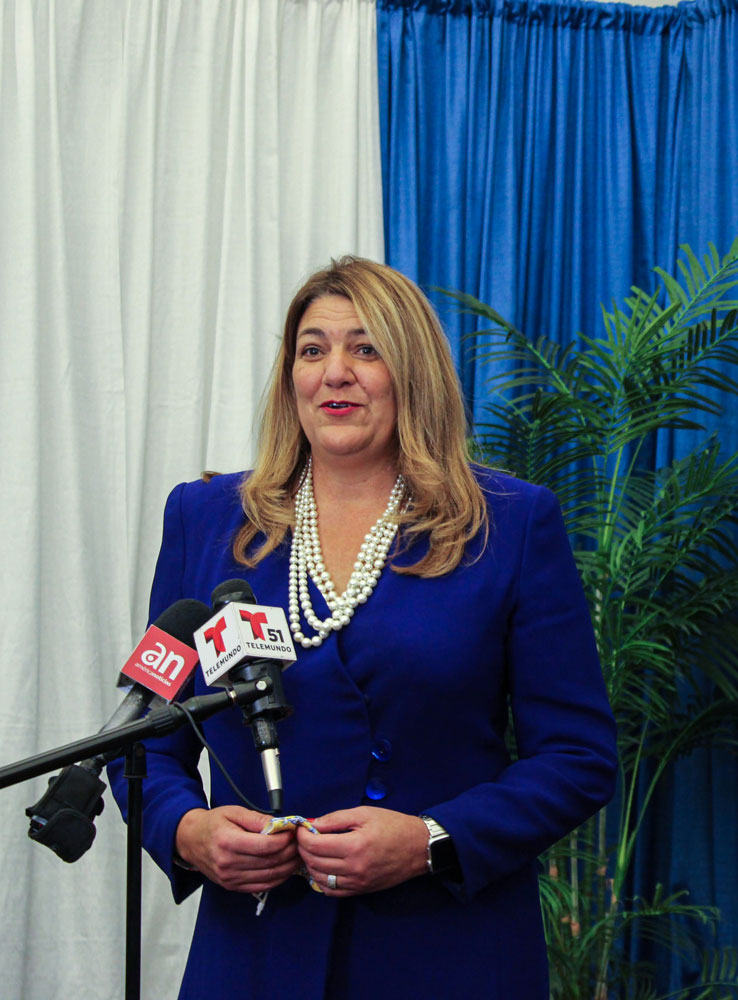 Pumariega, a graduate of Hialeah Senior High School, started at the College as a student-athlete at Kendall Campus. She played on the women's basketball team from 1986-87.
"I was rooting for her, mostly because she's a Miami girl, and that famous line they were referring to—that she'll always be a Hialeah girl—really stuck with me," said Anthony Valenzuela, president of the Kendall Campus Student Government Association. "I think that is who Miami Dade College needs, someone who is bonded with the community the way she is. She's gonna be an excellent asset and leader for Miami Dade College."
In 1988, she started her professional career at MDC, taking a part-time job as an assistant women's basketball coach. During her 25 years at the College, Pumariega completed stints as an academic advisor and adjunct faculty at Kendall Campus, dean of students at Wolfson Campus, and dean of students and administration at Medical Campus.
She was promoted to Wolfson Campus president in 2011, playing an integral role in expanding the Culinary Institute and launching The Idea Center.
A year later, she was diagnosed with breast cancer and was at a personal crossroads. After some soul-searching, she left MDC in 2013 to lead Take Stock in Children.
"Take Stock was so good for my soul," Pumariega said. "To be there with students and [make] a difference statewide." 
Two years later, she was selected as the first female and Hispanic Chancellor of the Florida College System, which serves around 800,000 students throughout 28 colleges in the state. 
She is currently the executive vice president and provost at Tallahassee Community College, where she has worked for a year and a half. 
Pumariega is expected to start at MDC the first week of January and get a $500,000 compensation packet. 
"She is part of the history at MDC," said Rolando Montoya, who has served as the College's interim president for the past 14 months. "She knows the institution very well [and] has a lot of experiences that she can now bring back to our college."
Search's History
The College started searching for a new president in February 2019 after Eduardo J. Padrón, who worked at MDC for almost five decades and served as college president for 24 years, decided to step down.
Tuesday's quick decision stood in stark contrast to the College's initial query, which ended with the BOT rebooting the process on July 24, 2019 instead of selecting a new president. They argued that the pool of candidates wasn't diverse enough but kept MDC's Executive Vice President and Provost Lenore Rodicio, who was a finalist, as the lone holdover in the process. 
Faculty protested the decision, saying the community had been hoodwinked and the decision was fraught with backdoor polyticking. A week later, eight MDC professors filed a lawsuit against the BOT to demand transparency.
On September 17, 2019, the College tabbed Montoya, who was retired at the time, to serve as interim president; three weeks later, they hired AGB Search to continue looking for Padrón's replacement. 
Despite that, controversy continued to swirl around the search. On March 5 of this year, a conga line of professors carried a wooden coffin in front of Kendall Campus as a protest, calling the search a sham and saying it was akin to the "death of education."
Then the coronavirus pandemic hit and the College decided to cancel in-person classes on March 12 before going online 17 days later. That impacted the new presidential search because candidates had until March 21 to apply so the College extended the deadline to Oct. 23.
Combined, both searches cost MDC more than $350,000.
Tuesday's Interviews
Pumariega, Rodicio, Morgan Phillips (the vice chancellor for academic excellence at Pima Community College) and Gregory Fowler (the president of Southern New Hampshire University's Global Campus) all made their pleas to the MDC community last week and were allotted 45-minute interviews with the BOT today.
The candidates were to the point, allowing the process to end two hours early.
Phillips, who stood out to the presidential search committee because of his focus on relationship-building and collaborative leadership, mentioned three times during his interview that he would need time to acclimate himself to MDC and the local community.
Fowler used a barrage of inspirational quotes, including selections from Harry Truman, Steve Jobs and the late Clayton Christensen, who was an academic consultant. He also used a bevy of sports analogies and re-emphasized the need to remain innovative to stay relevant.
Rodicio wore a navy blue blazer as she walked briskly into the Chapman Center. She was methodical, answering eight questions in less than 30 minutes, and unlike previous interviews, her voice did not tremble at the start of her presentation. 
She seemed at ease, even drawing a laugh from the crowd when she answered a question about the best leader she has worked for.
"This is in no way a reflection of any of the other leaders I've worked with, as I know one of them is sitting behind me," Rodicio said shortly before naming her former boss at the then InterAmerican Campus (now the Eduardo J. Padrón Campus), Gina Cortés-Suárez. The crowd erupted in laughter because Montoya was seated behind Rodicio. 
In a letter of recommendation during the first search, Padrón called Rodicio the most competent and complete person he has ever met. 
During her 18 years at the school, her roles have included stints as a professor, department chairperson, dean, project director, vice provost and—most recently—executive vice president and provost. 
Trustee Bernie Navarro, who advocated for Rodicio during the last search, called her a great candidate but said the board was seeking a different skill set. 
"Now it's time for the process to end," Navarro said. "Time to heal. Time for our institution, Miami Dade College, to move forward with Madeline." 
Pumariega, who was the last candidate to apply for the position, said she is ready for that challenge.
"I'm very grateful and ready to usher in the next era of excellence at Miami Dade College," she said.
Staff writer Kevin Boulandier contributed to this story.