Padrón Stepping Down As MDC President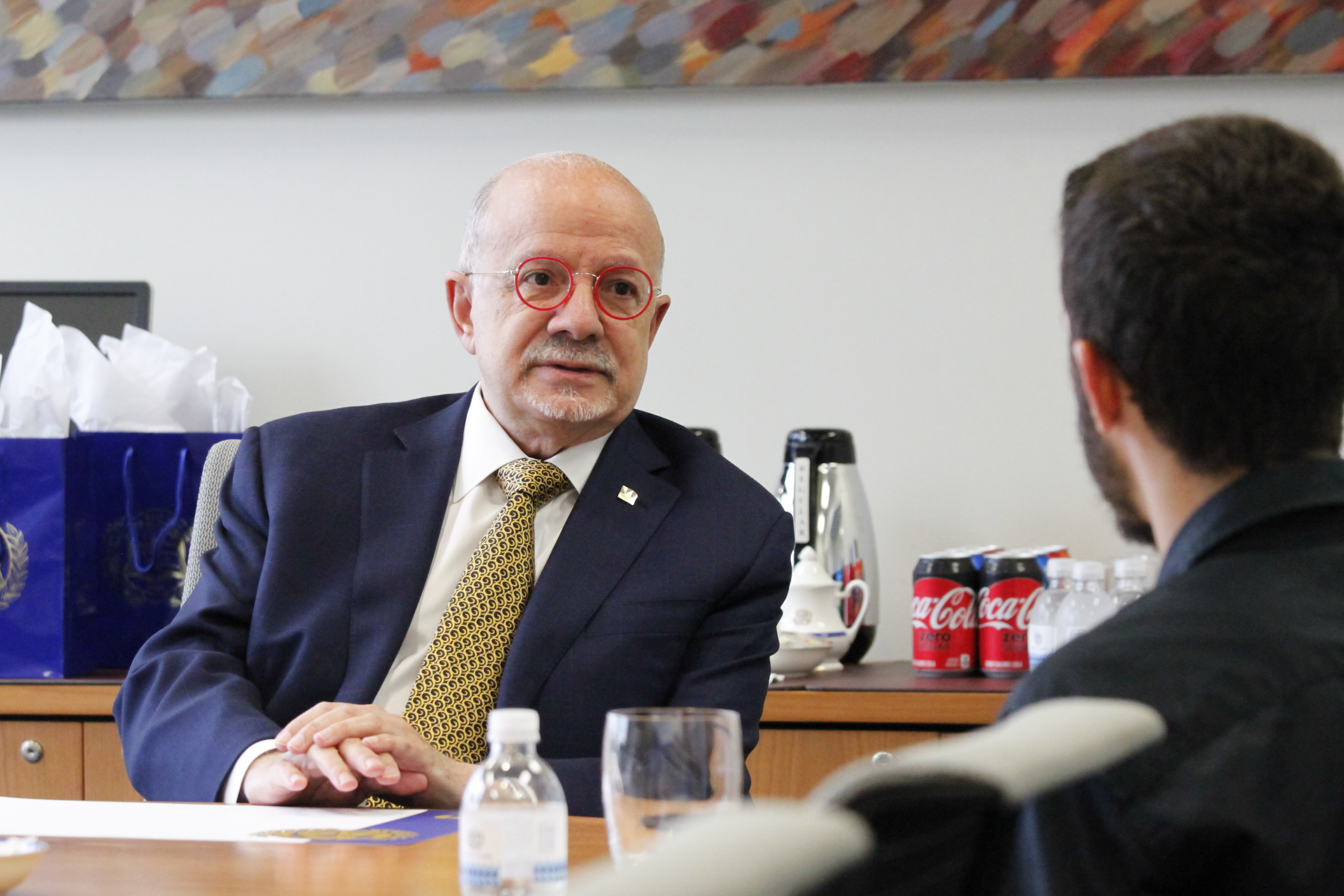 After almost five decades at Miami Dade College, Eduardo J. Padrón is stepping down from his role as College president.
Padrón, 74, informed the Board of Trustees earlier this month that he will be retiring in August of 2019. He has served as MDC's president since 1995, guiding the largest educational institution in the country.
"I believe it is now time for new leadership that will continue our commitment to student access, success and innovation," Padrón said in a press release. "This was not an easy decision, as my love and passion for this great institution are deeply rooted. Yet in my heart, I know it is time to close this chapter of my life."
According to the press release, Padrón will assist the College and the board in finding his successor, with the national search commencing immediately.
Padrón joined the College as a member of the faculty in 1970 and rose through the administrative ranks, serving as an assistant professor of economics, chairperson of the institute of culture and language training, director of the division of special programs and continuing education and academic dean, all at Wolfson Campus. He then served as Wolfson Campus president from 1980 to 1995.
He briefly retired for a month in 2006 before returning to his role as College president.
After he retires, Padrón will serve as President Emeritus and will become more active in national and community causes.
Under Padrón's leadership, the College graduated more minorities than any other institution in the United States, including the largest number of Hispanics and African-Americans, according to MDC.
He spearheaded the creation of the West, Hialeah and InterAmerican Campuses and the College's offering of baccalaureate degrees. He also helped launch relationships with the Miami Culinary Institute, the Miami Fashion Institute, the Miami Animation and Gaming Complex (MAGIC) and the Idea Center.
Padrón was also instrumental in reviving some of Miami's cultural touchstones. In 2005, the Freedom Tower in Downtown Miami was donated to the College, which now houses the MDC Museum of Arts and Design. He was also a co-founder of Miami Book Fair and obtained the Miami Film Festival from Florida International University, both becoming national beacons for their respective mediums.
One of the most significant events of Padrón's time at MDC was his staunch support of students protected by Deferred Action for Childhood Arrivals (DACA), known as "Dreamers" due to the never-passed DREAM Act. Gabriela Pacheco, one of the initial "Dreamers" at MDC, credits Padrón with her growth and believes it will be hard to replace him.
"He will be known as the biggest visionary in higher education," said Pacheco, who is also the founder of TheDream.US, an organization dedicated to providing educational opportunities to low-income dreamers. "The only thing I can think about right now is, who can do the job that he did?"
During his tenure, MDC has consistently received national recognition for its longstanding involvement with its urban community, its catalytic effect for social and economic change, and for the marked difference, the College has made in student access and success.
"I have been profoundly honored to serve as chairman of the Board of Trustees during Dr. Padrón's tenure," said Bernie Navarro, chairman of the college's Board of Trustees in a press release. "He has truly left an indelible mark on the college, community and nation with an unparalleled and impeccable career of service with integrity, passion, dignity, humanity, and empathy. My fellow trustees and I wish him nothing but the very best."
Padrón's time at MDC has centered around one idea: opportunity. He holds it as the driving force that has kept him at the College.
"Different people think of opportunity in different ways," Padrón said in an October interview with The Reporter. "Opportunity is something that I value tremendously. I would not be here today if it had not been for the opportunity that was provided to me."
That sense of opportunity was felt among the staff.  
"Dr. Padrón introduced, modeled, and inspired the notion of "Students First" at Miami Dade College," North Campus President Malou C. Harrison told The Reporter in an interview last October. She previously served as Padrón's chief-of-staff.
The notion was evident in his effect on them, helping students aspire for larger opportunities.
"Through him, I learned what it takes to be a leader," said Carolina Mendoza, president of the Student Government Association at Wolfson Campus, who also credits him with financially helping her. "Most importantly, my hard work never went unnoticed. He would always reach out after every class I would attend or every event and speech I participated in to congratulate me."
Despite his active involvement with MDC, Padrón's ventures haven't remained in Miami.
Since 2009, Padrón has served on the Council on Foreign Relations, an organization centered on U.S. foreign policy. He joined the Council's board of directors in 2011, where has spearheaded task forces to explore the current role of higher education, how the educational system can be reformed to improve our national security and how to develop the workforce to meet the current demands of the economy.
Padrón is also a member of the Aspen Institute's Knight Commission on Trust, Media and Democracy, a group examining the growing distrust of democratic institutions. Other members include University of Pennsylvania president Amy Gutmann and Texas Tribune founder John Thornton, among other distinguished professionals.
His accolades include being awarded the Presidential Medal of Freedom in 2016 and he was listed in Time Magazine as one of "The Ten Best College Presidents" in 2009.
Padrón received his associate's degree in business administration from MDC, a bachelor's degree from Florida Atlantic University and a master's and doctorate from the University of Florida.
As MDC nears its 60th anniversary next year, Padrón believes the timing is right for a new leader that "is fully committed to advancing the College to new heights."
"I have been blessed with the loyalty, support, and encouragement you have provided me throughout the years," Padrón said in the press release. "The foundation we have created is solid and will allow the new president to build upon it to accomplish great things on behalf of our community."
Christian Ortega contributed to this article.