Last Candidate Standing In Miami Dade College Presidential Search—For Now.
Who is Lenore Rodicio?
"I am not Eduardo Padrón," Rodicio emphatically told the Board of Trustees during her finalist interview on July 24, minutes before they rebooted the five-month presidential search process, temporarily leaving her as the lone candidate. 
Miami Dade College's provost continued: "I've had the honor of working with him and seeing what he has built at this institution and the legacy that he's left behind. I don't think there is anyone in this room that can argue that he has built a remarkable institution over the past 25 years… if I am so honored to be your next president, I would honor that legacy of innovation. But there are a lot of things I would do differently."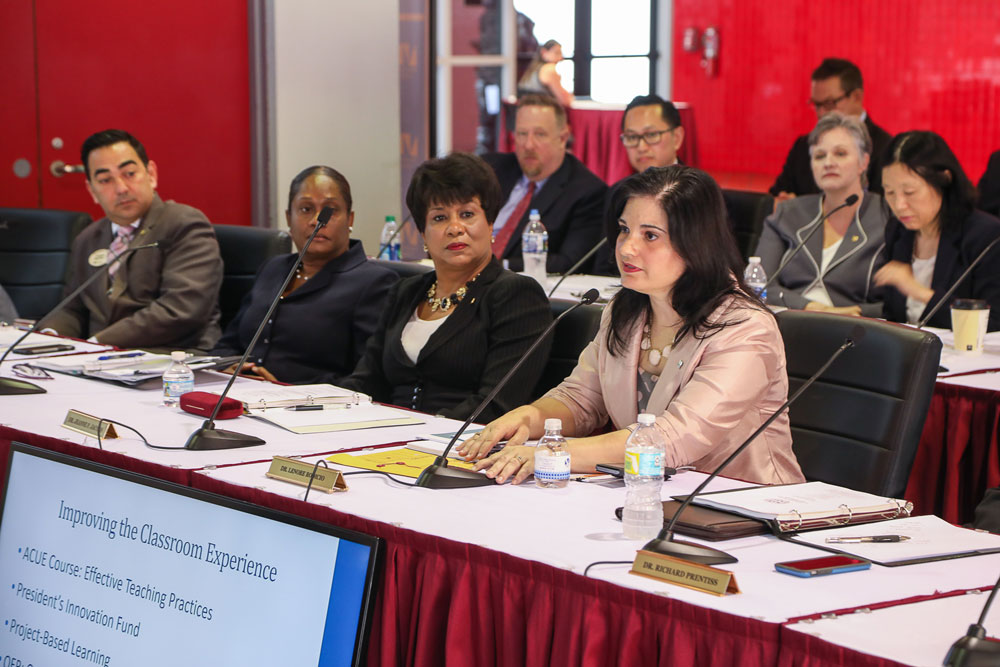 Others aren't so sure. Trustee Marcell Felipe seemed skeptical when he questioned her during her Board interview. 
"How would you balance following in the footsteps of such a great leader while maintaining your own independence and voice," Felipe asked. "Not simply a successor that will answer to a former president rather than a board."
She was the only candidate asked that question, one of many that remain as MDC looks to replace Padrón, who has led the College for the past 25 years. 
Board member Michael Bileca believes the College tried catching a big fish in a small pond during the initial search. He pushed to broaden the search pool. 
"There was a candidate that was a step above, or a couple steps above the rest of the candidate pool," Bileca said during the final deliberations in late July. "My concern has been the pool. We fished in a narrow pond. My questions went more to metrics today, 'How many students? What is the completion rate? How many people were you managing?' We heard vastly different interpretations of what a budget is. When you boil it all down, we're looking at some student populations that are a tenth of our current college. Smaller than most of our individual campuses. We weren't interviewing for a campus president, we're interviewing for a president of a system that is the top performing system in the country."  
Felipe and Bileca did not respond to a request for an interview from The Reporter for this story.   
Is Rodicio a safety blanket to an institution that has seen incredibly rare continuity under Padrón's leadership? 
"They feel safe. Some people have been working here for 30, 40, 15, 20 years and they've built something," said Miami Animation & Gaming International Complex Department Chairperson Mauricio Ferreza. "Dr. Rodicio represents keeping what they've built and moving forward."  
Jay Lemons, president of the headhunting firm Academic Search, understands such logic. 
"When you have an extraordinary leader like Eduardo J. Padròn who has served [MDC] extraordinarily well and really has had an impact on the national higher education environment, there is a lot of belief in furthering that vision," Lemons said. "It's easy for me to understand how a campus community would be inclined to want to see continuity rather than change. So perhaps it's the case that the internal community views the internal candidate in that light."
The Lone Finalist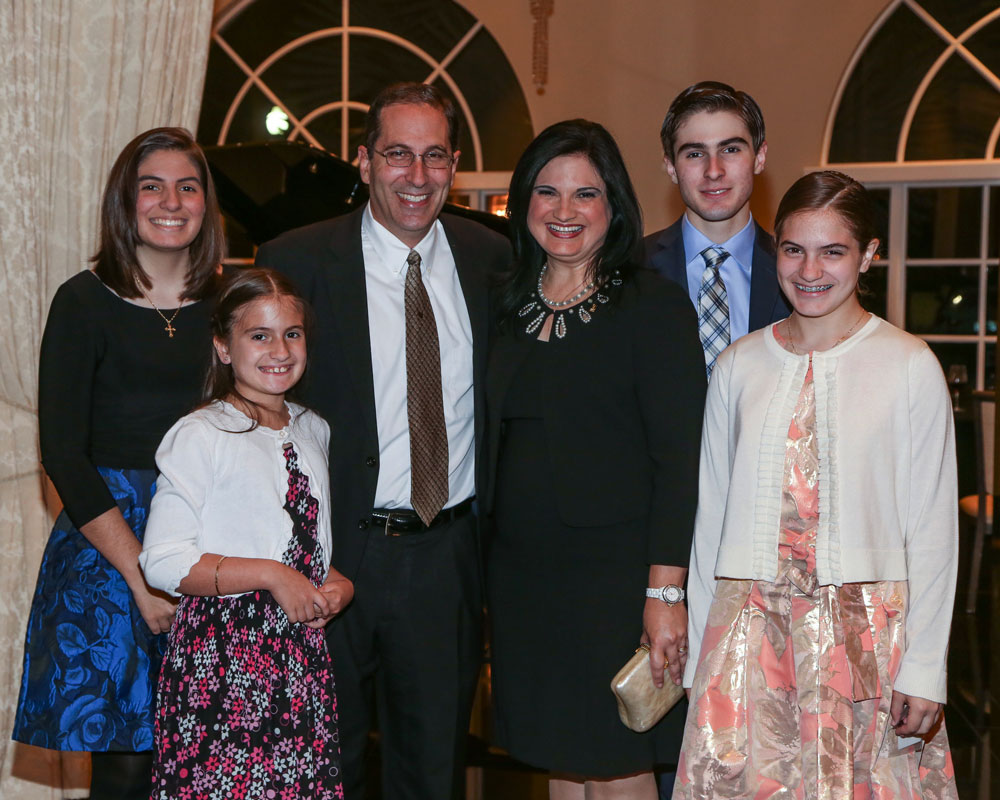 Rodicio, a devout Catholic who attends St. Mary Cathedral in Little Haiti, is deeply ingrained in the community. Her husband, Sergio, is the business operations manager at the cathedral. They live in a four-bedroom old Spanish-style home in Little Havana the couple purchased in 1998. It sits less than a mile from Eduardo J. Padrón Campus. 
She has five children—Pio, Maria, Ana and Isabel; the youngest, Gabriela, is five years old. 
Rodicio was born on November 28, 1973 in Miami. Her grandparents played a large role in her upbringing. At a young age, she took a liking to making pastries and cakes, a passion she inherited from her grandfather, a baker. The pastime runs parallel with her love for science, both require many of the same ingredients—attention to detail, an ability to think analytically and methodically while remaining calm under pressure. 
"I might not practice chemistry on a day-to-day basis, but I'm still a scientist," Rodicio said during her open forum presentation. 
Rodicio graduated from St. Brendan High School—a co-ed Roman Catholic school in Westchester—in 1991. She met Sergio at a parish youth group at St. Michael the Archangel Catholic Church in 1993, according to a Florida Catholic article. In 1994, she received a bachelor's degree in chemistry from Barry University. 
That same year, Rodicio was awarded the Board of Regents Graduate Fellowship to attend Louisiana State University. She spent five years working on her doctoral dissertation about ribosomal RNA sequencing using mass spectroscopy. The years were full of trial and error as she methodically designed and researched experiments in the lab. 
"She is the most determined person I've ever known," said Kari B. Basso, one of Rodicio's graduate school classmates. 
Rodicio was often the first person to finish her laboratory work. She also developed a penchant for performing under duress. While defending her dissertation, one of the committee members did not show up to evaluate her work; another committee member wondered aloud if the absence was a lack of belief in Rodicio's ability. 
"She handled it with grace. You could tell she was flustered and nervous. It's a high pressure situation. Someone you don't know is challenging you," recalled her doctoral advisor Patrick Limbach. "It struck me [because] I don't know if I would've handled [it] as well if I had been in the student's role." 
Back In Miami
While in Baton Rouge, Rodicio never lost sight of her goal—returning to Miami. She called Sergio every day and made periodic trips to her hometown. 
"She wanted very badly to be able to go back to Miami," Basso said. "She loves her family and the community. She wasn't going to leave without her Ph.D. She wasn't going to quit." 
After earning her Ph.D in 1999, Rodicio returned to Miami and married Sergio. By 2002, she had accepted adjunct positions teaching chemistry at Kendall and the then-InterAmerican Campus. She had no intentions of staying past one semester, but fell "in love with the students," who she described as "special" and "from a wide variety of backgrounds." 
That opportunity launched her 17-year career at the College. It has included roles as a professor, department chairperson, dean, project director, vice-provost and most recently—executive vice-president and provost. 
As provost, Rodicio manages the College's internal operations on a day-to-day basis. She oversees the College's fiscal budget, facilities, academic curriculum, workforce development programs, faculty union negotiations and regularly advocates for the College in Tallahassee. 
"In all my years at Miami Dade College, Lenore Rodicio is the most competent and complete person I've ever met," Padrón said in a reference letter to Diversified Search, the firm MDC used to find a new president. "She is the most outstanding Provost I've ever had, and I've had a number of great ones who have gone on to other college presidencies. She is the best. I used to have a Provost for Academics and a Provost for Operations—each a big job alone. She is so capable that she has both responsibilities and is doing a great job."
Rodicio routinely communicates with MDC administration, faculty and staff to provide support and academic expertise. Earlier this year, she worked alongside Ferraza to submit a grant proposal to the Aspen Institute on behalf of M.A.G.I.C. 
"She, for me, has been this invaluable source of information and knowledge, anything related to academics. She is very stable. Sometimes I get emotional or frustrated, and Dr. Rodicio has this very comforting personality that you can trust that she's seeing a problem that I'm not seeing," Ferraza said. "Everybody is 100 percent aware that she's an amazing leader and provost because she understands this institution very well." 
'Running' The College
Padrón told the presidential search firm that she, not he, has been "running MDC on a day-to-day basis" while he handles external projects.  
In recent months, she attended an international cabinet meeting in Israel and has spoken at various national conferences. When Padrón was unable to speak at an Association of American Colleges and Universities meeting, he recommended Rodicio. 
"We didn't know her at the time," said Debra Humphreys, vice-president of strategic engagement at Lumina Foundation. "She came, and I remember talking to [AACU President Carol Geary Schneider] as she was speaking.  She was brilliant, as good or better than I had seen Eduardo [Padrón]. We looked at each other like, 'Why hadn't we invited her in the first place?'" 
Rodicio currently resides on four national academic boards and serves as vice-chair elect of the AACU.
Trustees will meet on Aug. 29 at 9 a.m. at Wolfson Campus, 300 N.E. 2nd Ave., Room 2106 to decide how they want to proceed in the College's presidential search.
"I hope they don't ignore the talent in front of them," said Richard Guarasci, former Wagner College president and past-chair of the Association of American Colleges and Universities. "Starting over with somebody new that comes from the outside, is a year or two just lost in building all those relationships. To have somebody so knowledgeable about all the processes and who's so open to have real conversations about the next direction for [MDC]. That would be a real step back." 
Rodicio declined multiple requests by The Reporter to be interviewed; some biographical information used in this story is from the Diversified Search Firm's candidate profiles.