Freshman Provides Grit And Leadership For Lady Sharks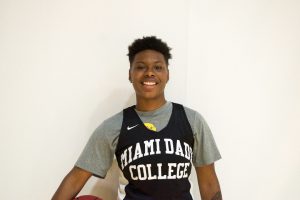 Daliyah Brown has been the Lady Sharks' heart and soul this season.
As a freshman, her scrappy play forged her to lead the team in scoring (19.3 points per game), steals (2.2 steals per game) and three-point percentage (41 percent).
In addition, she has scored more than 30 points in four straight games and has not scored under double digits since Dec. 2. Brown, who is already a team captain, earned the Florida College System Activities Association Player of the Week on Jan. 15 while averaging 33.5 points, 7.5 rebounds, 5 assists and 3.5 steals during that period.
"Our expectations for her were always very high" said Lady Sharks head coach Susan Summons. "We saw in her the ability to rise to the highest level of play and be a fierce competitor and that's exactly what happened. When you look at her, she's deceiving to the eyes. But once she's on the floor, and she's in game mode, she's a completely different athlete. She's focused and fierce mentally and doesn't quit."
The 5-foot-9-inch combo guard grew up in Chicago, Illinois where she attended Proviso East High School. As a senior, Brown averaged 19.2 points, six rebounds, six assists and three steals per game. She was selected the team's Most Valuable Player during senior year and was named to the All-State team during her final two years.  
Brown started playing basketball in the third grade and took to it immediately. It was a release —an outlet for her competitive edge. A trait her father, Derrek Brown, helped foster.
"My dad always gave me the motivation to prove them wrong. When I first started playing, I was made fun of by the players who were better but as I got older, I just wanted to prove everyone who made fun of me wrong," Brown said. "My coaches and my dad always encouraged me to 'go get it'. I always wanted people to remember my name. I want my name to ring a bell and that's what helped me develop that killer instinct."
But her father also wanted her to be more than just a basketball player. He encouraged her to invest in her studies and learn other sports.
"As a kid, I would read books by Malcolm X, Martin Luther King and countless other books about sports like soccer," Brown said. "I'm not going to be able to play basketball my whole life so he made sure that from a young age I had knowledge in other departments."
That desire has continued at Miami Dade College.
Everywhere she goes, she has one running thought: to be better than everyone else. Brown treats her classes like a competition, doing what she can to be the best. That mindset has led her to take notes for the ACCESS department to help students with disabilities.
But don't be fooled—Brown is gung ho about basketball. As the season started, she was anxious about living up to the expectations of being tabbed a team captain. As injuries ravaged the team's roster early on, Brown help steady their course after they got off to a 3-6 start.
The team recovered. They are now 14-7 with a 7-0 mark at home including a 3-0 record in Southern Conference play.
"My team pushed me to be a great leader," Brown said. "At first I wasn't handling it well, but I learned to embrace the role and my teammates around me really started to appreciate me and what I had to offer. They didn't look at me as a freshman or captain but a leader."
Being a leader has also helped her off the court, making her more open up to those around her.
"I love helping people," Brown said. "I want to do what I can to give them the upper hand and more than that, I want to bond with them and form connections with them and show them that they have someone to relate to."
The Lady Sharks' next game is at home at the Theodore R. Gibson Health Center, 11011 S.W.104th St., against ASA College on Jan. 30 at 5:30 p.m.