Injuries Ravage Lady Sharks Roster To Start Season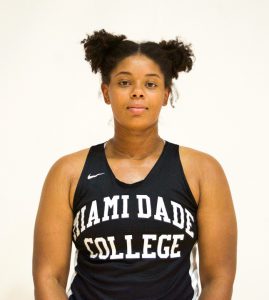 Injuries have plagued the Lady Sharks this season. The team has been without three of its starters for most of the season: Guard/forward Monique Pruitt-Henderson (broken foot, is out until January) and guards Ganette Chism (broken nose) and Daliyah Brown (foot contusion).
The injury bug has forced head coach Susan Summons to use other players in expanded roles to makeup for the talent drain. But the team believes the added experience will benefit them in the long run.   
"It's been a blessing in disguise for us," said Brown, who has been working herself back into the starting rotation. "We've used it as a chance to increase our basketball IQ and it's a challenge we've adapted to. It's allowed the girls in the rotation to get a larger role and know how to keep the game alive in tough moments."
Though the team has gone 3-3, the record does not fully reflect how the team has performed. The Lady Sharks' three loses have been by an average of 3.6 points.
Chism, Brown and Pruitt-Henderson were supposed to add the main scoring punch to the Lady Sharks offensive attack. Chism, a sophomore guard, lead the team in scoring last year, averaging 21 points a game.  
"Champions never focus on where they stand, they focus on where they want to be," Summons said. "We can be and play better. We were capable of winning both games prior to the IMG game but chemistry, turnovers and poor team defense was a factor."
The team has a lot to look forward because their top players are slowly being brought back into the fold. They average 88.7 points and 54.7 rebounds per game.
The healthy starters have been providing a spark for the Lady Sharks. Sophomore forward/center Michelle Pruitt (Monique's sister), a transfer from Stetson University, is averaging 18.2 points per game on 37 percent from three-point range.
"This season has been allowing me to expand who I am as a player," Pruitt said. "I've been able to step back more and add to my bag of tricks so that I'm not as one-dimensional."
The team's spirit has also remained high. Players cite Summons' leadership as the main reason they've stayed on track.   
"She has kept challenging us and forcing us to compete and improve through each practice," Brown said.
Summons meanwhile is using the season's early woes as a reflection of what needs to be improved on if they want to improve on last season's Southern Conference title.
"Better decision making is and still remains the key and knowing your personnel helps you to make better passes that lead to assists rather than poor passes that result in turnovers," Summons said. "We had multiple turnovers in the game against Hillsborough Community College, and as bad as we played, only lost by two points."
The Lady Sharks next game is on Nov. 29 on the road versus Sante Fe College at 8 p.m.