Stage Set For 37th Annual Miami Film Festival
Movie buffs will be abuzz at the 37th annual Miami Film Festival from March 6-15. 
The international festival, hosted by Miami Dade College, presents critically acclaimed films at several movie houses across Miami, including the Olympia Theater, Coral Gables Art Cinema, Tower Theatre and Silverspot Cinema.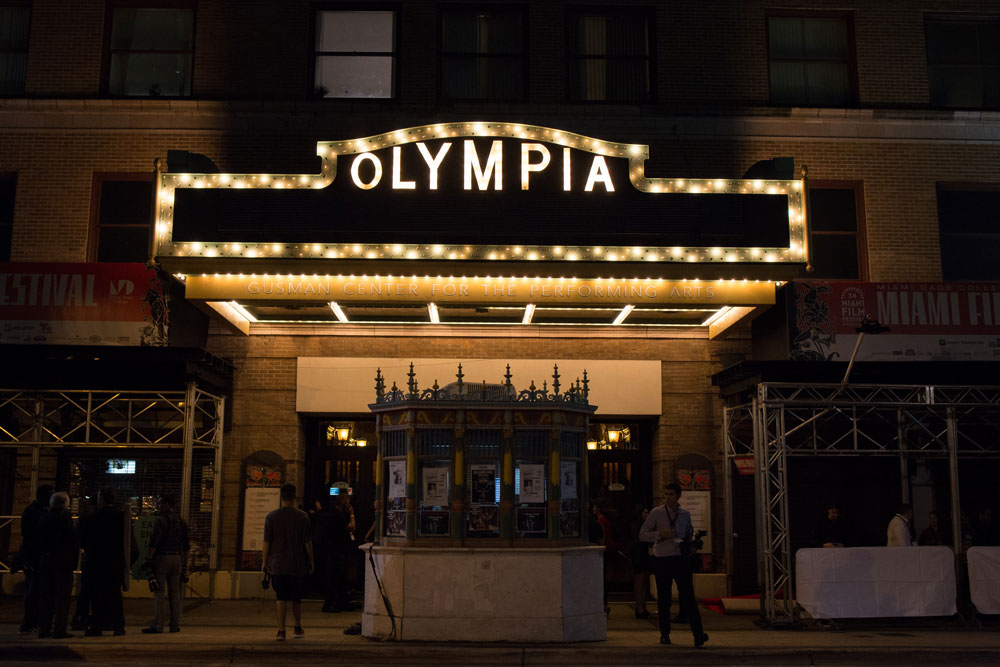 Films range from shorts, comedies, documentaries, narratives and more. In addition, there will be several Q&A sessions hosted by renowned film directors, awards ceremonies and masterclasses. 
"It's a wonderful opportunity to see top-quality films from all over the world," said Nicolas Calzada, director of Events Programming at the Tower Theatre. "There's numerous opportunities to ask questions to directors and producers and listen to what filmmakers have to say about their craft." 
The festival will kickoff on March 6 at 7 p.m. with the Italian American film, The Burnt Orange Heresy, at the Olympia Theater, 174 E. Flagler St., in downtown Miami. 
Directed by Giuseppe Capotondi, the feature-length drama thriller, revolves around art critic James Figueras, played by Danish actor Claes Kasper Bang, who is contracted by art dealer Joseph Cassidy, played by Mick Jagger of The Rolling Stones, to steal a famous painting from artist Jerome Debney, played by English actor Donald Sutherland. 
It is the fifth screen adaptation of Charles Willeford's novel of the same name. The Miami-based novelist was an English and philosophy professor at MDC for 16 years, and passed away in 1988. 
Other highlights will include: three film directors—Ari Aster from Midsommar, Stella Meghie from The Photograph and Lulu Wang, a New School of the Arts alum who directed The Farewell—discussing their work at the Olympia Theater on March 8 at 3:05 p.m. The sit down, presented by the John S. and James L. Knight Foundation's Knight Heroes program, aims to engage with South Florida's film community. 
"[MFF] provides a valuable opportunity for the MDC community to connect with both the Miami community at large and the international film community," said Jaie Laplante, who has served as the festival's director since 2010. 
Directors at the MFF will also be recognized for their work through prestigious awards, like the Documentary Achievement Award, MIA Feature Film Award, MIA Short Film Award, Zeno Mountain Award and more.  
Another notable award is the Jordan Ressler First Feature Award, which will give $10,000 to one of 14 feature-length films based in South Florida.  
J.R Poli, who graduated from the College in 2003, is one of the award's nominees for his 2018 film Marcus. The film revolves around Marcus, played by Owen Miller, who aims to find inner peace with himself and those around him while battling mental illness. 
"Miami is where it all began," Poli said. "Being able to have our world premiere in front of a full cast, crew and our families is incredibly satisfying."  
He added: "Having a festival of this caliber in our background is huge when it comes to students, who are normally on a budget, trying to get their work seen or get their names out there."
The festival will also feature workshops and in-depth conversations with renowned leaders in the industry. 
General admission tickets for screenings are available for $13 per screening. Students receive a discounted price of $10 per screening.
For more information and for the festival's program, call (305) 237-7979 or visit miamifilmfestival.com/festival/.