Outfielder Looks To Build Off Strong Freshman Campaign For Lady Sharks
Alexandra Jugenheimer has always had a fascination with sports. 
Growing up in Fort Mill, South Carolina, her parents made sure she stayed active. Jugenheimer participated in soccer, gymnastics, and dance. But, it was softball that captured her attention.
Kicking a ball around or doing somersaults was nothing compared to the feeling of standing in the batter's box.
"It's the one thing I love doing the most and I'm so grateful I've been able to play up to this point," said Jugenheimer, who is currently a sophomore outfielder at Miami Dade College. "Softball pushes me to my limits and allows me to know what it's like to fail and also succeed in the best ways possible." 
When she was 11, Jugenheimer and her family moved to Vero Beach. She played softball at Storm Grove Middle School and eventually enrolled at Vero Beach High School where she won district championships in 2017, 2018, and 2019.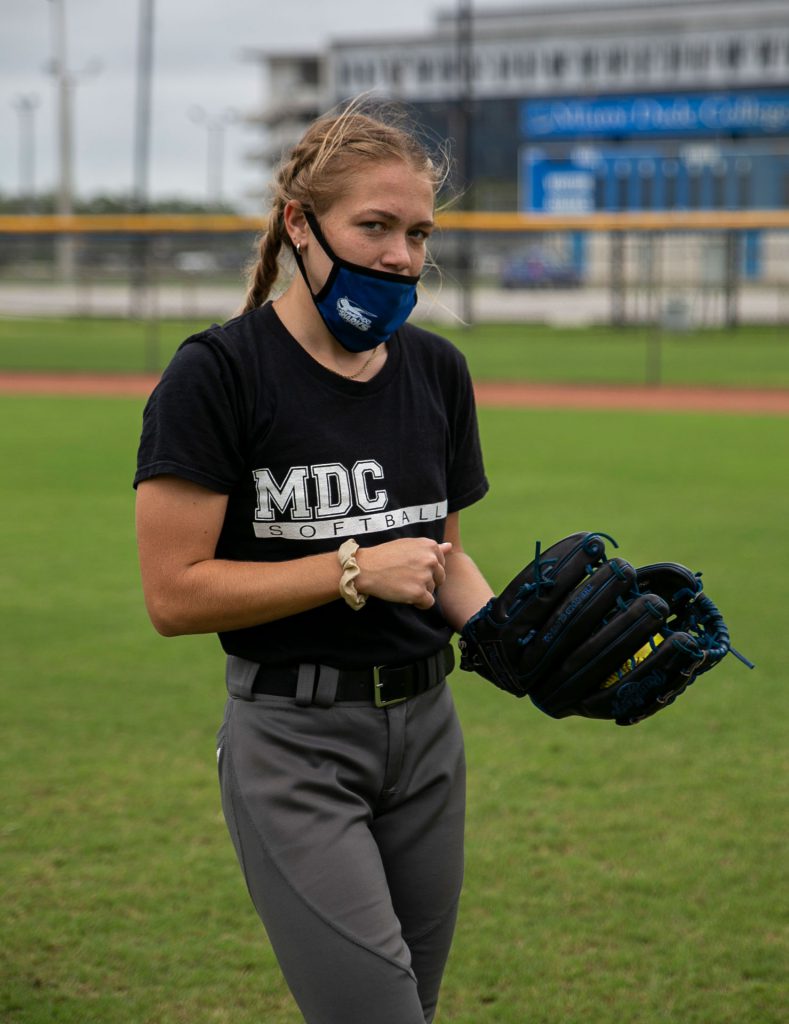 Jungenheimer posted impressive statistics at Vero Beach including hitting two home runs in the first inning of a game against Lincoln Park Academy in 2018 and boasting a .453 batting average her senior year. 
While she was winning district titles in Indian River County she also played travel ball for the 16U and 18U Gold Coast Hurricane softball teams. It was at a tournament in Clearwater where she caught the attention of Lady Shark's Head Coach Gina de Agüero. 
Before bringing Jugenheimer to Miami Dade College, De Agüero invited her to play for her travel team, the Lady Canes, during the summer of 2019. 
During her freshman season at MDC, Jugenheimer became an integral part of the squad boasting a .425 batting average with 21 runs and 16 RBI through 29 games before the season was cut short due to coronavirus concerns.
"She has an incredible amount of pop when she swings. She's really quick in the field, has good grades and a very positive attitude," De Agüero said. "Recruiting her was a no brainer." 
Jugenheimer took advantage of the elongated off-season to work on her defense and conditioning. She did body weight workouts—such as pushups and planks—led by De Agüero on Mondays, Wednesdays, and Fridays and ran a mile at least twice a week. 
On the recommendation of her coach, Jugenheimer threw tennis balls against a wall to work on hand quickness and reaction time. She continued honing her batting skills by working out at The Field House batting cages in Vero Beach.
"She has gone from [being] a great player to an exceptional one," said Lady Sharks' sophomore pitcher Haley Duncan, who is Jugenheimer's roommate. "She has always been hard-working and is always striving to play as hard as she can." 
Jugenheimer is looking forward to completing her first full season at MDC. The team is scheduled to start its season at the Junior College Kick-Off Tournament in Clearwater on Jan. 29.
"Being a part of the softball team has allowed me to improve on things on the field as well as in the classroom," Jugenheimer said. "I've truly enjoyed my time spent here and can't wait for the upcoming season and what it holds."