North Campus SEDT Students Win Suncoast Award For Short Film
When Arminio Rivero and Samuel Romero's film was selected as a capstone project in the  bachelor's degree program for the School of Entertainment & Design Technology, they hoped to inspire other immigrants.
The students' script—an adaptation of Kurt Vonnegut's short story, EPICAC—focuses on a mathematician who teaches his military supercomputer what love is. The man then romances a co-worker by plagiarizing the machine's poetry but not before the computer falls in love with the lady. 
Using that premise, Rivero and Romero spent a year polishing their science fiction/drama into a 19-minute short film, Speak Only Good Of The Dead. 
Their hard work paid off. 
The duo, who study film, television and digital production at North Campus, won the Student Production Award for Best Long Form Fiction from the Suncoast Chapter of the National Academy of Television Arts & Sciences on May 24.
"A lot of people attribute films to the big names, but it's all about the crew," Romero said. "Everyone knew what they were doing and were happy to be there. We created something magical."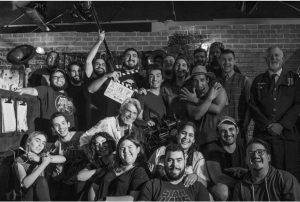 The Suncoast Student Production Awards recognizes films produced by college/university or high school students. They are part of the National Academy of Television Arts & Sciences, regarded as the highest achievement for television and media professionals. 
The story—told from the perspective of the main character, who is nameless—takes place in the United States in the '40s inside a military bunker during World War 2.  
"They represent a new wave of storytellers that is more representative of the audience, and who will swing the door wider once they get in the room," said film professor Adrian Garcia. 
The young filmmakers have come a long way since their humble beginnings. 
Romero was born on December, 19 1996 in Mexico City. In 2000, he moved to Brazil after his father—a marketing director—got a job there. He returned to Mexico five years later, and moved to Miami in 2015. 
He discovered his passion for filmmaking after graduating from Tecnológico de Monterrey. 
"I realized that [film] connected music, art, business, and relationships, and it wasn't repetitive," Romero said. "There's so much out there and it's always exciting." 
That summer, Romero traveled to Orlando to partake in a week-long film course at the New York Film Academy—cementing his love for film.
He earned an associate's degree in film from MDC in 2018, and expects to earn his bachelor's degree in December. 
More than 2,000 miles away from Mexico, Rivero was born in Maracay, Venezuela in 1993 to Venezuelan and Brazilian parents. 
Rivero moved to Miami three years later after his father was offered a job in the hotel industry. 
When he was 13, he began playing guitar after he was inspired by the political lyricism and sound of heavy metal band, System of a Down. In 2015, Rivero earned an associate's degree in music from MDC. 
He was also part of a local band, SunGhosts. They toured 27 states in 2017 and have recorded two albums, SunGhosts and Oathkeeper. 
"At the time, I wanted to score films, but I also really wanted to get into writing scripts," Rivero said. "A lot of the lyrics I wrote didn't even feel like songs, but like screenplays."
In 2017, Rivero started pursuing a bachelor's in film. He quit the band that December to focus on his first movie project, Masters of War. 
A year later, Romero and Rivero met at North Campus. They bonded discussing movies with existential and philosophical themes. 
The budding filmmakers worked together for the first time on the 48 Hour Film Project, a competition that requires contestants to write, shoot and edit a movie in two days. 
In November of 2018, they made plans to create Speak Only Good Of The Dead after Romero discovered EPICAC from Vonnegut's book, Welcome to the Monkey House. 
More than a hundred actors auditioned for the project at a casting call held in the auditorium in building two at North Campus. They cast four actors that day—David Cope, the lead; Magaly Pefig, a supporting actress and two background characters, Michael Dean Walker and Alexei Afonin. 
But, they struggled to find a studio to shoot the film. In May of 2019, Leonardo Weyce—owner of Weyce Studios and a friend of Romero's father—let the duo use his studio for ten days at no cost.
Last minute scenes were shot at locations like Amelia Earhart Park in North Miami and Grove Studios in Coconut Grove. 
They shot the film with a RED Helium 8k Cinema Camera using Cooke anamorphic lenses, found in films like Star Wars and Moonlight, to create a vintage look. To further augment theproduction, they used a Fisher dolly cart to create smooth shots. 
"I wanted to do something that transcended the school environment, and I knew that [using professional equipment] would prove what we were capable of," Romero said. 
Rivero and Romero spent more than $10,000 for equipment rentals, transportation, production design, festivals, distribution and studio time. 
They received $3,000 from MDC to kickstart the project, and got the remaining $7,000 through a crowdfunding campaign and support from investors. 
The film premiered during Romero's production workshop 2 class on Dec. 16. 
"Everyone at school was blown away," Romero said. "There were people coming up to us and telling us they felt like they were in a theatre."
The film has not been released yet. Click here to watch the trailer. Staff writer Adriana Dos Santos contributed to this report.