North Campus Administrator Resigns After Allegations of Sexual Harassment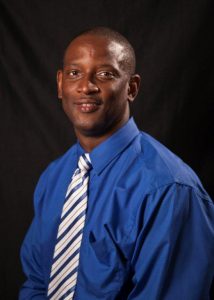 A North Campus administrator accused of sexually harassing an employee resigned after he was threatened with termination.
Randel Carr, who served as director of campus support services for almost five years, resigned on March 6.
In a notice of final action of termination, Carr's supervisor Fermin Vazquez, the senior director of campus administration, wrote: "You held complainant by part of her neck and stated that if you 'squeezed,' you could leave a 'hickey-like mark' and she would have a 'hard time explaining that' to her husband."
The complainant, whose name is redacted from the report, said the incident occurred last November. It is unclear in which department she worked in.
"I have nothing I want to add," Carr said when he was contacted via cell phone by The Reporter concerning the allegations.
According to the letter, the complainant sent Carr an email the day after the incident to tell him the interaction made her uncomfortable. He responded: "No worries will not happen again."
Three days later, according to the report, Carr told the complainant to come to his office and he asked her why she had "put it in writing."
In a written response to the allegations Carr said: "I do not remember grabbing her by the neck, but I do remember giving her a hug around the neck."
A witness who was interviewed during the investigation recalled seeing Carr touch the complainant's neck but stated that it was more like a "caress" rather than grabbing.
Carr, according to the report, was taken aback by the allegations. He said that the complainant previously worked in a different area of the campus. When he visited, Carr said he would hug a worker there and she would ask him, "Where's my hug?"
The harassment accusation was the second complaint by a North Campus employee against Carr. In February of 2016 an employee, who did not work under Carr at the campus, said she brought Carr leftover food from an event that happened earlier in the day, according to a document in his personnel file detailing the incident.
The complainant said Carr became upset when she did not bring him any chicken. She then went back to retrieve some chicken and he greeted her with: "This all you brought me?"
According to the document, the complainant explained to Carr that she had to give a portion of the chicken to media services so she didn't have more.
"I don't give a f*ck about media services. I have more people to feed," Carr retorted, according to the complainant.
When she tried to leave with the plate of chicken, Carr grabbed her right wrist and pushed her out of the office, according to the report.
"You don't know me," the complainant said. "Don't put your hands on me."
The following day, after being notified by the employee's supervisor that she was upset, Carr apologized, according to the document. During the apology, Carr admitted that his behavior was unprofessional and it would never happen again.
However, Carr did not recall "grabbing her wrist or using foul language."
Carr was verbally counseled about the incident by Vazquez and instructed to conduct himself in a professional manner with employees.
Vazquez referenced the chicken incident and the sexual harassment allegation in the notice of final action of termination: "Your continued behavior demonstrates poor judgment not within the best interests of the College and warrant termination of employment."
When The Reporter contacted Vazquez concerning the allegations against Carr, he declined comment citing that College policy does not allow him to comment on personnel matters.
Carr began his position as director of campus support services at North Campus in 2012. Some of his duties as director included overseeing campus services like public safety and custodial services.
Throughout Carr's employment at MDC, he received exemplary evaluations in his performance reviews. In his most recent evaluation from 2015 to 2016, Carr received high scores, with his lowest score being in interpersonal skills where he scored satisfactory.
A portion of his narrative evaluation from the same review states: "Overall, Mr. Carr has earned an excellent rating and should continue his efforts in building a team environment amongst his divisions."
To view the complete Notice of Final Action of Termination in Carr's case, click here.
To view the complete memorandum of the investigative findings concerning the allegations of sexual harassment, click here.
To view the complete verbal counseling document from the February 2016 incident, click here.