New Director Of Testing And Assessment At Wolfson Campus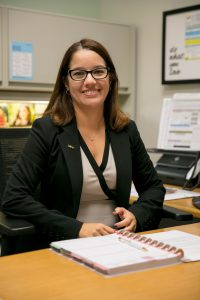 Marlen Gonzalez has been selected as  the new director of Testing and Assessment at Wolfson Campus. She began her position in August.
"I'm here to serve the students," Gonzalez said. "Nothing is more rewarding to me than seeing students succeed."
As director, Gonzalez is responsible for the maintenance of testing materials, managing the department's budget and evaluating personnel through training.
The Testing and Assessment department provides assessment, proctoring and student feedback services, including to those with special needs.
She is a graduate of the Universidad Central "Marta Abreu" de Las Villas in Santa Clara, Cuba and a former student of Miami Dade College's Refugee/Entrant Vocational Education Services and Training (REVEST) Program.
Gonzalez plans to develop a marketing strategy to promote industry certification exams offered by the department.