Miami Fashion Institute Graduate To Debut Clothing Line
Beatrice Rose Glover sewed her first pillow when she was 13 after her aunt taught her the basics. 
She spent the next three years designing shirts and dresses, stitching together clothes she repurposed from the closets of her eight siblings.  
After finding clothing scraps littered across the house, Glover's mother, Lessie Reid, enrolled the young designer in non-credit sewing classes at North Campus.  
"I simply love to create. Through fashion I get to wear it," Glover said. "It's an amazing feeling to sketch something and bring it to life, like when you ace a class you thought you'd do average in; [you're] shocked, ecstatic and want to do it a thousand times."
Now, the 22-year-old is designing clothes for the runway. After graduating from the Miami Fashion Institute at Miami Dade College in December of 2018, Glover will debut her first fashion collection, B. Rose Designs, on March 15.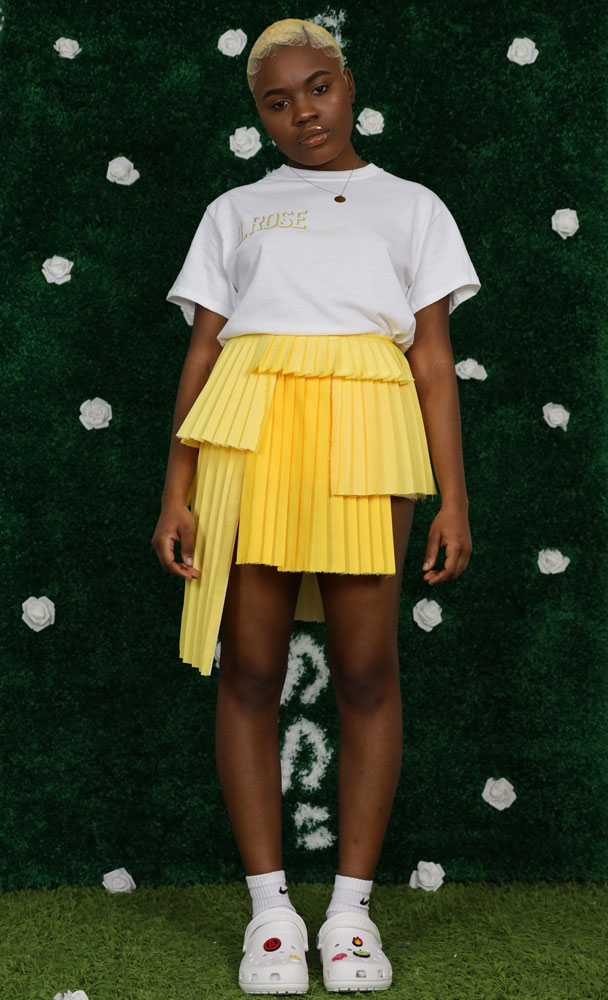 Her designs will appear on the Fort Lauderdale Fashion Week runway two days before the clothing line opens. 
"I love her eye for fashion and style," said Priscilla Reyes, who owns the local boutique Earthy Chic and serves as Glover's mentor. "She mixes things in a way where fabrics and prints blend together very well and create a fun story for the shopper. She's not afraid to get to work and try and try until the garment is perfect."
The unisex collection is split into three sections—handmade outfits, graphic tees and upcycled garments made from second-hand clothing.
"It's something to be simple, to bring personality to individual clothes," Glover said. "I know for me, I have very simple clothing, so I wanted to integrate some high fashion pieces into the collection. That was my main goal, to make creative, wearable clothing."
She designed crop tops and distressed pants for a younger audience, but also created several embroidered outerwear pieces for older folks.  
"I don't think there's an age limit," Glover said. "Especially in a world of street wear; anybody could pull it off."
Glover will donate a percentage of the sales to charities for the local homeless population and children in poverty, like Camillus House and Chapman Partnership. She hopes to establish a foundation that provides shelter to homeless people, and partner with other fashion brands to grow deeper into charity work. 
"That's what sets my brand apart. It's not just about fashion and money," Glover said. "It's about helping those around me."
There's a history of creativity in Glover's family. Reid worked as an artist in high school, and Glover's brother, Raphael Glover Jr., works as an architect, but none of them displayed a love for fashion like her. 
"I'm driven by passion to be better than myself, to make my mom proud and the end game of having an impactful brand within fashion and the world we see everyday," Glover said. 
She graduated from the entrepreneurship program at William H. Turner Technical Arts High School in 2016, and had dreams to start her own line.  
After she graduated from the MFI in the fall semester of 2018 with an associate in arts degree in fashion design, Glover started brainstorming. She researched fashion trends in the mainstream market, and settled on creating a simple, everyday collection. 
That resulted in more than 100 sketches over the course of three months, which she later narrowed down to three styles. 
Glover searched the local community to find materials. She found fabric in unconventional places like thrift stores and dry cleaners and bought it from commercial shops. 
Her collection expanded last February when she designed a white and gold-embroidered silk outfit: her first menswear outfit. 
"Beatrice was very independent and reliable, which is always great," said Asanyah Davidson, chair of the MFI. "She was always open to exploring and didn't want to do the traditional so much. I think she really discovered her voice through practice. She was a really good student and we were happy to have her as a student—very dedicated."
However, the young designer admits learning to manage her own brand has been the most difficult step. It's the reason she minored in entrepreneurship—to learn the nuts and bolts of trademarking, finances and patents.  
As part of MFI's inaugural graduating class, Glover displayed her work during Miami Fashion Week last May. 
"I never really wanted to go to school, but went to [MFI] to up my game and get to know professors," Glover said. "I've always known that I wanted to start my own brand."
In early 2018, Glover began interning at Earthy Chic, and was hired shortly thereafter as an associate at their Miami Design District and Merrick Park locations. She works nearly 30 hours a week collecting merchandise, tailoring clothes and maintaining the boutique's social media. 
"Beatrice is very honest," Reyes said. "I think that is something that you need in life regardless of all the influences you come around. We share that in common and our transparency with each other has led to a great working relationship and friendship."
Glover works at both locations, depending on which one needs the most help. The boutique is working on developing an in-house brand, which she hopes to be a designer for. 
"I admire her for her dedication and reliability," Reyes said. "She goes above and beyond what I ask since day one and I applaud her ambition to become one of Miami's best designers."
Glover will reveal her collection through a link on Instagram and Twitter, both @brdbybr, on March 15.