20 Months After It Started Its Presidential Search, MDC Is Close To Finding Its Next Leader
It has spawned a lawsuit, a mock funeral and a rebooted search. Now—after 20 months—Miami Dade College's quest for a new president might just be winding down.
Friday, the College's presidential search committee selected three finalists:
Gregory Fowler

, president of Southern New Hampshire University's Global Campus.

Morgan Phillips

, vice chancellor for academic excellence at Pima Community College.

Madeline Pumariega

, the executive vice president and provost at Tallahassee Community College

.
They join MDC's Executive Vice President and Provost Lenore Rodicio, the lone carryover from last year's search.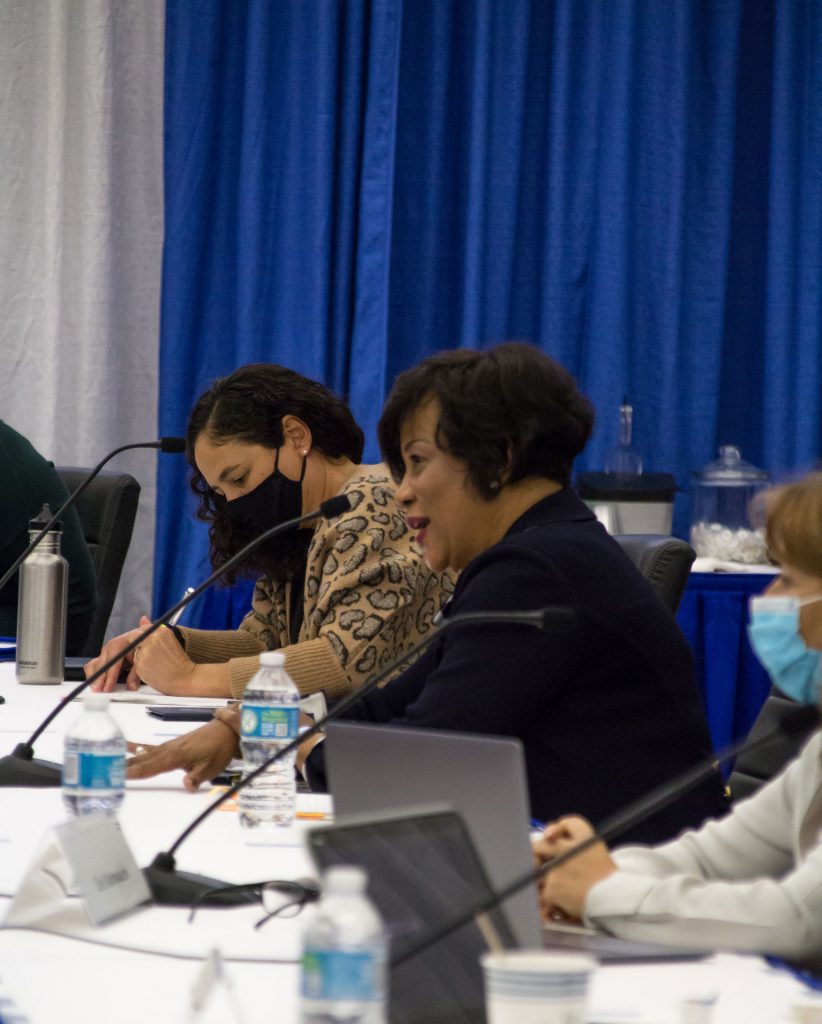 All four candidates will visit the College next Thursday and Friday to make their pitch at leading the country's largest community college, which boasts eight campuses throughout Miami-Dade County.  A new president is scheduled to be selected on Nov. 17.
The lineup features two Hispanic women with close ties to MDC, a black male who currently lives in New Hampshire, and a white male who resides in Arizona. 
"Miami Dade College as an institution is a brand that is recognized nationally and internationally," said Fermin Vazquez, senior director of campus administration at North Campus, who served on the search committee. "It really [brings] people that are looking to continue to grow and set their mark in a community like Miami, which is so diverse and has so much ability to continue growing and is a gateway for Latin America."
Candidates were chosen based on their leadership qualities, student success history, communication skills, fundraising capabilities and their vision for the College. 
"You want someone that's passionate about the mission [of MDC] and that has a passion for higher ed and its transformative impact on people's lives and in our community," said Rudy Fernandez, another search committee member, who serves as the University of Miami's senior vice president for public affairs and communications and chief of staff to the president.
The seven semifinalists, who were selected last week, were interviewed virtually on Thursday and Friday. Each candidate was asked 12 questions ranging from topics such as diversity, fundraising, budget cuts, partnerships, the coronavirus, student success, and leadership.
After an hour-long deliberation Friday afternoon, Roderick McDavis, managing principal at AGB Search, instructed the 17-member committee (one was missing) to select their top three candidates in no particular order: Pumariega was selected 16 times, Fowler 15 and Phillips 10. 
"It's really been an open and transparent process and we have a really good set of finalists," said Nicole Washington, chair of the committee.
Gregory Fowler
He is the president of Southern New Hampshire University's Global Campus that consists of academic functions supporting online and hybrid programs at the institution. 
Fowler, who has worked at SNHU for almost nine years, is also the commissioner and a board member of the New England Commission of Higher Education, the regional accreditation agency for colleges and universities in Connecticut, Maine, Massachusetts, New Hampshire, Rhode Island, and Vermont. 
The agency has three institutions in Greece, three in Switzerland, two in Lebanon, and one in Bulgaria, Bermuda and Morocco. He is also a two-time Fulbright Scholar who has spent time in Germany to teach American culture and values and study how the Bologna Accords affect higher education protocols.
Fowler, the seventh of eight kids, grew up in a two-bedroom home in Albany, Georgia. His father completed ninth grade before going to the military.
"One of the things that I've seen over the years has been the power of education to transform the lives of every one of my siblings," Fowler said during his interview Friday morning. "When I graduated from college, most of my siblings had not at that point gotten a college degree. Over the years since then, all of them have received either a college degree or some type of certification. As a result of that, it had a huge impact on both their lives and the lives of the communities around them."
The committee was impressed by his communication skills, focus on student success and accessibility, futuristic vision and innovative ideas.
Fowler has a Ph.D. in English/American Studies from the State University of New York at Buffalo (2000).
Morgan Phillips
He serves as vice chancellor for academic excellence at Pima Community College in Tucson, Arizona, where he has worked since 2014. The school bears a resemblance to MDC because of the wide area it covers: it has six campuses, four educational centers and several adult education learning centers.
Before Pima, Phillips worked at Southeastern Community College from 2006 to 2014 as vice president of curriculum instruction and vice president of academic and student affairs. At SCC, he grew student completion rates, increased satisfaction of transfer institutions with graduates, and improved the school's budget during state funding cuts.
From 1993 to 2005, he worked at Valencia College, which has seven campuses and 50,000 students. 
He listed fundraising among his strengths. His approach is to build relationships with potential donors before there is a need to secure funding and align those monies with their goals. That was key at PCC, a school that doesn't receive state funding.
Phillips has two doctorate of education degrees in higher education administration from the University of Florida (2000 and 2002).
"I will tell you that with leadership style, if you're looking for someone to just maintain status quo, I'll tell you now, please do not have me come to Miami Dade [College]," Phillips said during his interview with the search committee Thursday. "I am always going to be driving toward making Miami Dade the best possible it can be for its community and its students, and involving everyone in that process."
Madeline Pumariega
She is currently the Executive Vice President and Provost of Tallahassee Community College where she has worked for a year and half. 
Pumariega, who was born and raised in Hialeah,  was a student-athlete at MDC from 1986-87 before earning an associate in arts degree. She started her ascension at her alma mater in 1988, taking a part-time job as an assistant women's basketball coach until 1993 before completing stints as an academic advisor and adjunct faculty at Kendall Campus, dean of students at Wolfson Campus and dean of students and administration at Medical Campus.
In 2011, she was promoted to Wolfson Campus president. Pumariega served in that capacity for two years and played an integral role in expanding the Culinary Institute and launching The Idea Center.
She left MDC in 2013 to serve as president and chief executive officer of Take Stock, a non-profit organization that helps poor children throughout Florida graduate from high school. In 2015, she was selected as the first female and Hispanic Chancellor of the Florida College System, which serves around 800,000 students throughout 28 colleges in the state.
Pumariega's knowledge of MDC, data-driven approach, partnerships and relationship-building skills caught the committee's attention.
"The presidency of Miami Dade College is personal for me," Pumariega said during her interview. "I am MDC—in every way and every word. I know how this college changes the opportunities that [it] creates for our community and that it created for me. It would certainly be a privilege for me to come back and make a difference and serve and contribute and build upon the long legacy of Miami Dade College's success."
Lenore Rodicio 
Miami Dade College's Executive Vice President and Provost was the lone holdover from the original presidential search last year. Rodicio has been at the College for more than 18 years and has been at the forefront of the College's response to the coronavirus pandemic.
She started her career at MDC in 2002 accepting adjunct positions teaching chemistry at Kendall Campus and the then-InterAmerican Campus. Rodicio said she had no intentions of staying for more than one semester but fell in love with the hunger for education her students exhibited. 
That passion turned into a commitment to the College. During her nearly two-decade long tenure at the College, her roles have included stints as a professor, department chairperson, dean, project director, vice provost and most recently—executive vice president and provost.  
As provost, Rodicio manages the College's internal operations on a day-to-day basis. She oversees the College's fiscal budget, facilities, academic curriculum, workforce development programs, faculty union negotiations and regularly advocates for the College in Tallahassee. 
Rodicio's former boss and the College's last permanent president, Eduardo J. Padrón, told the College's original search firm that she ran the College's day-to-day operations toward the end of his tenure while he handled external projects. 
She graduated from St. Brendan High School in 1991 and has a bachelor's degree in chemistry from Barry University and a doctorate degree from Louisiana State University. 
Rodicio lives in Little Havana less than a mile from the Eduardo J. Padrón Campus.
The candidates will conduct campus tours and meet with the community on Nov. 12 and 13 before being interviewed by the Board of Trustees. Interviews are scheduled as follows: 
Thursday, Nov. 12
Morgan Phillips at 11 a.m.

Lenore Rodicio at 1:30 p.m.
Friday, Nov. 13
Gregory Fowler at 11 a.m.

Madeline Pumariega at 1:30 p.m.
They will be held at Wolfson Campus, 300 N.E. 2nd Ave, in the Chapman Conference Center (Room 3210). You can watch virtually at www.mdc.edu/livestream