From Mamaroneck To Miami—Freshman Finding Form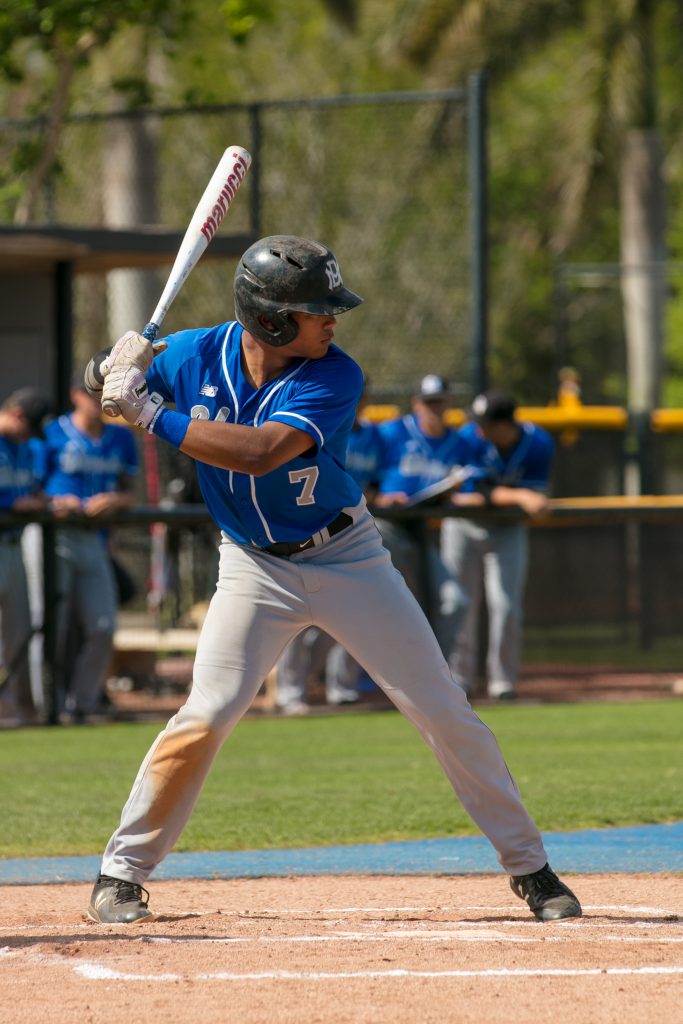 Whether it's in the middle of the infield or at the plate, second baseman Luis Guerrero is making waves for the Sharks this season.
Guerrero has 29 hits and a .354 batting average while hitting in the heart of the Sharks lineup.
"Luis is a relentless worker who puts the team first. Even as a freshman he's a leader by example who pushes others to be better," said sophomore outfielder Brian Rey. "He's the guy I chose to workout with because I know I'm going to get better with him pushing me."
Hailing from Mamaroneck, a small town 20 minutes outside of New York City, Guerrero was raised in a Puerto Rican and Dominican family filled to the brim with baseball fans.
Beginning his baseball career at the age of four, Guerrero played for Diana's All Stars at Pelton Park in Yonkers.
"I grew up playing multiple sports like basketball, soccer and football but I knew that baseball was the sport for me just because of my skill set and how much I enjoyed playing it," Guerrero said.
At Loomis Chaffee School, Guerrero earned player of the year honors his senior year while also being named the No. 1 shortstop in the state of New York by Perfect Game, a nationwide scouting service.
For many players from the northeast, who suffer from short seasons due to winter weather, it can be difficult transitioning to competing in Miami,where homegrown players enjoy baseball all year round. Nevertheless, Guerrero has taken the challenge head-on.
"He's a hard worker, strong kid with a lot of tools and gap-to-gap power. He came to us as an average defender but little by little with a lot of hard work he's becoming a better defensive player which makes him more valuable," said assistant coach Adrian Morales."His willingness to learn sticks out the most. Playing in New York is a lot different from playing in Miami, the quality of players, the talent and the competition is a lot different."
Guerrero credits his dad, Luis Raphael Guerrero, with much of his success. The duo has had countless early morning runs and plenty of fielding drills and their hitting sessions are known to last into the middle of the night.
"My success has a lot to do with my father, he has always pushed me and lead me in the right direction in anything but especially baseball. I owe all of my success to him because he took time out of his day to help me throughout my high school years," Guerrero said. "He also helped me with my mental approach and letting me  know that this is a game of failure and you have to have a short memory when it comes to baseball because whether you fail or succeed you have to move onto the next play."
Although he is open to opportunities in physical therapy as a career, Guerrero's main goal is to be a major league baseball player. He feels he is well positioned at MDC to achieve that.
"Miami Dade College has been a game changer for me personally just because of the great coaching staff that we have on hand. The coaching staff really pushes me to my limits and wants me to reach the highest level possible," Guerrero said. "Also, my teammates have made it an easy transition by supporting me and pushing me in every aspect of my game."