Lady Sharks Rebound After Rough Homestand
After losing three straight home games in late November and early December, the Lady Sharks basketball team is rebounding, winning two of their last three games.  
"We have a young group. A lot of them are inexperienced at this point," said sophomore guard Daliyah Brown. "It is all about just getting more experienced, maturing, getting it at practice and working harder."
The Lady Sharks, who are 8-5, attribute their uneven performance this season to lack of communication on the court.
"We have to play for each other. We are together in this as a team," freshman center Larissa Abreu said. "I am proud of what we have done on the court but we have to be more united."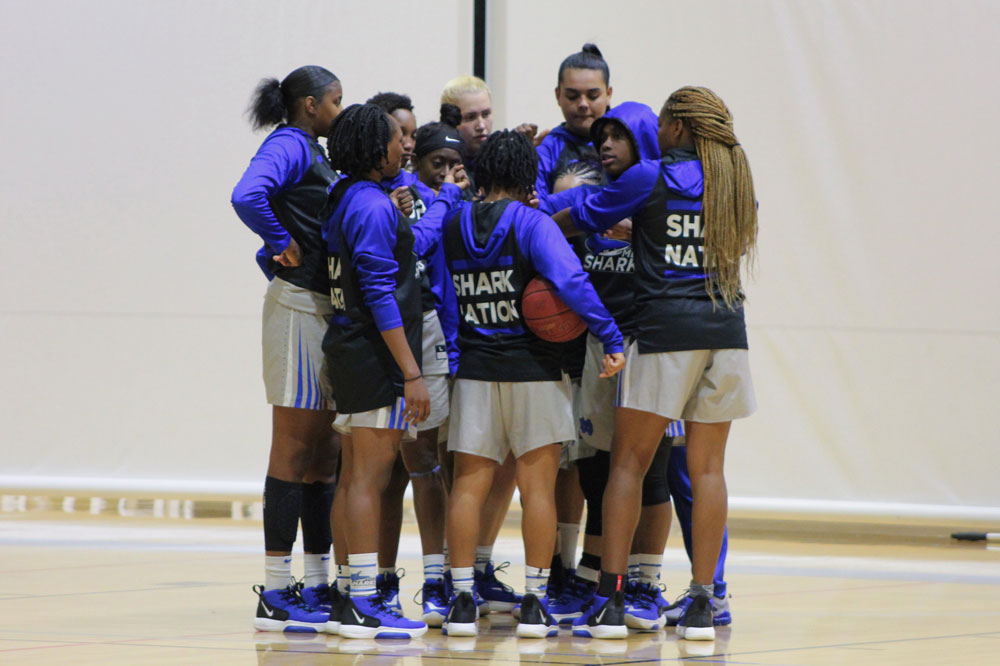 One positive has been the team's ability to get scoring from a multitude of players. Four Lady Sharks are averaging double-digits in scoring: Brown is averaging 27.1 points, freshman forward Nazlah Morrow is scoring 14.8 points per contest, Abreu is averaging 11.6 points and sophomore point guard Rio Yamazaki is averaging 10.3 points. 
Brown leads the nation in scoring and is also averaging 8.2 rebounds and seven assists per game.  She was named National Junior College Athletic Association player of the week in early November. 
Through their first thirteen games, the Lady Sharks are holding opponents to 70.7 points per game, outscoring them by 8.1 points per contest. 
They avenged a Nov. 8 loss to Eastern Florida State College (82-75) by beating the Titans 81-76  on Nov. 15.
"The team we lost to we beat. So, we made adjustments. We had better rebounding, definitely better defense and much better communication on the floor as a unit," Summons said. "We knew that we could beat them and that we just had to be a lot more aggressive and have a better mindset."
The Lady Sharks have also been hit with a spate of injuries. Freshman guard Anija Payne suffered a concussion after a game against Daytona State College on Nov. 26. It's unclear when she might return. Yamazaki broke her left wrist during a game on Dec. 2 against Chipola College. She will be out at least through December, but possibly longer. 
Despite that, the Lady Sharks are currently ranked seventh in blocks per game (5.8), 12th in free throws made per game (17.2), 13th in the nation in total rebounds per game (40.2), and 14th in 3-point percentage (36.3). The Lady Sharks are ranked ninth in the state according to the National Junior College Athletic Associations Region 8 coaches poll. 
They look forward to getting things rolling on the court again. 
"Teamwork is key,"  Morrow said. "We play our best games when we are in sync, talking on the court just together 100 percent."
Staff writer Alice Moreno contributed to this story. The Lady Sharks' next game is Dec. 16 at 5:30 p.m. versus Baltimore City Community College at the Theodore R. Gibson Health Center, 11011 S.W. 104th St.