Journalism Scholarship Created In Memory Of Pulitzer Prize-Winning Photographer Alan Diaz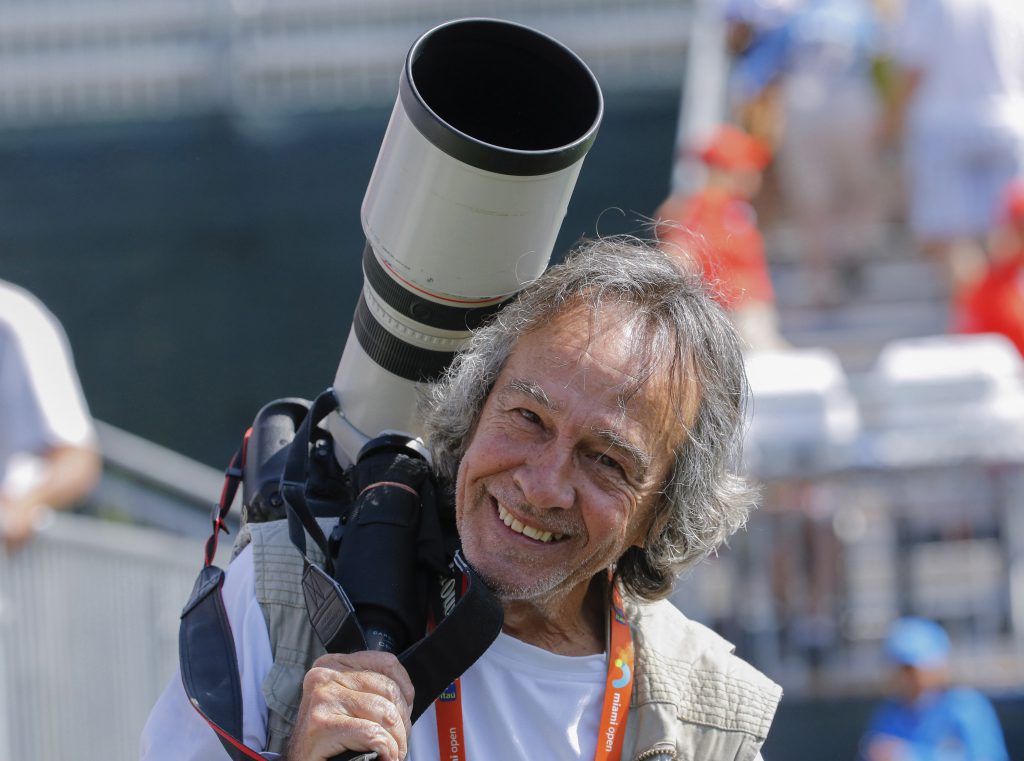 Pulitzer-prize winning photographer Alan Diaz died on July 3 at the age of 71. Miami Dade College hopes to keep his memory alive—with a scholarship.
Marta Lavandier, the news editor for photos at the Associated Press, reached out to MDC to create the scholarship.
The MDC Foundation created a webpage to collect donations for the scholarship. The funds will benefit student journalists at The Reporter, MDC's student newspaper, and the MDC High School Journalism Institute.  
More than $5,000 has been donated at the time of this article's publication.
"We just want to honor his memory," said Diaz's daughter Aillette Rodriguez-Diaz. "He's a Pulitzer Prize winner—He won the 2001 Pulitzer in the breaking news photography for [the photo of] Elían González. Anything to keep his memory alive through journalism, I think that is the best way to honor him."
The Foundation expects the scholarship to be available by the Spring 2019 semester.
"They were very clear in their choice of reaching out to Miami Dade College and said that because of the way Alan always believed in supporting people in the community, this was the perfect place for the scholarship," said Ana Martinez, interim assistant vice president of development at the Foundation.
Diaz was known for shooting the iconic photo of six-year-old Cuban immigrant Elían González while the boy was taken by a United States immigration officer from his relative's home in Little Havana.
The photographer was born in New York in 1947 to Cuban parents. He spent his adolescence in Cuba, where he studied photography under Alberto Korda, who was responsible for the 1960 portrait of Che Guevara, an Argentine Marxist revolutionary.
Diaz moved to Miami in 1978, where he freelanced for various news organizations while teaching English and managing a trucking company.
"He had about three jobs, but the freelance—that's his go-to job," Rodriguez-Diaz said. "It's something that he always wanted to do."
Diaz was freelancing for AP when González was found floating in the sea in an inner tube by fishermen in 1999. He and two others survived when a small aluminum boat carrying dozens of passengers fleeing Cuba sank. Elían's mother drowned during the trip.
González was taken in by relatives in Little Havana, starting a politically charged custody battle between relatives in Miami and the boy's father in Cuba.
Diaz earned the relative's trust by following their one rule—to not speak to Elían.
That trust led Diaz to being the only photographer to capture the image of United States immigration officers seizing González from his relative's home in 2000.
Rodriguez-Diaz recalls her mother, Martha Diaz, waking her up that morning at 5 a.m. and telling her, "They took Elían, they took Elían."
"I remember turning on the news and the picture had been all over the news, but no credit to any photographer and immediately upon looking at that picture, I knew it was my dad's photo," Rodriguez-Diaz said. "I just knew it."
Diaz was hired as a staff photographer by AP two months after the photo was taken. Under the news agency, Diaz covered the 2000 Florida election recount, the recovery in New York after 9/11, damages caused in Florida by hurricanes in 2004 and 2005 and the Orlando Pulse nightclub shooting in 2016. Diaz retired in December 2017.
"He had a way of working a scene," Lavandier said. "He was always able to get in there and get a photo of the moment."
Diaz is survived by his children: Rodriguez-Diaz, Alan Ernesto Diaz, Aileen Casimis and Alin Diaz. His wife, Martha Diaz, passed away nearly two years ago.
"I think he was part of the growth of many photographers," Rodriguez-Diaz said. "Very open and willing to teach, he took great pride in his work. He was a man of his word. [Taking photos] was a 24-hour job for him. [He] never said no to assignments."
If you are interested in donating to the Alan Diaz scholarship fund, go to: www.mdcfoundation.com/alan-Diaz-journalism-fund