He Won A World Series With The New York Yankees—Now He's An Assistant Coach At MDC
When third baseman David Pereira arrived at Miami Dade College last fall, he didn't want to play another position. But after hearing the team needed a backup catcher, he was up for the challenge.
Soon, Pereira was spending hours at the Kendall Campus baseball field—under the guidance of assistant coach Rudy Árias—learning the nuances of the position, including how to frame pitches and block wild throws.
Months later the hard work—that often left Pereira's uniform covered in dirt stains—paid off when the Sharks' starting catcher Luis Colon suffered a back injury in January. 
Pereira started 16 games behind the plate as a freshman. He only committed four errors and the Sharks went 13-3 while he shepherded the team's pitching staff and boasted a .313 batting average.
"[Rudy] turned me into a catcher in months, which could [normally] take a long time, but working with him it came pretty easy," Pereira said. "We always know that he's going to be there for us. If we need some guidance, we go straight to him and he points us in the right direction."
Árias, a 63-year-old baseball savant, has earned that reputation. 
His dedication to the game has taken him all over the world—including the Dominican Republic, Mexico, Colombia and Taiwan—and allowed him to serve as a bullpen catcher in the Major Leagues for nearly two decades.
"His experience in professional baseball and his work ethic is second to none," said Sharks' Head Baseball Coach Adrian Morales. "He brings a sense of calm to our coaching group…He's a worker and that translates to our players."
Árias was born in Santa Clara, Cuba, on June 22, 1957. He moved to Miami with his family when he was three years old after his father, Rodolfo Árias Martinez, started pitching for the Chicago White Sox in 1959. Two years later, he developed a bond with the game, picking up bats and baseballs in the team's clubhouse.
As a teenager, he attended Miami Senior High School and was a catcher on the baseball team for three years before graduating in 1975. One year later, he enrolled at Miami Dade College to play for the South Campus—now Kendall Campus—which was led by former Head Coach Charlie Greene.
After his first season with the Sharks, Árias was drafted by the Chicago White Sox but he opted to stay at MDC. As a sophomore, he was named first-team All-State and received Honorable Mention All-American. 
Árias received a scholarship offer to attend the University of Miami but signed with the Seattle Mariners in 1977. He played for several teams in their minor league system, including the Bellingham Mariners, a rookie class affiliate, and Class A teams the Stockton Mariners, San Jose Missions, and Santa Clara Padres.
In 1978, he sustained a broken jaw after getting hit in the face with a fastball. The injury sidelined him for six weeks but when he returned he was never the same. He was released shortly after. 
"You got to be very lucky and very good [to get to the Majors]," Árias said. "I've seen a lot of guys who were good but weren't lucky enough. In my case, I got hit in the face and broke my jaw. It slowed my career down."
Árias continued his baseball journey playing for several teams internationally—Torices de Cartagena in Colombia, Rojos del Águila de Veracruz in Mexico, and a defunct team in the Dominican Republic—before retiring in 1991.  
"You understand and say to yourself: 'I can't play no more, I want to teach what I was taught," he said.
In 1993, baseball lifer Octavio "Cookie" Rojas—a close friend of Árias—recommended him to the Florida Marlins. The team tabbed him as the bullpen catcher for its inaugural season. 
Two years later, the New York Yankees hired Árias as their bullpen catcher and interpreter. He won a World Series with the team in 1996 and received a championship ring.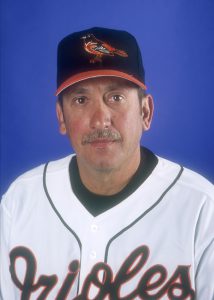 The following season, Árias became the Baltimore Orioles bullpen catcher for 11 years. In 2009, he had a one year stint as an assistant coach at MDC. He also served as the first base coach for the Winnipeg Goldeyes of the Northern League—a now-defunct independent minor baseball league based in Canada and the U.S.—from 2008 to 2010.
He returned to the Orioles in 2011 and remained the team's bullpen catcher until 2015. After Baltimore, Árias worked as a catching instructor for the CTBC Brothers of the Chinese Professional Baseball League in 2016.
Morales offered Árias an assistant coaching position at MDC last year when he took over for longtime Sharks' Head Coach Danny Price. Árias mentors the team's catchers and serves as a first base coach.
"He has a lot of experience coming from so many different places and being around all those different types of people," Pereira said. "Being a sponge around him is the best that you can do. He's like an encyclopedia for catching."