Sharks Tab Former Player To Lead Baseball Team
Adrian Morales has won two Division I National Championships and played professional baseball in the Kansas City Royals organization. 
Now he has another accomplishment to add to his resume: Miami Dade College selected Morales, who served as an assistant and recruiter under Danny Price for the last three years, as the team's new head baseball coach.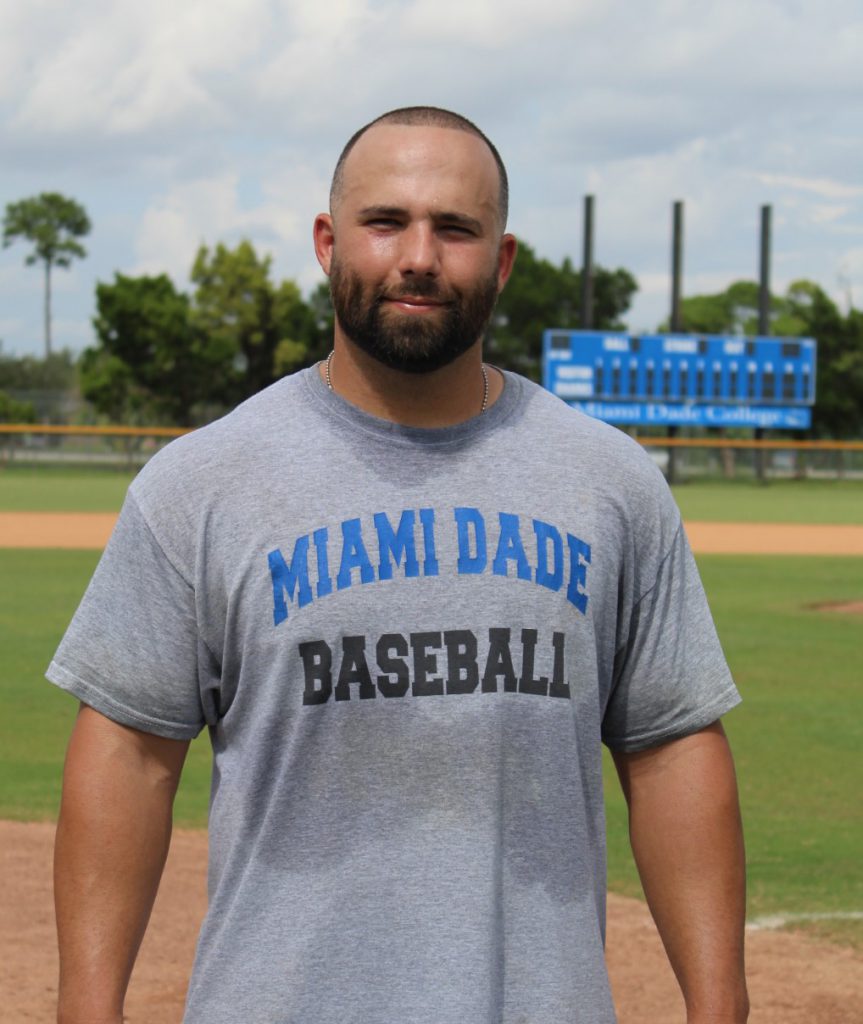 Morales, 31, was offered the position in late August. It had been vacant since June after Price announced he was stepping down.  
"I've been preparing for this since I got released from pro baseball. I was made for this, I've been doing this since I played," Morales said."I feel really good about what I have. There's no pressure. We work. So if you work and are prepared, by the time the season comes, it's going to be fun."  
His life has revolved around baseball since he was three years old. His mom, Mayra Morales,  took him to watch his older brother's little league games in Hialeah, and that's where his passion for the sport began.
"[My mom] made sure we stayed out of trouble and in sports," Morales said. "She's the reason I am who I am." 
Morales developed into a star at Miami Springs Senior High School. In his senior year, he hit five home runs, 32 RBI and posted a .446 batting average. After the season, he was named to the All-Dade First Team. 
He played two seasons at MDC in 2008 and 2009, under former head coach Steve Hertz. Morales helped the team win back-to-back Southern Conference Championships and was named First Team All-Southern Conference and First Team All-State. At MDC, Morales was a team leader and established a good relationship with Hertz and his pitching coach Kevin Long. 
In 2009, Morales was drafted by the Houston Astros, but he decided to continue his career at the University of South Carolina.
He won two National Collegiate Athletic Association National Championships under former head coach Ray Tanner. Morales was an integral part of the team. In two seasons with the Gamecocks, he collected 137 base hits, 31 doubles and had a .277 batting average.
In 2011, Morales was drafted in the 49th round of the Major League Baseball Draft by the Kansas City Royals and played in their minor league system, last playing for the Class A team, the Lexington Legends. After two years, the organization released him. He went back to the University of South Carolina to earn a bachelor's degree in criminal justice while serving as a student assistant coach on the baseball team during the 2013-14 season.
Morales returned to Miami and began his coaching career at Coral Gables Senior High School in 2015. But he soon realized that high school baseball was not the level he wanted to coach at.
An assistant coaching position opened up at MDC the following year. 
"Coach Price took a chance on me because he didn't know me, but coach Hertz and coach Long, those coaches vouched for me," Morales said." Last year [Price] kind of took me under his wing and showed me everything because he wanted me to be the head guy here."
Morales' familiarity with the Sharks and the high schools that surround it made for a seamless transition. 
"He is very demanding because he likes to do things well but he is always there when you need him," said sophomore infielder Raphy Almanzar. "If you have struggles batting, fielding or even with your classes, he is always there for us." 
Morales describes his coaching style as tough and direct. He has been strongly influenced by the coaching methods of Hertz, Tanner and Price. He expects to lead the Sharks to a National Junior College Athletics Association Southern Conference Championship this season.
"I'm really happy he was named baseball coach because he is a very good fit for that position," Price said. "Adrian was definitely qualified and it speaks well about Miami Dade College when you can recommend and hire within."