Haitian Native Finds New Home On MDC Basketball Court
Dev Ostrowski can't imagine his life had he not been adopted from an orphanage in Haiti. 
He recalls his time in a crowded orphanage near Port-au-Prince until adoptive parents Steven and Susan Ostrowski brought him to their suburban home in Connecticut. 
"It makes you so appreciative of so many things because I ended up here," Ostrowski said. "Think about it. If I was in Haiti, I would have never thought about this moment right now. Just knowing what you've already been through, you can use it to take down challenges in your life, knowing that I've already been there."
Ostrowski, a 6-foot-1 inch point guard, is a recent addition to the Miami Dade College men's basketball team. The freshman's unwavering charisma and quick reflexes have made him a standout on the team. 
"If I had a daughter, that is the guy I want to marry my daughter," said Sharks' head basketball coach Kevin Ledoux. "He's a tremendous guy. He's funny. He's personable, very educated. He's got a big heart and cares about people." 
Ostrowski, now 19, recalls watching children in the orphanage play soccer and basketball with deflated balls and broken hoops from a distance. He didn't embrace sports until he arrived in Connecticut. 
"I wouldn't even know what sports is," Ostrowski said. "I never really got into it until I got here." 
Humble Beginnings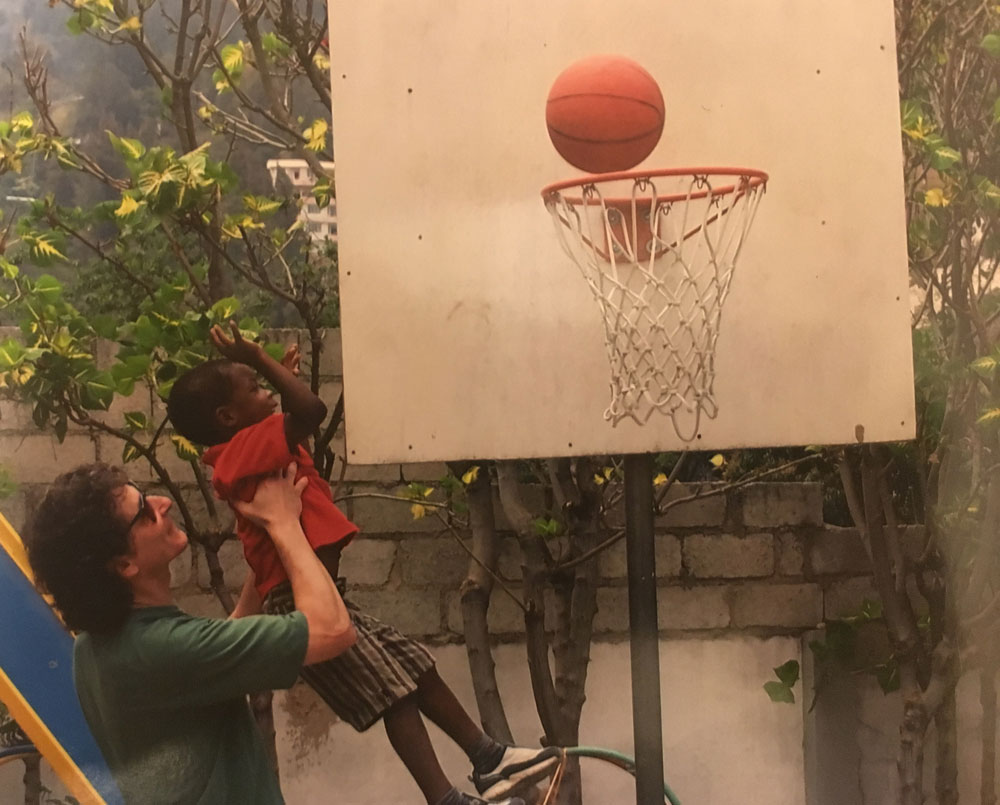 Ostrowski was born on May 20, 2000 in Petion-Ville, a rural village half an hour away from Port-au-Prince. He and his older brother Geralson would often venture into the woods for hours, fetching avocados or bananas from trees on their family's farm. 
"It was a completely different life. All your worries were if you could get enough food and clothes," Ostrowski said. "It was very peaceful. Everything good that happens; you're just so thankful, which is, you know, forgotten over here."
His parents in Haiti soon realized they were unable to financially support him, so they sent him to an orphanage.  A pastor took him there. 
"They seemed appreciative of us, but it was so sad," Susan said, upon meeting Ostrowski's birth parents years later. "At the same time, it was really heart-wrenching. We wanted to convey to them that, you know, he'd be really well taken care of. We felt like this was a very special gift that they've given us."
Ostrowski for four years was one of nearly a hundred children in the jam-packed orphanage. According to Dev, nannies were often assigned to care for multiple children, and couldn't attend to the heavy population. It forced him to fend for himself. 
"Ten of them are taking care of 80 kids all the time, and they're not making that much money," Ostrowski said. "It's a very hard job so you can expect that but, you know, as a little kid, it's hard not to have a parent."
There were times when Ostrowski wouldn't eat for days. He often hid food in unconventional places so other children wouldn't take it. When he was adopted, he had a protruding belly with parasitic worms, a result of malnutrition, according to Susan. 
"I mean, I can't speak for him," said Geralson Withrow, Dev's birth brother that was also part of the same orphanage. "I would say he definitely felt the hunger. There was a hunger issue. There wasn't enough food sometimes."
Ostrowski also wasn't the outgoing, charismatic person he is today. He preferred to sit by himself and draw in coloring books than interact with the other children on the playground. One time, a child threw his favorite toy truck down the roof, shattering it into pieces. 
"I got in trouble for crying," Ostrowski said, recalling the incident. "It wasn't that bad, it was that they didn't want to take care of crybabies. Imagine 70 kids crying all the time. It still was tough."
The idea of adopting a child first came to Steven and Susan when they connected online with a woman that adopted two children from Haiti. They found Dev, who was five at the time, through the ophanage's website and were fixated from the start. 
"When we saw him, we all just melted," Susan said. "We just said, 'My god, we've got to get him out of here. We've got to do everything we can, no matter what it takes.'"
Their entire family, including their nine-year-old son and 13-year-old daughter, visited the orphanage five times during a 20-month period until the process was finalized. Originally named Dev Louis, the Ostrowskis gave him their last name and made Louis his middle name once they adopted him.
"The older kids knew his adoptive parents [were] coming," Susan said. "They all come running and bowl over us. Then, they sort of like parted the ways and led Dev to us. But, he was so cute. He looked up at us and he was so cute."
A Fresh Start
The Ostrowskis weren't surprised when Dev held onto habits from the orphanage. Sometimes he hid food in bookshelves and toy boxes. Other times, he would eat too much and make himself throw up. 
Difficulties arose in teaching the young boy social etiquette and manners. Aside from cutting people in line, he would often try to drink or lather lotion-based products onto his hair. 
Ostrowski eventually got a grasp of the English language and lost his native tongue and accent. When he was 10, he returned to Haiti to see his birth parents. Susan also helped in Withrow's adoption process. He now lives 20 minutes away from the Ostrowskis' home in Connecticut. 
Although Ostrowski doesn't feel an immediate connection to his birth parents, he continues to send cards and care packages to them. 
Meanwhile, in Connecticut, Ostrowski learned to play the violin in middle school but stopped because he "hated it." He eventually took up the piano when he was 15 after convincing Susan to let him take classes. Although he wanted to quit, his adoptive mother refused, citing that he needed to finish what he started. 
Four years later, he continues to play and can read sheet music. At the College, he regularly plays the piano at 7 a.m., three days a week in Kendall Campus' music room. 
The Game
When he was 6, the Ostrowskis got Dev involved in sports, enrolling him in soccer, baseball and basketball. Basketball stuck with him because it was fast-paced and suited his quick reflexes. 
"You're either doing something all the time because in soccer, you kind of sit and wait for the ball," Ostrowski said. "That's the most active, and I just really like that. And I just like dribbling with my hands because my feet aren't as good as my hands. So I like basketball a little better."
He was a star on the East Lyme High School basketball team, averaging 22.9 points, 3.3 assists and 2.9 steals during his four years. Dev had a 3.5 grade point average and was named the Connecticut State Player of the Year. 
However, he didn't receive many offers from Division I schools, partly because he missed most of his senior season after fracturing his right foot.  
Central Connecticut State University gave him a full scholarship, but he selected to play at MDC after Sharks assistant coach Christopher Vincent recruited him.  
"He's basically one of our leaders already, which says something because the majority of our guys are second years," Ledoux said. "He's always been the most athletic player in his league and where he plays and so that's been a little adjustment. He's done very well."