Don't Know How To Sew A COVID-19 Mask? This Miami Fashion Institute Student Has You Covered
Olivia McAteer traces a floral pattern onto cotton fabric with a permanent marker, before pressing the design in with a flat iron. 
McAteer, a Miami Fashion Institute student, typically undergoes this process while designing runway outfits, but now her work has a deeper meaning—it could potentially save lives. 
 The 18-year-old is creating protective face masks with her mother Siva and 17-year-old sister Ilise using leftover fabric from previous projects.
So far they have donated 200 masks to SalusCare, a behavioral healthcare service center in Fort Myers. Another 100 went to family and friends that work in the medical field, and ten were given to a United States Postal Service office.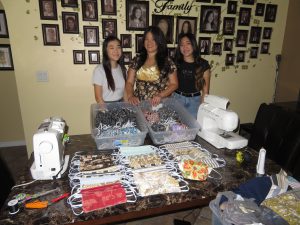 "[They are] showing that the community stands together and people are willing to help in time of need," said Kasey Stephens, who works as a development and events coordinator at Saluscare.
McAteer also began selling masks for $8 to $15 on her online shop, Siva McAteer Design Group LLC. The garments—with sizes that range from small, medium to large—come in 18 designs, and can be fitted with an elastic or fabric strap. 
"A lot of people don't know how to sew, so what do you do to protect yourself?," Siva said. "We want to be a contact that people trust and get you masks for a decent price. We aren't going out here trying to make money. We are going out there to help."
The donated masks have a layer of protective interfacing inside the fabric, but the ones sold online come without it. 
Mass-producing the gear is an intricate, assembly line process—one that typically starts at noon and doesn't end until midnight. 
Siva traces a pattern on the fabric with a permanent marker. 
Olivia then stitches two pieces of cotton fabric together to create the base with a Brother sewing machine before pressing the raw edges with a flat iron. She finishes the process by attaching a strand to the mask, enclosing it with a topstitch.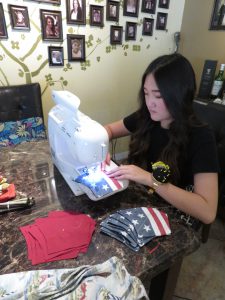 Each mask takes about five minutes to make but comes with challenges. The long shifts required to create the masks has taken a physical toll on the family; they frequently experience sore backs and fatigue during the process.
The initiative was hatched after Siva saw a SalusCare advertisement on Facebook. The center was low on masks and needed the community's help to get more. 
So, McAteer and her family put their sewing machines to work, and within three days, created 200 masks. 
They dropped off the facial gear to the facility on March 26, where the masks were distributed to staff and patients. 
"We've had multiple staff members reach out and express how grateful they are," Stephens said. "I'm sure [the patients] appreciate the precautions Saluscare has taken in keeping them safe."
For the last seven years, the trio has created different types of dresses and vests for their family to wear for their group pictures during the holidays. The sewing process, which typically takes two weeks, allows them to showcase their talent. 
While it's bittersweet for them to sew masks from old dresses, their talent for creation has taken on an entirely new purpose. 
"I believe that we are making everything safer by being able to offer masks to people in need," Olivia said. "I hope that more people are able to see that if we can do it they can do it as well."