Decision To Reboot Presidential Search Angers Community: 'The Heart and Soul of The College Has Been Ripped Apart Today'
By Corbin Bolies and Heidi Perez-Moreno
The Miami Dade College community waited for the president they were promised.
For seven months, Democracy's College searched. They spent more than 1,000 hours, had more than 500 inquiries, 49 applicants and four finalists.
After an intimate two-day open forum with the community followed by a third day of final interviews with the District Board of Trustees the fifth president of MDC was expected to be delivered by 3:45 p.m. on Wednesday.
But what they got, in the end, were more questions.  
Instead of picking a president, the seven-member board voted to reboot their search. Chair Bernie Navarro, the lone dissenting vote, called it a "slap in the face" to the search committee and a "waste of taxpayer dollars."
So, what now?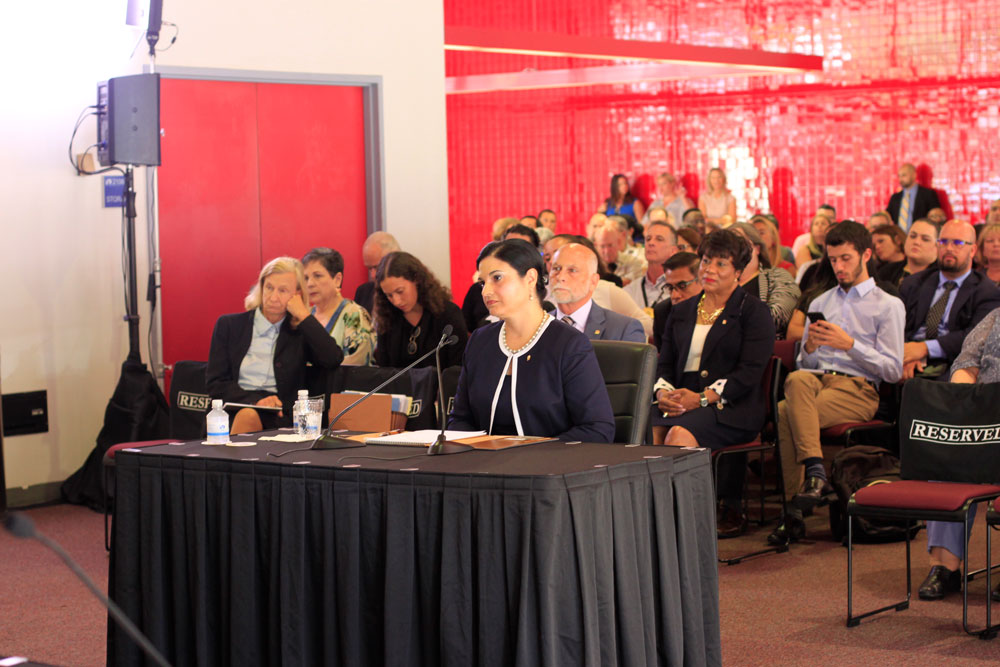 The board will meet again within two weeks to reconsider the qualifications that will be required for the position, search for a stronger pool and decide if an interim president is needed. Lenore Rodicio the Executive Vice President and Provost of MDC will be the lone carryover from the previous search and remain a finalist. 
"I am, of course, disappointed. This has been an arduous process for myself and my family," Rodicio said in a statement. "At this point, I am left with no choice but to await the Board's final decision and pray that whatever decision that is, it's in the best interest of our students."
Board members Michael Bileca and Marcell Felipe led the charge to scrap the current search, arguing that the pool of finalists wasn't strong enough and that the board was too new to make one of the College's most important decisions ever.
Five of the seven board members were appointed within the last four months, including Nicole Washington who was appointed two weeks ago.  
"We need some time to get used to the institution, the mission, the values—[to] understand where we're going before we make a decision of this magnitude," Felipe said in an interview with The Reporter. "From this point on, we have to figure out what we're going to do. I think it's the right move because this is a decision that's going to impact, not just Miami Dade College, but all of South Florida for hopefully the next generation."
The crowd, led by a contingent of current and former professors at the College, retaliated with a volley of boos and chanted "Shame! Shame! Shame!"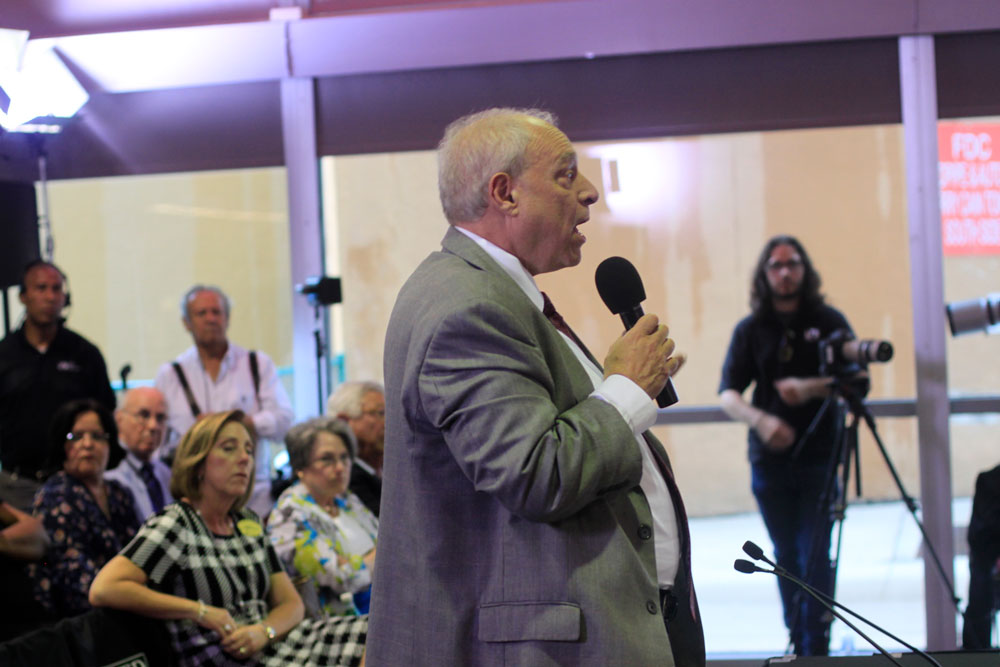 Mark Richard, United Faculty of Miami Dade College's attorney, shook his head from his front-row seat before requesting to speak. 
"The heart and soul of the College is being ripped apart today," said Richard, calling the board's decision the saddest day of his 40 years at MDC. 
Roberto Martinez, a former Board of Trustees Chairman and presidential search committee member, also wasn't pleased. 
"[It's] a travesty. That's playing around with a very serious institution that serves our students and our communities, and is very irresponsible," Martinez said. "One would suspect it smells like there's a political fix. Whether it's true or not, that's the impression and the impression undermines the integrity of the process."
The College's disconnect with the Board began in March when Governor Ron DeSantis appointed Felipe, Bileca, Anay Abraham and Carlos Migoya to the Board. 
In their initial meeting in April, the trustees attempted to drop the minimum education requirements for candidates. 
"The odds are, it's going to be an academic, the odds are it's going to be a doctorate," Bileca said at the time. "But if there is a CEO of General Electric, of Tesla, that has this dream of [wanting] to move their career to this opportunity of education and change the world, we're restricting them."
The proposals were widely panned by the community. In April, UFMDC sent the Board a letter rebuking the proposed changes. 
"It is incredible to imagine that midway through the selection process there would be an attempt to change the selection criteria and protocol," Richard wrote. "We cannot devalue all of the college degrees we have conferred upon the graduates of Miami Dade College."
The motion died after a 4-3 vote, with members eventually adhering to the original selection process. 
Tensions continued three months later. On July 9, nearly two weeks before Wednesday's vote, Governor DeSantis appointed educational consultant Nicole Washington to the Board, replacing Vice Chair Jose K. Fuentes.
Fuentes said that when he reached out to the Governor's office to extend his term through the process, he was declined. He questioned the timing of the decision and hopes it wasn't a political move. 
"I hope that that's not the case, and it was obviously a decision the governor made to select his own candidate for the Board of Trustees," Fuentes said. "I've been in processes like this for a long time, so it comes as a shock to me that they would kind of hold this process as a lot of work has gone into it, both personal and professional time. This process was selected because it was the best for the College and its students."
Abraham disagrees. She believes it's an opportunity for the process to play out fairly.
"We're a new Board of Trustees, so let's listen to what we all have to say," Abraham said in a phone interview with The Reporter. "Now, we will be able to discuss the items we should have discussed before. Once that's done, I feel certain we will all agree."
Felipe defiantly denied any backdoor politicking played into the decision. 
"You've made some innuendos, right here, right now, that are inappropriate based exclusively on what you've heard, with or without evidence, as you said, " Felipe retorted at the end of deliberations on Wednesday. "That goes both ways. I've heard, with or without evidence, that at the end of this process there was going to be one candidate that we could vote on that would be qualified. I don't agree…I know the gentleman that carried out this process and that is why I don't raise allegations, with or without evidence. I only raise them when there is evidence. So I think if we are going to have a good relationship, we have to base any allegations  and accusations on evidence, and have a frank dialogue because I think everyone here has acted with the utmost good faith for the benefit of this college."
Staff Writer Alina Halley contributed to this story.