Converted Catcher To Lead Sharks Pitching Staff After Impressive Freshman Season
When catcher Luis Colon suffered a back injury last January, the Sharks turned to their backup plan—David Pereira, a walk-on freshman, who was transitioning from third base.
Pereira, who led Miami Killian Senior High School to the regional semi-finals as a senior,  worked with assistant coach Rudy Arias, a respected catching guru who spent more than 15 years as a bullpen catcher with the New York Yankees, Baltimore Orioles and Miami Marlins.  
Arias, who has a World Series ring from his time with the Yankees, taught Pereira the craft of catching—everything from framing pitches, blocking errant throws and communicating with the pitching staff.
The hard work paid off. In 16 starts behind the plate, Pereira committed only four errors while guiding the Shark's pitching staff to a 13-3 record. 
"It was always something that you had to get used to but it's been fun for sure," Pereira said.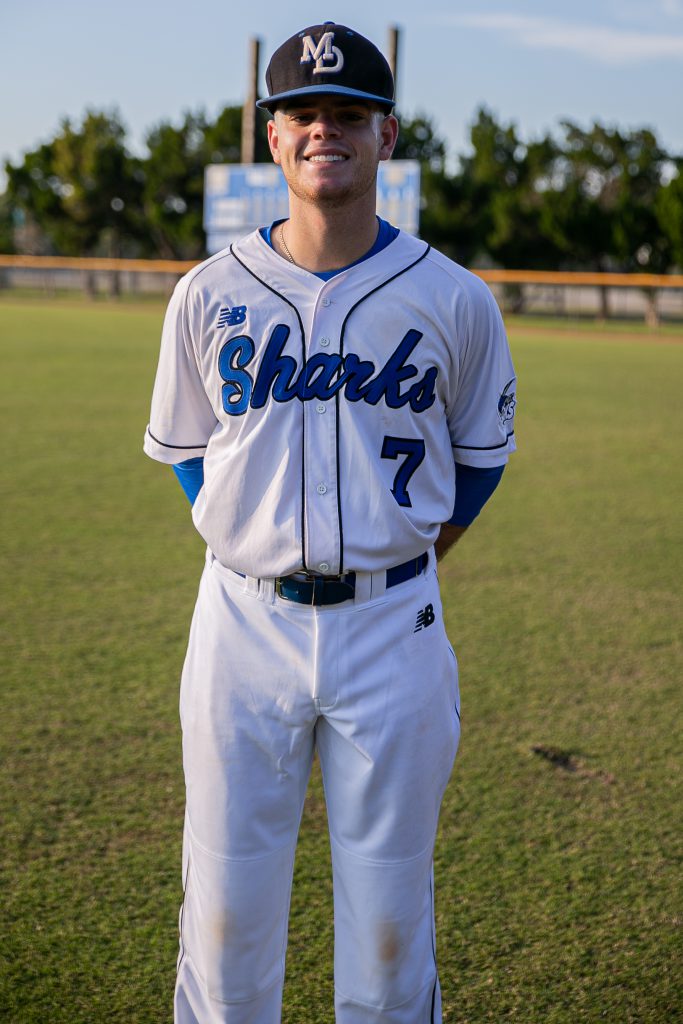 This season, the five-foot-ten-inch backstop heads into the season as a team cornerstone after providing steady defense and boasting a .313 batting average with 10 runs scored and seven RBI during last year's COVID-19 abbreviated season.
"He played at a high-level last year and we're going to see how good he can be this [season]," Arias said. "It's very impressive to be batting .300 while being a catcher in the bottom of the lineup driving in runs and getting guys over."
Growing up in Palmetto Bay, baseball wasn't always Pereira's first choice. 
He started playing soccer at age five at Cutler Ridge Park and was also interested in football, but when his father wouldn't let him play the sport, he turned to baseball instead. 
Pereira started playing America's Pastime at Franjo Park in Cutler Bay when he was eight years old. He played in a recreational league before moving on to Little League. From then on, he knew he had found his calling. 
"I was always that kid that you could stick anywhere, and they could perform," Pereira said.
He continued sharpening his skills at the high school level. 
Pereira played his freshman and sophomore seasons at Christopher Columbus High School, a private college preparatory school in Westchester before transferring to Miami Killian in 2017 to complete his high school career. He made the All-District team his senior year in 2019.
Last year, he was expecting to play third baseman so it took him some time to adapt to his new role. He was a quick study and now returns as a starter and a mentor to a gaggle of backup catchers on the team.
"He is like a sponge, soaking up everything that I would tell him," Arias proudly proclaimed while talking about Pereira's rise. "He picked it up real quick." 
The Sharks begin their season on the road against St. Thomas University on Jan. 19 at 6 p.m.