Buddy System Launches Two Community Fridges In Miami-Dade County
By Carolina Soto and Alice Moreno
Julita Williams knows firsthand the battle some people in Richmond Heights face because of food insecurity.
As the owner of Williams Groceries, she encounters homeless people every day. She helps by giving them food and beverages when she can but the problem is too big for her to tackle alone.
Now, thanks to a non-profit organization that runs errands—like grocery shopping—for people with health complications to reduce their risk of contracting the coronavirus, Williams is not alone.
Buddy System, a program founded by Wolfson Campus student Jessica Gutierrez and her friends Kristin Guerin and Eric Trope, has set up two community fridges in Miami-Dade County in the past month.
 The first one is located inside of Harba Food Store, 1003 N.W. 3rd Ave., in Overtown. It opened on Aug. 20. The second one was set up on Sept. 10 in front of Williams Groceries, located at 14660 Lincoln Blvd.
"Now people no longer [have to starve] if they are hungry," Williams said. "They can come by anytime and have the assurance that they have something to eat." 
The purple-bluish colored fridge that sits outside of Williams Groceries was stocked with celery, tomatoes, onions, apples, plantains, eggs, spaghetti, potatoes, red peppers, onions, canned food and coconut water. 
Artist Vanessa Gomez spruced it up by painting multicolored handprints on the borders and placing positive sayings like "free food for the community by the community" and "take what you need, leave what you can."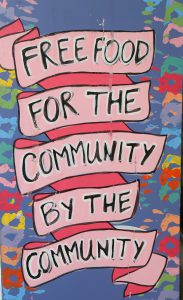 "The message really speaks for itself," Gomez said. "This is more about mutual aid than anything. This isn't charity work, this is about being in solidarity with one another especially during times like these."
Gutierrez was inspired to start the project after she saw a community fridge in the Bronx. The fridge was set up by A New World In Our Hearts, an anarchist network that has established multiple community fridges across New York City.
"I thought it was an amazing initiative and knew I wanted to bring it to Miami," Gutierrez said.
Familiar with South Florida's food insecurity problem, Buddy System decided to start their own community fridge project. 
According to the U.S. Census Bureau, more than one in seven South Florida households are struggling with food insecurity.
Planning for Buddy System's community fridges began in July. First, the group created a GoFundMe page and CashApp and PayPal accounts to pay for the fridges. After they bought the equipment, volunteers scouted for businesses willing to host the fridges and they donated food to fill them.
"If my family can afford to buy food, like why can't somebody else benefit?" said Valerie Dieppa, who volunteers with Buddy System. "We buy eggs so much, so what's buying another carton for someone who probably can't buy a carton
for themselves?"
Buddy System hopes to have a fleet of 20 community fridges scattered across Miami by the end of the year. They would be located in neighborhoods like Homestead, Cutler Ridge, and Miami Gardens.
"I want this to bring unity and remind people that we're not alone in this pandemic and that together we can go further," Gutierrez said.