Board Of Trustees Select New Timeline To Find MDC's Next President—Again
Last March, Miami Dade College's Board Of Trustees promised that the school's fifth permanent president would be hired by July 24.  
When the search fell apart, a new date was set: May 19. 
Now, for the third time in the nearly 15-month search—that has spurred a lawsuit, mock funeral and public spats between community leaders and trustees—the Board voted on a new date to secure the College's new leader: Nov. 17.
Tuesday's vote was unanimous. 
"Everyone in higher education knows this job is available," said the Board's chair, Bernie Navarro. 
Thus far, the College has received 29 applications. None currently serve as college presidents, but five have run a higher education institution in the past. 
They include: Efraín Vázquez Vera, who formerly served as president of the Humacao Campus at the University of Puerto Rico from 2014 to 2016; John Frederic Garman, who ran Berkeley City College in California from 2001 until 2006; Marvin Suomi, who lead Northland College in Wisconsin from 2018 to 2019; Jeffrey Harley, who was president of the U.S. Naval War College in Rhode Island from 2016 to 2019 and Nicholas W. Allard, who served a combined role of president and law professor at Brooklyn Law College from 2012 to 2018.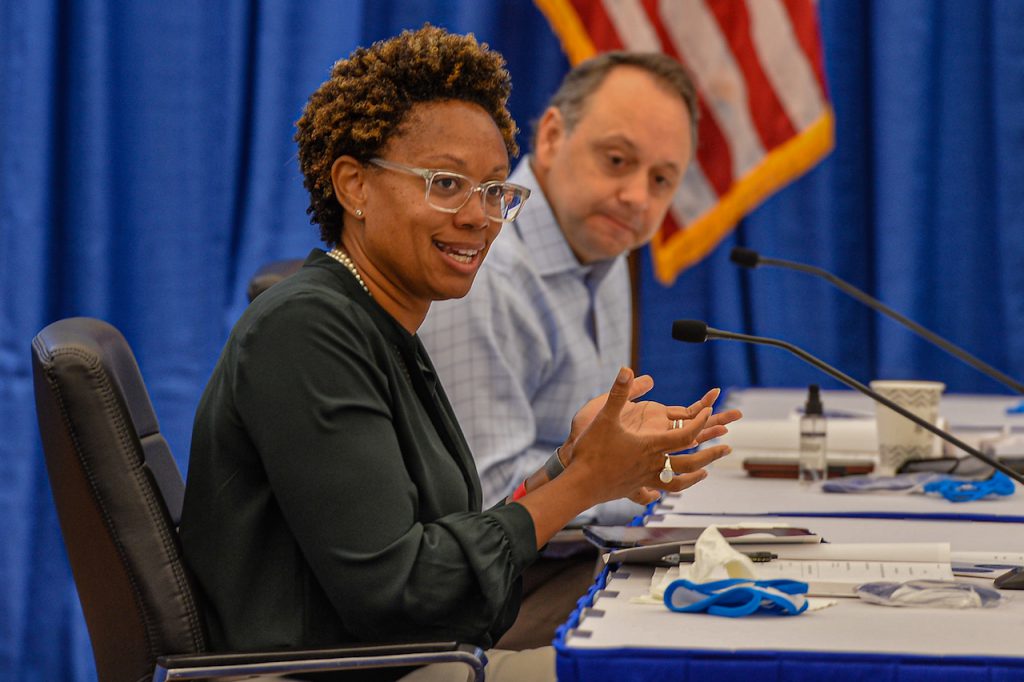 Trustee Nicole Washington, who chairs the presidential search committee, started the discourse Tuesday that netted the Nov. 17 date. She proposed a timeline, created in consultation with AGB Search, that gave candidates until Nov. 23 to apply and had the Board making a final decision on Dec. 15. 
Washington's timeline sparked spirited back-and-forth debate filled with few snarky comments peppered in between. 
Vice Chair Carlos Migoya said extending the search too far could result in losing candidates that are seeking opportunities elsewhere. 
"They're not just waiting for this job," Migoya said. 
Trustee Marcell Felipe disagreed. He said extending the search means candidates won't have to go through the application process in the middle of a pandemic. 
Navarro countered, pointing out that several colleges, like Indian State River College, are in the process of selecting a new president. 
Interim President Rolando Montoya—who came out of retirement last September to take the post—interrupted. He said using the Dec. 15 target date would give outside candidates less than a month to transition. That timeline would only make sense if the College hired the only internal candidate, Executive Vice President and Provost Lenore Rodicio. 
"I have not put a single picture on my walls. I don't have too many files. I pack in ten minutes, and [Rodicio] moves to my office." said Montoya, who has made it known that Rodicio is his preferred candidate. "But if your decision is to bring somebody from outside, my concern is that person finding a home in the Miami market and preparing the family to move from another state or another town." 
Soon after, several board members presented their own timelines. Felipe recommended that the new president assume the role next May.  
"Why don't we wait until 2022, then we know we won't have [COVID-19] anymore?," Migoya said, interrupting Felipe.
Thirteen minutes later, they settled on the Nov. 17 date. 
The search committee will select 8-10 semifinalists, narrow the pool to four to five finalists before the Board conducts final interviews. Washington will create a new timeline for that process in consultation with the College's headhunting firm, AGB Search.
The timeline will be posted on the College's presidential search page later this week, according to college officials.