Bee Club Causing A Buzz At Hialeah Campus
On a trip to Slovenia in 2017, Ileana Porges-West was amazed by the country's appreciation for bees. They dedicate a holiday to the flying insects—International Bee Day—paint beehives across boutiques, indulge in honey tasting events, and sell bee candles and soaps. 
Two years later, the Miami Dade College English professor channeled her newfound respect for the buzzing critters by creating the Hialeah Bee Club.
The 16-member student organization preaches the importance of the insects through preservation and restoration projects, virtual showcases, partnerships with local organizations and a website that documents bee observations.
"This is the newest and sweetest club in Hialeah," Porges-West said. "[We have] field trips, service learning, fun activities, movies, and healthy snacks. By studying bees, we can learn many things to incorporate in the best practices for humankind." 
The organization started with only four members in September of 2019. Its purpose is to educate the community about bees and protect them from mites, pesticides and human fear.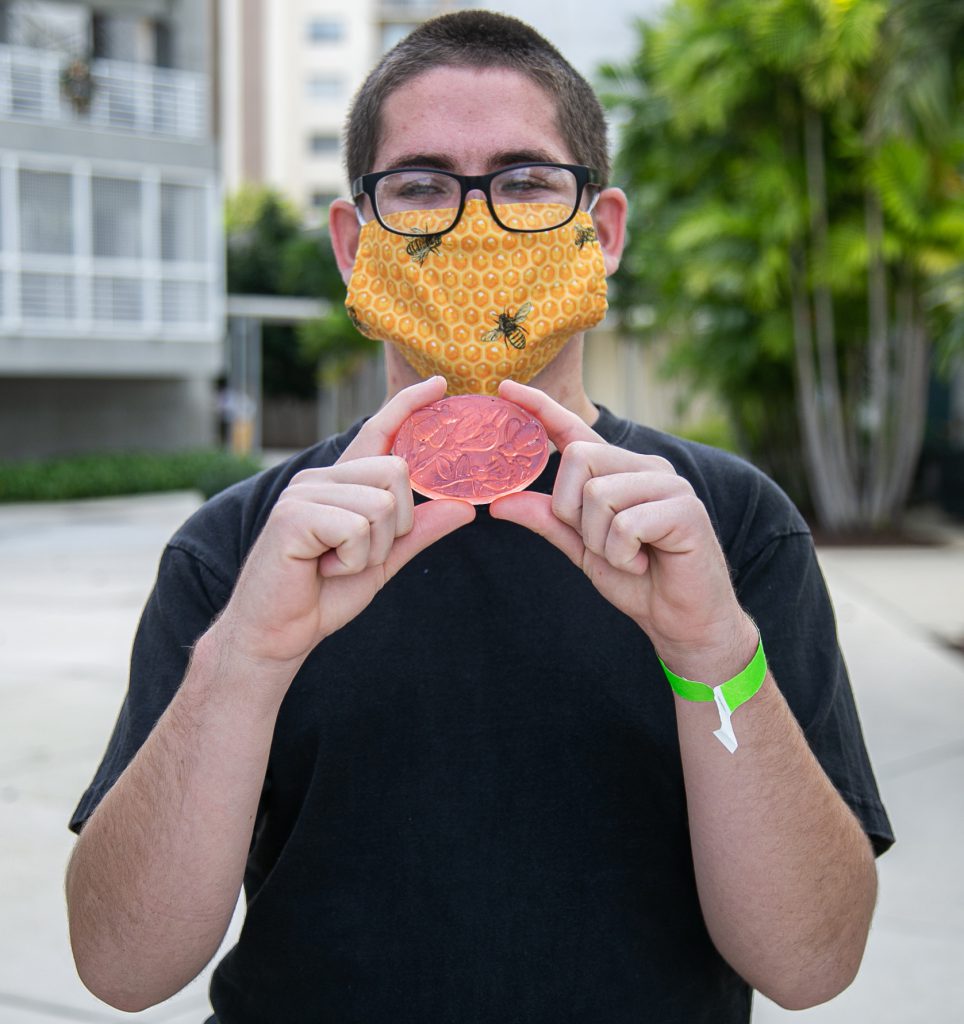 "The club serves as an agency for service learning and gives people the opportunity to go to different in-person activities to study and document bees because the disappearance of bees is a challenge to this area," Porges-West said.
Hands-on activities like tasting honey collected from all across the world and selling bee-related products to fundraise helped the club reach 10 members by the end of their first year. By last fall, they had 16 members from all across MDC including North, Wolfson and Hialeah Campus. 
The diversity of the club is also reflected in its leadership. 
One of the co-advisors is Hellen Rivas, who teaches business at Hialeah and West Campus. She was drawn to the Bee Club because of her eco-oriented lifestyle—she owns an electric vehicle and has pushed recycling initiatives in her home from a young age—and her past connection to Porges-West, who she met when she was a teen. 
Rivas' parents were students of Porges-West and got involved with the YES! Club while the professor was a co-advisor. By age 12, Rivas had gone on field trips with her parents and Porges-West to restore and plant trees and clean up natural areas. 
"In the Bee Club, we aren't specifically biologists or scientists," Rivas said. "We are just a group of different people who want to take care of the Earth." 
Rivas brainstorms events ideas for the club. One of their recent gatherings was Bee Jams, an hour-long virtual arts showcase that taught others how to cultivate bees and schooled them on the use of bee products in medicine. It included music, poetry and dance.
The Bee Club has also partnered with local organizations to spread the word. Citizens for a Better South Florida has hosted lectures on how to make home gardens more pollinator-friendly. Everglades National Park exposed the club to different species of bees.  
In October of 2020, the club partnered with the Miami Beach Botanical Garden to help beekeepers with their restoration efforts. They cleaned gardens, planted flowers and provided support to the bees. 
"We had the opportunity to get really close to the bees and learn about pollinators and the native bees of Florida," said Gihanny Montes De Oca, the Bee Club's president. "We were taught about the need to protect the bees of Florida because there aren't many native bees left." 
Montes De Oca said his favorite event was one that provided skin care treatment to an elderly care facility in Hialeah during Valentine's Day. The scrub was prepared at Hialeah Campus' chemistry lab and made out of honey, salt and sugar. All the honey came from local beekeepers in Florida. 
Planning events during the coronavirus pandemic has been difficult, but the club has adapted by organizing virtual events and promoting ways to stay safe. 
One of their initiatives was to sell face masks to faculty, classmates, club members and the community. They created two honeycomb designs: one in white and another in yellow. The masks are sold for $10 each, including shipping. So far, the club has sold 30 masks. 
A portion of the proceeds was used to help two Jamaican beekeepers based in Homestead. It was part of the club's efforts to help local business owners negatively impacted by the pandemic. 
The project was organized by Hellen's sister, Heily Rivas, a fashion student at Hialeah Campus.
"There was a scarcity of masks so I started making masks on my own for my family," Heily said. "Then professor Porges-West inspired me to help the Bee Club make masks as a fundraiser for the club and to support other local organizations." 
In the future, the Bee Club hopes to establish a pollinator garden at Hialeah Campus and continue working with agencies to promote the awareness of bees in our bioregion. 
"Protecting our little friends with wings is our mission," Porges-West said. "Humans can all learn from the incredible teamwork evident in bee colonies."