Basketball Teams Face Different Late-Season Realities
Expectations were high at the beginning of the season for the Miami Dade College men's and women's basketball teams.
Both squads featured revamped rosters with players coming from a myriad of countries and cultures such as Latvia, Japan and Jamaica. 
There were only two returning players: point guard Daliyah Brown and wing Elton Walker, who emerged as leaders on and off the court for the Sharks. 
Now, with one game remaining this season and despite the similarities, both teams find themselves in very different situations.
Women's Basketball 
The women's basketball team is one win away from securing a spot at the Florida College System Activities Association State Tournament. They need to defeat Indian River State College on Feb. 22. to qualify.
The Lady Sharks, who have won the Southern Conference the past two years, found some obstacles throughout the season. The team encountered problems with communication and chemistry, according to several players.  
"This season has been a roller coaster," said freshman guard Anija Payne.
The team's inconsistency caused them important losses. The best example of that is the Jan. 11 61-51 loss versus Broward College—a team that has won only five games this season.
In the State Tournament, the Lady Sharks will rely on their team defense and must get strong performances from their two best players, sophomore guard Daliyah Brown and freshman forward Nazlah Morrow. 
The duo carried the team's offense this year. Brown leads the nation in scoring (26.5 ppg) and Morrow leads the team in field goal percentage (50.1%) and rebounds per game (9.6).
Overall, the team has an 18-10 record and a 6-4 mark in conference play, but they know that they have to improve if they want to make a significant run in the state tournament.
"I am happy with the results at present and know this team will continue [to] work hard to be better and gel together to improve their team chemistry," said Head Coach Susan Summons. 
Men's Basketball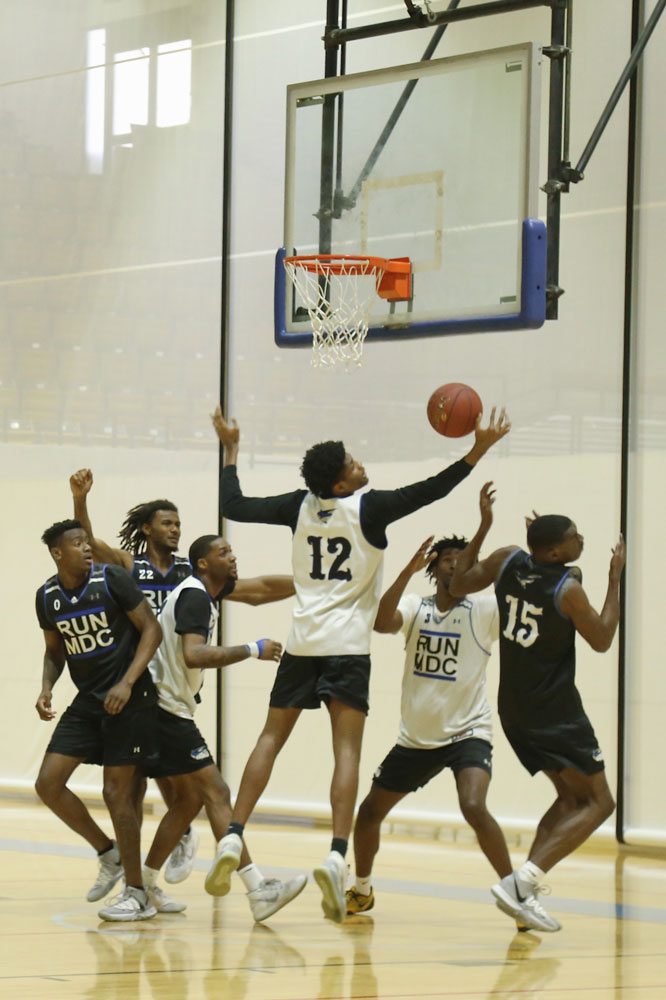 The team missed out on the postseason for the fifth straight year. The last time the Sharks competed at the FCSAA State Tournament was during the 2014-15 season when they finished with a 21-11 record.
Despite a solid start—they went 6-1 in December and won 13 of their first 17 games—the Sharks were eliminated from contention on Feb. 15 after they lost to Broward College 90-70 at the George E. Mayer Gymnasium in Davie.
The Sharks lacked confidence during the conference matchups. They lost their first three Southern Conference games, two of them at home, and their high-octane offense was affected by the lack of focus after winter break. As a team, they are averaging 89.3 points per game.
Two sophomores led the team's offense this year. Forwards Victor Hart and Gus Okafor are averaging double digits in scoring with 17.2 and 13.1 points per game respectively.
But to Head Coach Kevin Ledoux, it all came down to leadership on the court. 
"If you have leadership and if you have talent, that'll bring you a championship," Ledoux said. "If you have talent but no leadership, that's not going to bring a championship and unfortunately that's where we fell." 
The Sharks have a 17-10 overall record with a 4-6 mark in conference play but despite improving on last year's 10-20 record, it wasn't enough to clinch a spot at the State Tournament. 
"The guys really worked hard and the chemistry was good on the team but unfortunately we didn't get to where we wanted to go," Ledoux said.