Wolfson Campus Students Aim To Start A Social Revolution
Bryan Montes and Shawn Torres are on a mission.
Their goal is to create a revolution through their venture, Bracelets for Commitment (B4C), and encourage the public to become difference makers in the community.
Handcrafted by Colombian artisans, B4C features four colorful bracelets, each color signifying a different commitment. Blue stands for social, red stands for economic, green for environmental and purple for political activism.
"We're not Superman," Montes said. "It's going to take everyone if we want to achieve a sustainable world and that's where B4C comes in. Our vision is to create a sustainable world one commitment at a time."
The duo—Honors College students at Wolfson Campus—met during their MAC 1106 math class but their idea took flight during the summer while they attended the Global Citizenship Alliance Seminar in Salzburg, Austria.
During the seminar, Montes and Torres realized that different approaches to the same problem can lead to innovative and functional solutions. They also came to the conclusion that breaking down complex causes into four basic categories can make each commitment more manageable.
"By observing the Austrian way of life and how differently they do everything, we realized that there were so many different approaches to the same problem," Montes said. "By bringing in as many different people as possible, we can get innovative and functional solutions that we might not have thought of before."
Through B4C, participants purchase a bracelet to signify what cause they want to commit to and fill out a Commitment to Action Form on their website where individuals describe why they chose that specific area and how they hope to make a change.
Each issue is linked to the United Nations Sustainable Development Goals, which express fundamental human rights and environmental goals that are currently not being met worldwide.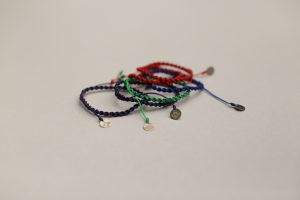 "Each bracelet will serve as a reminder of what they set themselves out to do and on our end we are creating a competition for social entrepreneurs where four entrepreneurs from each category will win seed funding and mentorship from the Idea Center," Torres said. "We make it so that we can quantify their impact and it's not just some arbitrary concept."
The bracelets cost $20 each and all proceeds go to maintaining the organization and establishing their competition. The two students are currently getting B4C approved as a non-profit.
After coming up with the first iteration of their project in Austria, they returned to Miami and hit the ground running.
They didn't want their idea to be an afterthought and applied for the Clinton Global Initiative University to get B4C off the ground.
Montes and Torres spent the summer creating their website, designing a logo and finding a business partner to create the bracelets.
They chose four different-colored gears as the logo with each gear signifying a different cause.
"Each gear represents each color of the bracelet and they're all interconnected, like all the issues our world faces," Montes said. "We believe that even if there's a small change with one gear, the rest have the power to generate movement and keep the system running."
Thus far, B4C has received $1,547 in donations and 161 people have made a commitment.
At Miami Dade College, the young social changemakers received support from the Idea Center and the Institute for Civic Engagement and Democracy.
"Bracelets for Commitment is the best commitment to action that I've ever seen MDC students create," said Joshua Young, college-wide director of iCED. "It has so much potential to become a permanent part of the civic engagement and change-making infrastructure at Miami Dade College."
Young encouraged Montes and Torres to apply for the 2018 Florida Campus Compact Social Entrepreneurship Award, which they received on Oct. 18.
Now in their last year at MDC, the two entrepreneurs are working to keep B4C functional. The tandem is building a strong foundation at the College so that they can continue to run their company remotely in case they transfer to a university out-of-state.
"We hope that through the idea of passion, people understand how important of a mission this is," Torres said. "We want to leave a path to follow behind us so that B4C can grow."
Bracelets can be purchased at  www.braceletsforcommitment.org/.
Additional support for the project can be made through GoFundMe donations at  www.gofundme.com/bracelets-for-commitment.