Wolfson Campus Science Professor To Retire After 32 Years At MDC
The fish. The birds. The tacos. It's a central element of Wolfson Campus science professor Christopher Migliaccio's mantra: everything is connected.
For 32 years, Migliaccio has prided himself on that interconnected message. As he retires at the end of the semester, it's just another element of the universe at work.
"Everything comes and goes—it's all a flow," Migliaccio said. "This is just another piece of that flow."
It's a flow that's carried him throughout his life.
Migliaccio, 67, was born and raised in Westchester, New York, a suburban county about an hour away from New York City. Growing up with limited time in front of a television screen, he spent most of his time outdoors with friends. As he spent time in the woods with his beagle, his love for nature sprouted.  
During the summers, his family would drive down to Sanibel Island in Florida, taking a ferry boat over from the west coast.
"There was nothing out there except beautiful beaches and shells and fish and birds—and mosquitos," Migliaccio said. "I just grew up in the water and it was what we did as a family together."
Those summers led Migliaccio to enroll at the University of Miami in 1970, the school he believed could help translate his love for nature into a profession.
At UM, his class schedule revolved around labs or the outdoors. In his downtime, he took trips to the Everglades with his friends.
However, despite his goal to be a marine biologist, he didn't care much for the work necessary to become one.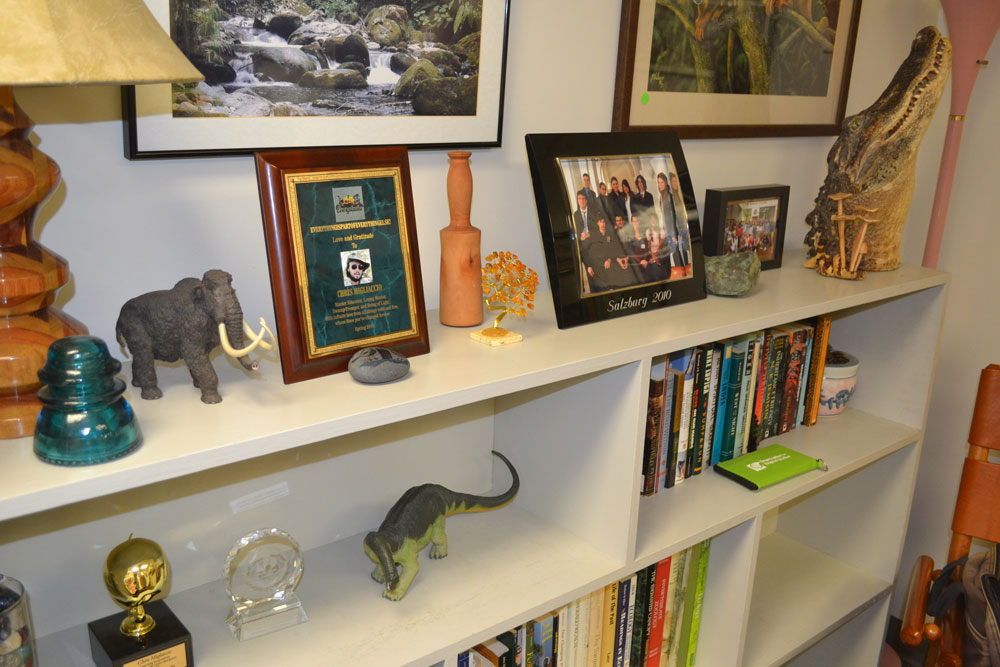 "It was the fun of spending time in nature that helped me get through really tough times academically because I was a terrible college student," Migliaccio said. "What would you rather do, study organic chemistry or go to the Everglades?"
After taking five years to finish his degree, Migliaccio faced a predicament: he needed a job, one that kept him in Miami. He found one in 1975 at St. Mary's Cathedral School in Little River, teaching middle schoolers science. At the school, he also coached the girls' softball team.
"I liked the concept of coaching and I began to see myself as a science coach—not a teacher, but a coach," Migliaccio said. "I realized pretty quickly that I'd found what I really wanted to do."
It was also through St. Mary's that Migliaccio met his wife, Marty.
During his first year at St. Mary's, Migliaccio enrolled into a teaching certification and masters program at Florida International University. He continued to teach at various locations for the next twelve years, taking his students on field trips to the Everglades to expose them to the outside world—a place he held close to his heart.
He started working at Miami Dade College in 1987 at Kendall Campus' Environmental Center, which at the time was a Wolfson program. He ended up transitioning to Wolfson Campus, taking the MetroRail from his home in Cutler Bay.
"It was very, very, very family-oriented. Whenever somebody had a program, everybody came out to support them," Migliaccio said. "Everybody, just out of necessity, helped everybody else with whatever."
His relationship with the College flourished.
Migliaccio became heavily involved with the Earth Ethics Institute and was one of the founding faculty members of the Virtual College. As an environmental science and ecology professor, he has been active with The Honors College since 2003. Every year he leads a delegation of students to the Global Citizenship Alliance seminar in Salzburg, Austria to develop solutions to global challenges.
"What's special about Chris is that he does everything 100 percent," said Pascale Charlot, the dean of The Honors College. "If you ask him to be part of something, you get all of it—mind, body and spirit."
That commitment doesn't just extend to work. Tony Barros, an oceanography professor at Wolfson Campus who Migliaccio mentored and has traveled with to take pictures, credits him with helping him establish himself at the College.
"We're photo brothers," Barros said. "[With him gone] it's going to be a little bit of a bore. He's one of the few professors to take his students out to the field—to take them to see nature."
Migliaccio's plans after retirement aren't set in stone, but he wants to spend more time with his two grandchildren and tending to his personal garden.
He's also spoken to Everglades National Park about becoming a volunteer there and plans on remaining politically active with his wife.
"We have a lifetime membership at the voting booth," he said, while also not ruling out any form of elected office in Cutler Bay.
However, he realizes that it's time to slow down.   
"I've spent a lot of my professional life doing, doing, doing, and there is tremendous value in not doing and being a bit more introspective and spend more time doing fewer things, so I'm not looking to just fill the day," Migliaccio said. "Transcendental vegetation. To be a vegetable is perfectly fine."