West Campus Alumna Opens Chic Nail Spa In Hialeah
When Janet Hoyos graduated from West Campus in 2010 with an associate's degree in political science, she dreamt of becoming a lawyer.
But after giving birth to her first daughter—Mia Hoyos—in 2011, her dreams were sidetracked.
Nine years later, after working a string of jobs as a banker at JPMorgan Chase and Citibank and in the compliance field, Hoyos is finally holding court.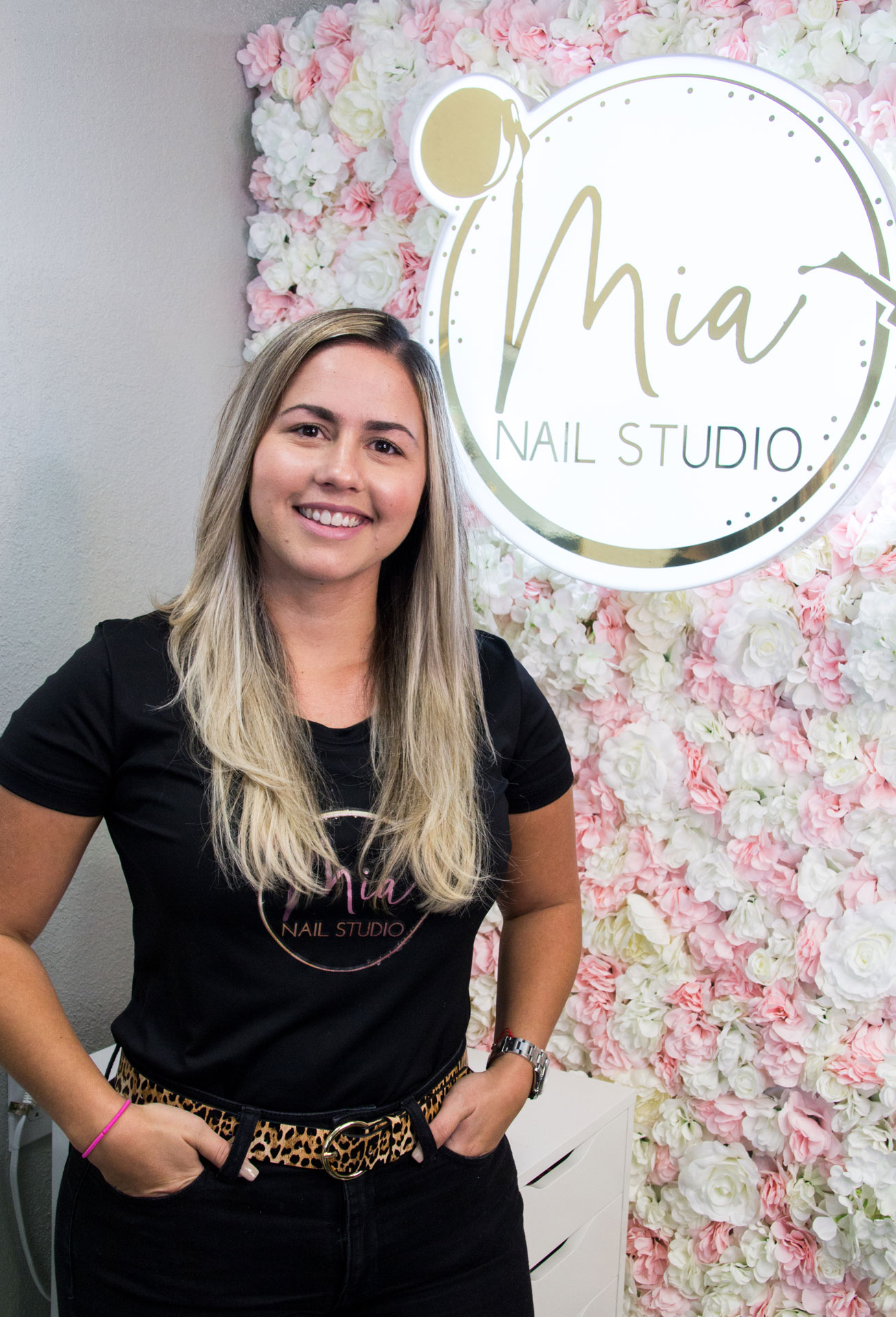 Not in a civil or criminal setting but with her customers as the owner of Mia Nail Studio, a chic nail spa located at 1080 E. 8th Ave. in Hialeah. 
The business, named after Hoyos' eight-year-old daughter Mia, opened its doors in January.
"It makes me feel good to see others feel extra beautiful and extra special," Hoyos said. "It's fun to talk to customers and laugh with them while we're having conversations. It's a place full of positivity and to simply unwind." 
The studio has pastel-colored walls, white nail stations, a flower-decorated partition, and comfy green velvet chairs.
Customers can choose from a variety of services, including manicures and pedicures, nail acrylics, eyebrow and upper lip waxing, skincare, and hair services.
Mia Nail Studio offers a classic manicure and pedicure for $10 and a gel one for $35. A full set of acrylics goes for $37-$40, with refills going for  $27. An eyebrow wax is $10 and an upper lip wax is $5. Henna eyebrows cost $15 and haircuts go for $20-25.
"Customer service for me is everything in a place and Mia Nail Studio has that," said Claudia Ortiz, a regular at the studio. "I can proudly say I was one of their first clients. Everyone is super welcoming and nice." 
Mia Nail Studio opened on Jan. 6. Two months later, the coronavirus pandemic made her shutter her doors for two months before she reopened on May 18. 
"It kind of felt like bad luck," Hoyos said. "But the community really focused on helping small businesses and I got tons of support from customers who wanted to consume from smaller stores to help us keep our doors open and that was a great reassuring feeling."
The salon has certainly pulled through. Their Instagram page highlights the various nail and hair services they perform. 
"The energy and overall atmosphere at Mia Nail Studio is diverse, loving, respectful, and professional," said hairstylist Karolina Carret. "As a member of the trans community it's very imperative to feel safe and loved, and honestly I have never felt anything less than love and support from working here."
Mia Nail Studio is open Monday through Friday from 9 a.m. to 8 p.m., Saturdays from 9 a.m. to 6 p.m., and Sundays from 9 a.m. to 4 p.m.