Urbana Launches First-Ever Podcast Series
Members of Urbana, the literary magazine at Eduardo J. Padrón Campus, sit around an audio recorder in a green classroom to discuss their recent video parody of Venezuelan president Nicolas Maduro in Fighting Communism with Humor. 
To breakdown the video, the magazine's co-editor-in-chief Giselle Valdes brought in Juan Martinez, the student who played the controversial figure. 
"At the beginning, I really didn't like the idea that much because he's not such a good figure to perform," Martinez said during the recording. "By performing him, I could show the community here in Little Havana that might not know about the situation my country is facing."
They discussed the video during a taping of the literary magazine's first-ever podcast series, Urbanites. The series launched on Dec. 12.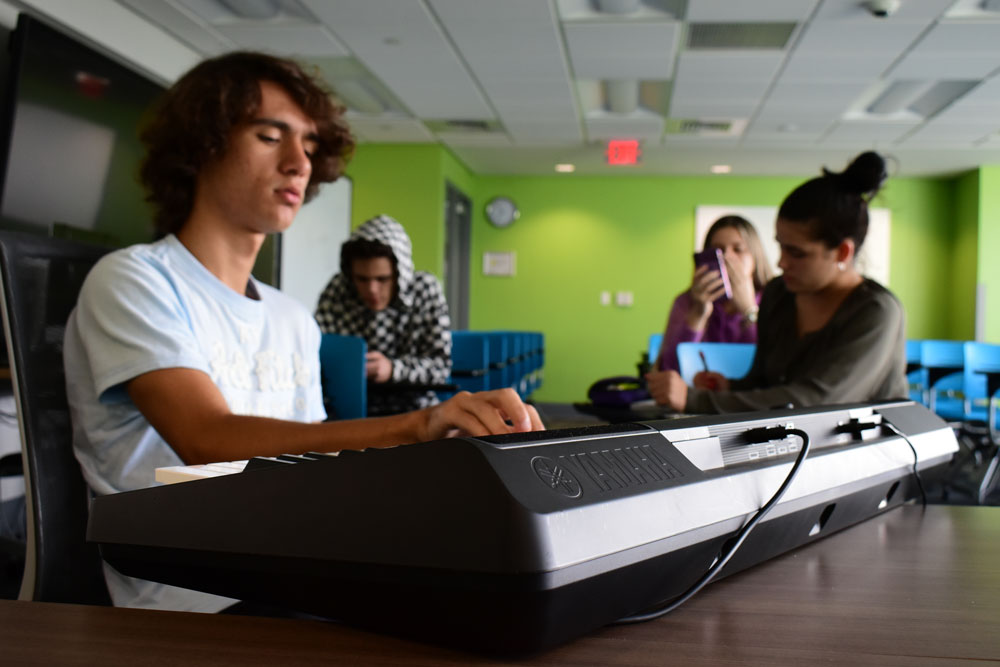 New episodes air every Friday. They explore the intricacies of the magazine and aim to reach out to students through the growing audio platform.
"We are hoping that students make it a habit of listening to our podcast, and become more involved with the literary and arts life of [EJP] Campus," said Urbana's advisor Emily Sendin. "Many people don't even know we have a literary arts magazine. We are trying to change that."
Students use the space to discuss Urbana's work, promote submission calls, announce contests, host guest interviews and discuss literature and art. 
"Creating the podcast was not only to inflict a change of spices to the artistic students of MDC, but to create that family and community bond among us all," said Marian Bulnes, one of the co-hosts of the podcast and co-editor-in-chief of Urbana. "Recording, for us, is like a family gathering."
Ideas for the show come through the podcast's co-creators: Bulnes, Valdes, Daniela Hernadez, Laura Santos and Alejandra Almada. On a weekly basis, they brainstorm episode ideas with Sendin. 
"We are all so committed on this new project that we always find a time and a place to make our schedules work," Bulnes said. "Encouragement and commitment is definitely something Urbana doesn't lack."
The show is recorded every Friday. Almada edits it into a 10 to 30 minute recording, with  results uploaded the same day. 
Each episode begins with a jazz medley of saxophone and piano, played and composed by 19-year-old EJP engineering student Juan Ignacio. He brings his piano to every taping. 
The idea to create a podcast was born at the National College Media Convention  Pinnacle Award Ceremony on Nov. 1 in Washington, D.C, where Urbana was selected as a Pinnacle Award finalist in the two-year Literary Magazine of the Year category. They realized one of the categories for awards was podcasts, and drew up plans to create their own. 
"We all looked at each other as if we had the same idea," Sendin said. "We should create [a podcast]."
While working on the series, conflicting schedules made it difficult for members to balance podcasting with their classes. 
"We all have different schedules, and it's hard to get multiple people to work in a room together at the same time," Valdes said. "We try our best to accommodate all of our schedules because even though we're committed to this—academics are still important."
They hope the podcast inspires others to build confidence in their creative endeavors. 
"We want the MDC community to explore creativity, seize their full potential and become confident artists," Bulnes said. 
To listen to the podcast, go to Urbana's website at urbanalit.com.