TV Shows Are Taking #TimesUp To New Heights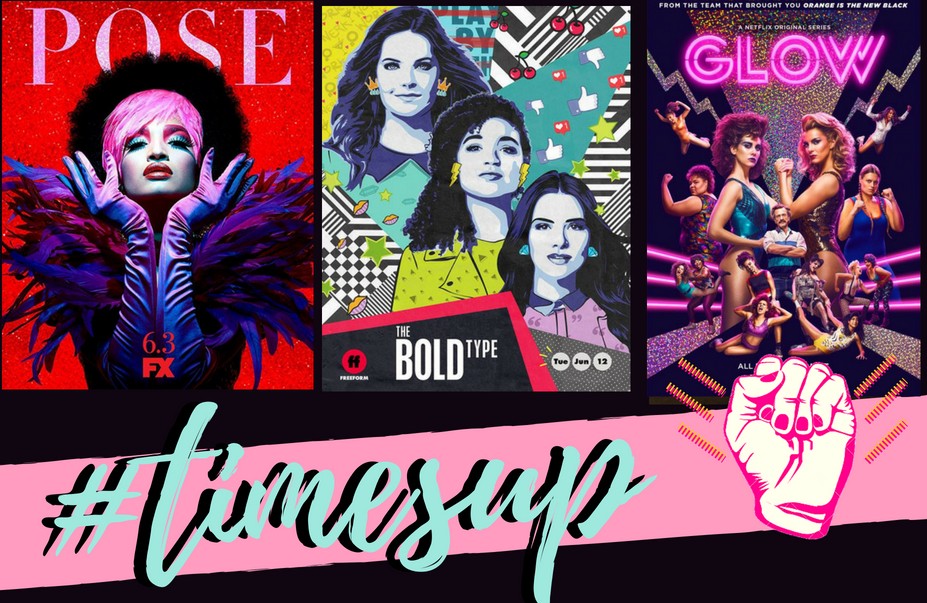 This was no overnight phenomenon. Before it was a nationwide trend, the #timesup movement began on the sets of Hollywood, was whispered behind closed doors, and then became a movement spearheaded by some of the biggest names in media. During the rising prevalence of the #MeToo movement, Harvey Weinstein, a well-known film producer, was revealed to have had sexually assaulted multiple women in the entertainment industry. Some of whom are very prominent actresses.
In February 2018, #TimesUp made its way out of the shadows and instantly turned into a protest against the inequalities of women in the workplace. Because of the countless actors and actresses advocating for the campaign, Hollywood is finally facing what has been going on for decades. In the months following the start of the movement, TV shows have come out with episodes that speak about the problem of sexual harassment in the workplace. Some shows that have recently spoken on the #Timesup movement include Pose, The Bold Type and GLOW.
Pose is set in the world of the ball era in New York during the 80s and follows a group of transgender women as they navigate the social and literary world. The show looks at a myriad of lives and how they interact among their different classes in a time of much disparity.
In one episode, Patty Bowes (Kate Mara), finds out her wife Stan (Evan Peters) has been sleeping with another woman. She was informed of this by Stan's boss, James Van Der Beek (Matt Bromley) on Christmas Day. When he told her this, he expected something in return, so he kissed her on the lips without her consent. She immediately slapped him and pulled away, disgusted by his actions. Before she could respond to this intrusion, her husband returned home and Van Der Beek left right after. Affected by this sudden intrusion, when he returned a few weeks after, she shut him down and refused his advances. This scene showcases a headstrong woman, who even with these extenuating circumstances, could not stand by and go down to such levels. That power imbalance between the boss and the housewife was not taken lightly and the scene showcased a woman not being belittled.
The Bold Type revolves around three friends – Jane (Katie Stevens), Kat (Aisha Dee), and Sutton (Meghann Fahy), employees of Scarlet, a global women's magazine. The show explores their adventurous lives in New York City as they explore their identity and make their voices heard in the great, big world.
Sutton has been in a relationship with her boss Richard (Sam Page) for some time. They have been keeping this relationship a secret because they were breaking the company's rules. Even though they were having a consensual relationship, she was being verbally harassed by other women on the staff, who accused her of sleeping around to get ahead in her job. When forced to choose between her career or her love life, she chose her career. She ends the relationship with her boss even though it doesn't grant her immediate success. Her success brought her hate and suspicion instead of praise for the hard work that she has done. By showcasing a toxic nature of women feeding the fire of misogyny in the workplace, the show brings light to a reality for many. The #timesup movement is not only meant to create equality in all jobs but to also bring women together.
Gorgeous Ladies of Wrestling is a fictional retelling of a 1980s women's professional wrestling circuit. GLOW is set in Los Angeles, where Ruth Wilder (Alison Brie), a struggling actress, auditions for a beginning professional wrestling promotion.
Due to the gaining popularity of GLOW, Ruth has been contacted by Tom Grant (Paul Fitzgerald), the president of K-DTV, the channel that holds the show. Seeing this as a networking opportunity, she schedules to meet him at a restaurant. When she arrives, the hostess tells her that Tom has a reservation in the back, in one of the exclusive bungalows, equipped with seating areas and even bathtubs. Immediately, she is on high alert. When she sees Glen Klitnick (Andrew Friedman), a network producer on the show she enthusiastically hugs him and they begin a generally relaxed meeting that later goes awry when Tom offers her an alcoholic drink, that is later revealed to have a date rape drug. Glen then leaves Tom and Ruth alone. Tom, seeing her vulnerability, asks her to try out a wrestling move on him. After much coaxing, she does, and during the execution of the move, he nuzzles his face into her chest. When he proceeds to leave the room to run a bath for them, she bolts out of the room. The next day, Tom seeks revenge and sabotages the show by placing it in a less viewed timeslot. In many careers, men in power prompt women for sex, and when they do not comply they fire or demote them. The #timesup movement wants to support women that are brave enough to get themselves out of situations like this.
These shows each tackle a different facet of the #timesup movement and how it can affect a woman's place in her work, life, and relationships. The Time's Up movement is more than a hashtag or a trend, it holds the ideals of resilience, sureness of self and bravery. The movement will gain traction if more TV shows do what Pose, The Bold Type, and GLOW have already done.