Tune In This November For The Idea Center's New Podcast Series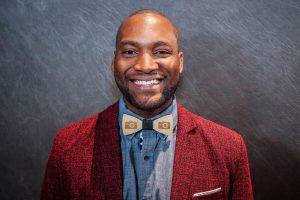 The Idea Center is taking its Pioneers @ MDC speaker series to the masses through a podcast titled Pioneers Podcast. It is set to launch in late November.
The series will be produced through Audastio, a production company founded by Wolfson Campus alumnus David Frederick.
"This school is home to many people from many different types of backgrounds," Frederick said. "At the same time, there are many people who aren't able to go to the events taking place; I wanted to bring it to them through the podcasts."
Each podcast will be released monthly, with the first four being released at once.
The episodes will be: Women Who Code, a conversation series by Johanna Mikkola from Wyncode Academy on Closing the Gender Gap in Technology, Mobility In Miami, where Jeff Schappert, Senior Vice President of Brightline speaks about how Miami can become more "modern" in regards to transportation.
The other episodes are: Finding your Voice—The Power of Confidence, where public speaker Heather Monahan talks on the importance of developing confidence and self esteem and how it translates to success in respective careers, and lastly, Civic Engagement and Innovation, where Steven Levine, co-founder of Meteorite Social Impact Advisors shares his experience with key projects such as the #VoteTogether campaign and the TurboVote challenge.
Pioneers @ MDC is a speaker series that features trailblazers from across the city speaking about how they have made an impact on the community and how they are continuing to achieve their goals.
The podcasts will be recorded with the speaker series simultaneously. Once completed, they will be edited into a 15-to-30-minute recording. Prisca Milliance, a professor at the School of Fashion and Design, will host the podcast.   
Milliance approached  Romi Bhatia, the executive director of the Idea Center, about doing a podcast of her own and was later given the opportunity to host the series.
"There's a certain disconnect with how we use tech and we can fill that gap outside of the classroom," Milliance said. "Through the podcast series, I have a chance to learn about important subjects within today's society while at the same time helping others learn and understand these topics."
Subsequent releases will cover a broad array of subjects ranging from tech and entrepreneurship to race and gender subjects.
"The plan is to grow the Pioneers Podcast into one that can tell the story of a lot of individuals who can relate to being in Miami as a student, someone who's coming back to college, someone who's pursuing education for the first time, whatever the story may be," Bhatia said.
Frederick pitched the concept to Bhatia this summer in early June.  
"David and I got together and wanted to take this already-established series, and amplify it to a much larger audience than what we presently have," Bhatia said.
When Frederick pitched the idea to Bhatia, his intention was to give "voice to the voiceless" and speak about issues and communities that are largely underrepresented.
"So much of what we do with entrepreneurship and the community, [they aren't] always able to have access to the services and programs of tech entrepreneurship centers and events," Bhatia said. "What brought us together was his passion and desire to do podcasts along with our desire to reach out to those audiences."
As of now, Audastio is producing the podcast series pro bono, with Frederick's only goal being to expand the reach and influence of the series, but the Idea Center is hoping to find sponsors in order to increase the frequency of releases.  
"It is my way of giving back to the college and community for everything they have given me,"  Frederick said.