Transfer Making Waves For Sharks
From a small town in Georgia to the bright lights and sunshine in South Florida, outfielder Ian Jenkins has always found a place to hit home runs.
The transfer, from the University of South Carolina, is one of the Miami Dade College baseball team's top additions.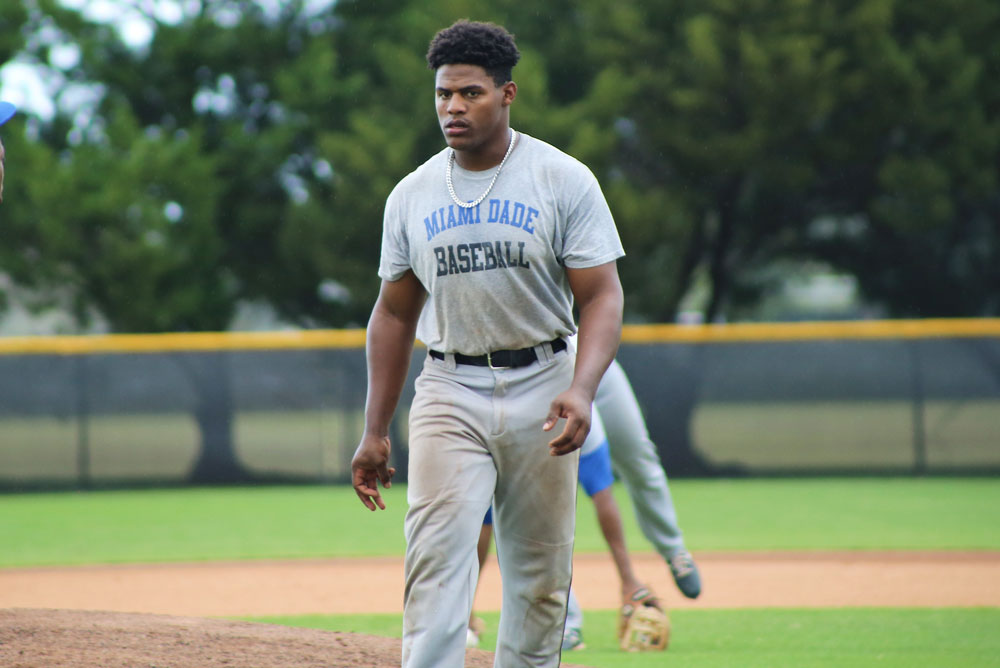 Through twelve games, the redshirt sophomore is hitting .293 with three home runs, eight RBI and 12 runs scored. 
"Baseball is pretty much all I think about," he said. "I love the art of the swing, and everything that goes with it."
It's always been that way for Jenkins. Growing up in Lawrenceville, Georgia, the sturdily built youngster learned how to play baseball, football and wrestling, but he developed a passion for baseball. 
When he was three years old, his dad, Chuck Jenkins, who was a pitcher and center fielder at The Citadel, introduced him to the sport.
"My dad did his best to try to understand [other] sports and put me in the best position to succeed," Jenkins said. "But baseball just came naturally for both of us. Since he knew the sport well it was easy for him to teach it to me and it's just something we just ended up bonding over more than with other sports."
Jenkins' journey has not always been smooth. 
He's dealt with injuries throughout his career due to a condition called Joint Hypermobility Syndrome—a disorder that causes frequent joint sprains and dislocations. Jenkins has undergone knee surgery, sustained a broken foot and had Tommy John surgery.
The injuries sidelined him for chunks of his high school career, but he recovered. He stopped stretching before games and started doing more calisthenics type workouts to deal with the problem. The hard work paid off, Jenkins hit .402  as a senior and had seven home runs and 30 RBI at Collins Hill High School in Suwanee, Georgia in 2017. 
Jenkins was drafted in the 40th round by the Cincinnati Reds in the 2017 Major League Baseball Draft but he accepted a scholarship offer to play at the University of South Carolina instead. He redshirted his first year and had a tough freshman campaign, hitting five home runs and batting .188 in 26 games while playing mostly as a designated hitter for the Gamecocks, so he decided to transfer.
"I just felt like that wasn't the place I needed to be to get better," Jenkins said.
At MDC, the 5-foot-11-inch tall outfielder has proved to be a key offensive cog in the Sharks' 12-1 start. He leads the team in home runs and runs scored and is second in RBI.
"He's putting up good numbers but he still has so much more to give," said Sharks' head baseball coach Adrian Morales. "We need a guy in our lineup that at any given moment can hit a home run and he's that guy. He's got major league power."
Despite the additional playing time, it has been an interesting transition for Jenkins. At USC, he routinely played before crowds of 13,000 people, but game attendance at  MDC is scarce. 
However, he has found other positives to offset that. He likes the diversity and cuisine in  Miami, and has adapted well to his new teammates.
"I want to reach my full potential, not only for myself but for the team and the coaches," Jenkins said. "I want to win a national championship at MDC. I feel like we have the talent and we're very capable of doing it."
The Sharks' next game is at the Kendall Campus, 11011 S.W. 104th St., baseball field on Feb. 25 at 2 p.m. versus St. Thomas University.