Baumrukova Brings Czech National Team Experience To Lady Sharks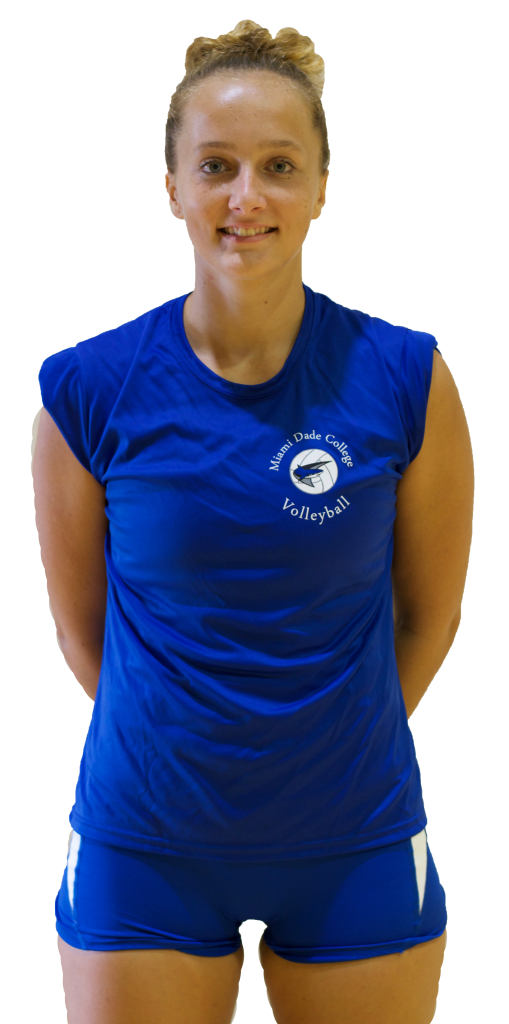 It's every athlete's dream to represent their country on the national stage.
This past summer, Lady Sharks setter Tiziana Baumrukova got that chance, competing in the European Golden League where her team placed third.
"It was a dream come true," Baumrukova said. "To be able to represent my country and play on the level of professionals was one of the greatest things to happen in my career so far."
Though her playing time was limited, Prague-born Baumrukova took her time with the team to learn from those who have spent years competing at the highest level of the sport.
The experience allowed her to share the court with her older sister, Veronika Dostálová, for the first time in her career.  
"When I first got the call that said I was picked to play for the senior team, I was so excited. I booked the soonest flight I could to get there," Baumrukova said. "In the meantime, I had to find a way to get my classes done, so I decided on taking them online where I was able to get my work done around my practice and playing schedule."
Baumrukova, 20, started playing volleyball at the age of six. Both her parents played the sport.
Though she first picked up tennis, she fell out of favor with it due to the fact that it was an individual sport. She preferred being part of a team.
"I felt very good on the court when I first started playing and I knew, at the time, that I was going to be a setter," Baumrukova said. "I always wanted to be a setter because I can be able to do what I want with the opponents on offense and defense."
Later, as she started playing for a club team, her mom was her coach. As she excelled, she was called up to represent the Czech Republic on the youth level, captaining the U17 and U19 teams.
"I love everything about it," she said. "It's hard to say what one thing I love most about it."
Baumrukova first heard about Miami Dade College when former Lady Sharks outside hitter Massiel Matos told her the team needed a setter, she said.  
As a freshman, Baumrukova excelled, playing in 33 out of 34 matches, leading the team in assists with 1,026 assists. Only one other freshman last season played in at least 30 matches.
But the transition to Miami was not an easy one.
As someone who was raised in the Czech Republic, where winters get as cold as 10 degrees Fahrenheit, she missed the change of seasons that she grew up with. Last year, she was the only player on the team from Europe, which made her feel alone at first. Though she felt lost culturally, the rest of the team was quick to embrace her and make her feel like part of the Lady Shark family. It's a sentiment she hopes to extend to this year's group of freshman.
"Tiziana is the heart of the team," said Lady Sharks head coach Origenes "Kiko" Benoit said. "She plays with complete confidence and has always been friendly and welcoming of her teammates."
Baumrukova has embraced the role of team leader. On the court during practices, she enthusiastically cheers on teammates, encouraging them to play harder. Off the court, she has done everything she can to help bring everyone together.
Her roommate, Vanda Zimova, a freshman middle blocker who is from neighboring Slovakia, credits Baumrukova with helping her get used to life in Miami.
"I would write to her even before I came here and she helped prepare for what to expect here," Zimova said. "She's always there for me, whenever I need help or have a problem. She is always there. It helps that she speaks my language [Czech] too."
Baumrukova is once again excelling on the volleyball court this season. She ranks in the top ten in both assists (304 ) and assists per set (10.86).
"Volleyball is my life," Baumrukova said. "I would love to spend my professional career playing in countries like Germany and Italy where I can play at the highest level."