Tips For Undocumented Students Trying To Figure Out The Cost Of College
If you are undocumented, one of the greatest accomplishments you can achieve is to attend college. The American educational system often places barriers for undocumented students that want to continue their education after high school. 
During my senior year of high school, I felt unsure of how I'd be able to afford and attend college. 
I found myself in a similar situation upon completing my first two years at Miami Dade College's Honors College. My graduation date grew closer, and there were no viable options for me to continue my education. 
There aren't many resources available to help undocumented students transfer out and get aid. However, with a few simple tips and tricks, they can become better equipped and pursue a higher education. 
One of the most important steps is to do your research. Identify schools that give aid to undocumented students.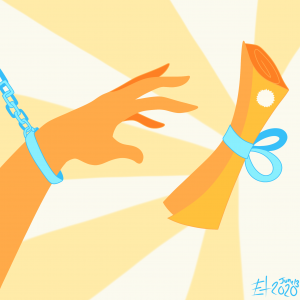 Inspect school websites, make calls and form a list of around eight to 10 schools that provide financial help. I suggest doing this the summer before your last year at MDC.
After you've selected your schools, call their admissions office and ask for more information. Make sure to ask if there's someone there dedicated to helping undocumented students.
If so, develop a rapport with that person, because they could potentially help you receive more aid. However, don't be surprised if a school does not have a designated admissions counselor for undocumented students, as many do not. 
In this case, get in contact with a counselor, admissions assistant or anyone you can touch base with for questions about your application and the school itself. 
An additional crucial measure is reviewing the necessary documents. While this might seem obvious, it is vital that you are aware of the information you need to present. 
Since undocumented students are usually regarded as international students, make sure the schools know you are not actually an international student. If not, they might ask you about visas, passports and other items that do not apply to your case. 
If you have already applied to a school and see these items on your To Do List, get in touch with them so they can be removed. 
Private schools will usually ask for a College Scholarship Service Profile. Fill out the form if  your parents have not filed their taxes. If the school asks for more information, explain your situation to them.
Another important factor to consider is making yourself an attractive candidate. Be engaged on campus and in the community. List your extracurriculars, internships, seminars, work experience, volunteering and anything else that may be noteworthy. You want to be a well rounded student that's involved on campus and has good grades. This will help you share your  experiences when you are writing transfer essays.
When the time comes to write those essays, highlight what makes you special. Share your struggles, triumphs—your life. Also, mention what you bring to the table and how you fit into their school. 
 One of the biggest obstacles undocumented students face is paying for college. Identify the  options you have for paying for school. 
TheDream.Us, Jack Kent Cooke scholarship and the Hispanic Scholarship Fund are some options. Be sure to read the qualifications for the scholarship. 
Some allow all undocumented students to apply, while others only allow those that are under the Deffered Action for Childhood Arrival process, or DACA. Student loans are another option. 
Undocumented students don't qualify for federal aid, and usually state funds, so public schools can't provide aid. However, private institutions have funds at their discretion. Usually, these schools are able to provide grants, scholarships, and more. 
Some states, such as Florida, allow undocumented students to pay in-state tuition at public colleges if they attended at least three years of high school in that state. More information about this can be found here.  
While you wait for the admissions decision, do not spend your time worried or anxious about the future. Things get better. I am lucky enough to be continuing school at Syracuse University on a $72,962 scholarship in the fall. 
Here are some resources that could help you on your journey: 
College Info
College Options for Undocumented Students
College Guide for Undocumented Students
Colleges for Undocumented Students
How DACA Students Can Apply to College
Student Loans
3 Student Loans Without a Cosigner for 2020
The Definitive Guide To Student  Loan Debt 
Student Loans: What to Know Before You Borrow & Repayment Planning
Scholarships
MALDEF's Scholarship Resource Guide
2020 Scholarship And Fellowship Lists
The Jack Kent Cooke Undergraduate Transfer Scholarship