Though Blind, This Man Musters Vision To Help Others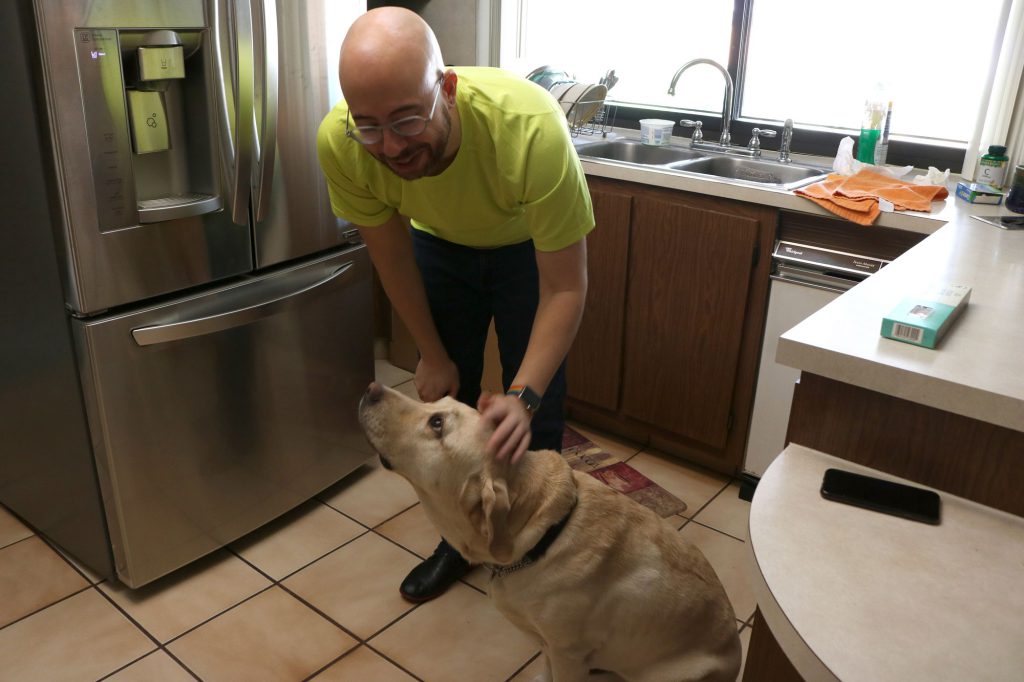 At first, nothing seemed out of the ordinary.
But as nine-year-old Gabriel Lopez Kafati stepped into the optometrist's office, he was struck by the darkness, black doors and the lack of windows in the room.
"My parents never told me directly," Lopez said as he recalled the memory 31 years later. It was the day he was diagnosed with retinitis pigmentosa, a genetic condition that progressively degenerates the retina and causes vision impairments. "I knew that I had some condition in the eye, but it wasn't very clear to me at that point."
Eventually the condition worsened. Simple activities like playing sports required more effort. Reading became impossible. So loved ones recorded themselves reading the books that he required for his classes.
"I have every book that I used for college well recorded by my family and my friends," Lopez remembered fondly.
By his late 20s, the first signs of complete blindness appeared.
"I wasn't able to move around, walk myself," Lopez said. "I couldn't work anymore because I couldn't use the computer."
His sight continued to deteriorate until he reached a point—eight years ago—where he couldn't see at all.
However, the impairment has not distorted the vision Lopez has for his life: helping others.
Five months ago, he took a job at his alma mater, Miami Dade College. Lopez assists students with disabilities at North Campus as a part-time adaptive technology specialist for ACCESS Services.
The program provides accommodations to students with disabilities, a service that often comes in the form of adaptive technology. Examples of the assistance provided are: screen readers,  magnification for their computers and software that reads books aloud. Lopez also advises departments at the College on how to make their websites accessible to students with disabilities.
"Gabriel is extremely responsible," said Andrea Plunkett, the director of ACCESS Services at North Campus. "Very open to the students that come for assistance and definitely very patient."
Co-workers Dayani Perez and Maria Otiniano describe Lopez as chivalrous and sweet.
"[Working with Gabriel] is interesting. It's a good interesting," Perez said. "The reason why I say it's a good interesting is because there are a lot of laughs. A lot of good moments."
When he's not at North Campus, Lopez works independently as a business consultant for private companies and nonprofit organizations, mainly within the blind community. He started working in the field after he moved to Miami from Honduras and was unable to practice corporate law—which he has a degree in—because of the differences in the two countries' legal systems.
Lopez visited Miami to seek a rehabilitation program to help him with his disability. In 2005, he found the Miami Lighthouse For The Blind, a nonprofit organization serving the visually impaired and blind. He won a scholarship and took part in a program there for eight months, learning about orientation, mobility and adaptive technology.
He permanently moved to Miami in 2009 to study marketing and international trade at North Campus. But that wasn't the reason he left his homeland.
"I was afraid that I was not going to be so useful over there," Lopez said.
He has made great use of his time in Miami. Lopez earned a master's degree in business administration from Barry University and landed several jobs, including a position at Baptist Health International which represents international patients served by all the Baptist Health South Florida hospitals.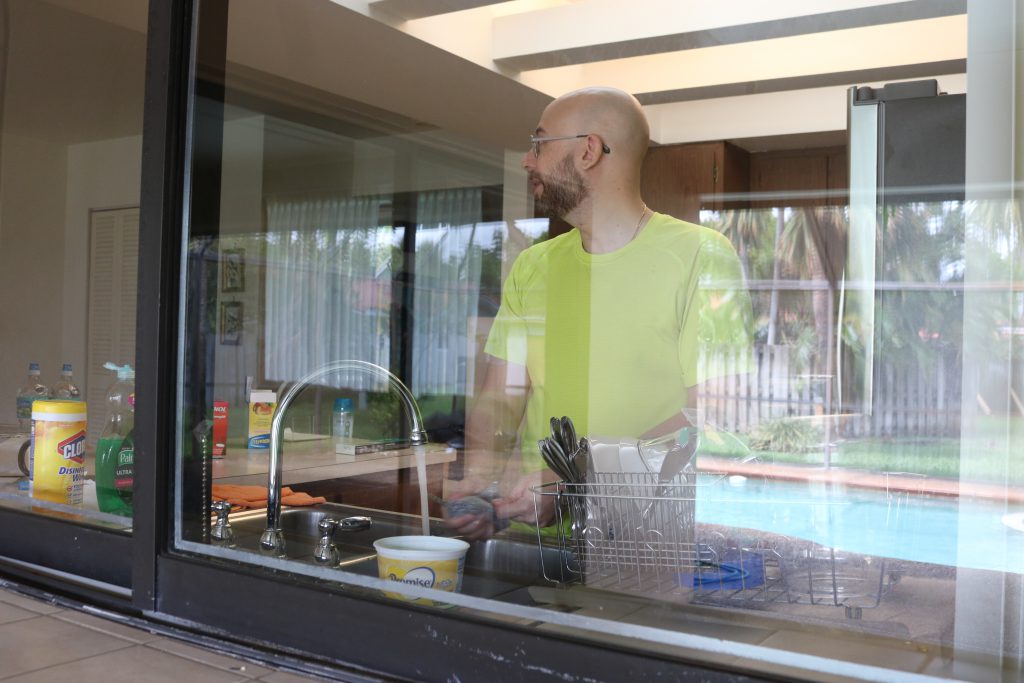 Today, Lopez lives in a three-bedroom house in Miami Lakes. He enjoys culinary arts and creates dishes that feature salads, chicken breasts and quinoa on the weekends. Lopez uses timers and thermometers and has developed a technique for chopping to safeguard against cutting his fingers.
He has also earned a reputation as a snazzy dresser. His look usually includes a button down shirt, dress trousers and a blazer to accent his formal attire. Lopez uses a color identifier—a device that works by taking a picture of the clothes he selects and then tells him what color it is.
"As I lost my vision, I said to myself: 'Okay, I need to figure this out because I am not going to be dressing poorly'," Lopez quipped.
An integral part of Lopez's daily life is Posh, his mellow female guide dog. The six-year-old yellow Labrador was provided to him by the Guiding Eyes for the Blind, a nonprofit organization that trains dogs to assist people who are legally blind.
Lopez applied for a dog at Guiding Eyes for the Blind four years ago. The process was tedious. To find the best match, the school got to know his personality, walking speed and voice pitch.
After matching him with several dogs that best fit his traits, the school trained them for four months. Lopez interacted with those dogs before he was matched with Posh. They trained nonstop for a month in New York to build a strong bond.
Posh, who wears a brown leather harness when on duty, has proved invaluable when the duo navigates the terrain at North Campus. She remembers patterns like their usual walking path during lunch and has mastered anticipating Lopez's every move.
For Lopez, his ability to adjust to life's changing landscape has empowered him to persevere.
"After you learn to overcome, and you learn to live with it, you know it's not the end of the world," he said. "It's just finding different ways to do things."
A version of this story ran in The Lead, the student newspaper for the Miami Dade College High School Journalism Institute, a six-week dual-enrollment summer program for students interested in journalism.