'This Was Her Life': English Professor To Retire After Almost 27 Years At Miami Dade College
During her nearly 27 years at Miami Dade College, Lisa Shaw has made her lectures memorable with themed classes that analyze the Civil Rights Movement, or compare Shakespeare to the CBS reality show, Survivor. 
"She always innovates in the classroom to keep herself and her students engaged, infusing her passions into her courses," said North Campus English professor Brooke Bovee. "We all want our students to be lifelong learners, and in this, Lisa leads by example."
Outside of the classroom, Shaw has advocated for faculty rights, as part of the United Faculty of Miami Dade College. She also co-founded North Campus' award-winning student literary magazine, AXIS Magazine, in 2002, and advised Phi Theta Kappa. 
Now, the 64-year-old English and literature professor, who started her career at MDC in 1993 at North Campus before transferring to West Campus in 2018, is set to retire on Aug. 20. 
"I never came to school, did my work and went home," Shaw said. "I think that if you're really going to be a part of someplace, you need to go in with the intention that you are going to be fully participating."
English Takes The Crown
Born in Brooklyn on Jan. 11, 1956, Shaw moved to Palm Beach County with her family when she was 17 after her father got sick with heart valve issues. Living in a warm climate helped with his heart issues and breathing difficulties. 
In South Florida, Shaw earned an associate's degree in journalism from Broward College in 1975, but when she transferred to the University of South Florida, she was torn between studying journalism or English. 
She debated whether to follow in the footsteps of other USF journalism students that write for local magazines like Florida Citrus Grower, or sit behind a desk and tell others how to interpret T.S. Eliot's poetry and essays. 
After a heart-to-heart chat with one of her journalism professors, Shaw switched majors. She earned a bachelor's degree in English in 1977.
Then she volunteered for Service to the People, a non-profit similar to the Peace Corps, in Israel for a year. She dedicated three months to learning Hebrew, and taught English at schools and community centers in impoverished neighborhoods that received a lot of North African immigrants.
When she returned to the United States, Shaw enrolled in a master's program at Brooklyn College for creative writing and graduated in 1981. Simultaneously, she taught English at Spanish River Community High School in Boca Raton. 
Teaching was in her blood. 
She has taught at several higher education institutions like Broward College, Florida Atlantic University, Kingsborough Community College and Brooklyn College. 
But after landing a teaching position at North Campus in 1993, she settled down.
"North Campus has more heart and compassion, as well as greater struggles, than any other campus and we serve those students so well," Shaw said. "It was an honor to do that."
Making an Impact 
During her time at North Campus, Shaw immersed herself in campus life. She co-founded AXIS alongside English professor Elena Perez-Mirabal. 
"There's something about Lisa that's inspirational," Perez-Mirabal said. "Her experimentation stimulates her students' thinking and my own thinking as a faculty member."
Through creativity and hard work, the professor accrued three Endowed Teaching Chairs awards: the 2002 John S. and James L. Knight award, the 2006 Ruth B. Kassewitz award and the 2015 Bonnie McCabe award.
"[She] has helped promote literacy standards in the teaching of English and writing, combining the best traditional teaching and highly innovative learning experiences for students," said North Campus' Dean of Faculty Michaela Tomova.
In 2007, she was elected the UFMDC's North Campus Vice President. Her tasks included interpreting and negotiating faculty contracts, completing research and presentations about campus issues and working with MDC's administration. 
In 2010, Shaw was appointed co-chair of Miami-Dade County's United Way Campaign. She planned fundraisers like car washes, and candy and book sales.
Shaw transferred to Doral in 2018 and became the West Campus Vice President for the College's faculty union.
"The students [at West Campus] were coming from Venezuela, and Venezuela was actually undergoing dire economic and political constraints," Shaw said. "The students who were there knew how critical it was for them to get the education, and they took it very very seriously."
Diverse Interests
When she was at North Campus, Shaw enjoyed having lunch by the lake surrounded by iguanas. It reflects her love for animals. 
She currently has four pets—Luinigh and Maire, two Irish Water Spaniels; Frankie, an 11-year old Chinese Crested Powderpuff dog; and Baby, a Macaw.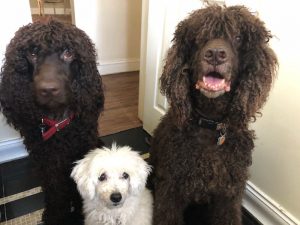 For the last two years, she has volunteered every Saturday at Grateful Paws Dog and Cat Rescue in Fort Lauderdale. 
Since 1986, she has worked as an animal psychic reader. She communicates with animals that are lost, have health issues, trauma and problems with fear or aggression. 
Her interests are as diverse as the animals she counsels. Shaw became a certified hypnotherapist, and earned a master's degree in pastoral ministries with a concentration in loss and healing from St. Thomas University in 2002. 
She has published poetry, curriculum guides for newspapers and articles for college journals. Since 2013, she's been a writer and editor for OMTimes, an online magazine focused on spirituality and personal empowerment.  
In addition, she recently started two websites—the first, Grammar Spy—helps students identify grammatical errors and corrects writing errors from public figures and the media, while the second—Dull Roots, Spring Rain—is an online literary and art journal that features work from her and other writers. 
"We're losing an English professor who had very high standards, and someone who put so much of her heart and soul into this college," said Sarah Garman, who teaches humanities at North Campus. "This wasn't a job to her—this was her life."