This Action Movie Will Make You Go Haywire
The action/thriller movie Haywire struggled to stand out when it was released in 2011.
Its famous cast, great direction and intense fight scenes drew us to spotlight the film for our most recent installment of Netflix Resurrection, a series that showcases movies we feel deserved more notoriety than what they got when they were released.
Haywire tells the story of Mallory Kane, a highly trained government operative who works for a security contractor. After being deceived and left for dead by someone in her agency, Kane uses her specialized training to find the truth behind the betrayal. 
The film's cast is dotted with some of the biggest names in the industry. They include Gina Carano (who plays the main character, Mallory Kane), Ewan McGregor, Michael Douglas, Antonio Banderas and Channing Tatum.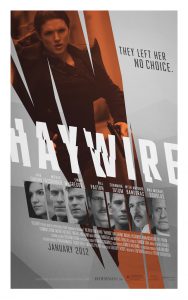 Carano's acting skills in Haywire have been praised by many. Her character embodies heroic characteristics, which has been described as the female version of Jason Bourne. Carano is a former mixed martial artist who did her own stunts—and did them well. Haywire was her debut acting role. 
Haywire's director, Steven Soderbergh, is an acclaimed figure in the industry. He has won multiple awards, including an Academy Award for Best Director in 2001 and a Palme d'Or (the highest prize awarded at the Cannes Film Festival) in 1989.
Soderbergh filmed Haywire in a way that builds momentum and suspense. Rather than using splintered and speed-up action scenes, Haywire uses tracking shots and restricted perspectives to ratchet up the intensity. The effect ensures that the audience can't see everything, leaving it uncertain of what will happen next.
The way that Haywire frequently jumps from present to past also gives the plot an air of suspense. It starts in the present, as a distressed Kane enters a small, quaint restaurant in the middle of upstate New York. The scene leaves the audience begging for answers after an action-packed meeting with a mysterious partner from her agency. 
Quickly thereafter, the film bounces to the past. The audience soon discovers that Kane plans to leave her agency—a move that her contractors take as a personal threat. The methodical plotting of her death creates an interesting storyline filled with danger, fighting and action.
I found Haywire to be extremely enjoyable. It has enough action to keep you on your toes, and leaves you wondering if Kane will survive. 
A great aspect of the film was the voyeuristic fight scenes. At times laughable because of how realistic they are, the choreography was flawless—with music rarely included in the background, making the scenes even more chilling. 
The film is unlike any other action film. Its storyline is far from linear and hooks you in from the moment it begins. Because the story is so plot-driven, it takes concentration to uncover everything that is unfolding. 
The acting is far from Oscar-worthy, but Haywire is a gritty, old-school and life-like spy movie. It definitely ranks high on my list of top action movies and stands out among the pool of spy-films. 
It's worth a watch if you're in the mood for an action-infused rollercoaster that's full of hardcore fight scenes.