The Top 5 Places To Get Your Cafecito
From a classic Cuban Cafecito to a hot cup or frosted craft brew in Wynwood, coffee shops in the 305 are grinding and brewing coffee beans just for you. Knowing where to pick up and go is essential when your cravings hit that caffeine fix. Here are some great coffee shops in the Magic City and the 411 on what to get when you're on the go.  
All Day
Camila Ramos, who was ranked fifth in the 2014's United States Barista Championship, opened her own coffee shop downtown with the aesthetic appeal you need. From hot to iced coffee, All Day serves coffee you can't resist. Their menu, gleaming in neon green lights, consist of single pour-overs ($5), double shot ($3.25) or the special drink of the day ($5.50-$7.50). All Day has  more than 11,000 followers on Instagram and is always providing the 411 on specials each and every day. Need to pick-up-and-go? No problem. 
Panther Coffee 
Roaster, retailer, and wholesaler specializing in delicious crafted coffee blends from Bolivia, Brazil, Nicaragua, and more, Panther Coffee prepares a variety of beverages for each guest. With five locations all around Miami, Panther Coffee serves cortaditos ($3), lattes ($4-4.75), cappuccinos ($4) and their single-origin coffees that are absolutely delicious. The shop is pet friendly, contains a rare vintage 1920s Probat Perfekt roaster (in action most days) and serves its beverages with a microfoam heart-shaped design. 
Roasting Buddies
Love coffee? You owe it to yourself to attend one of Miami's finest coffee roasters. From places like Colombia, Brazil, Peru, Roasting Buddies in Pembroke Pines has a variety of coffee beans to choose from. The store offers espressos ($2.50), macchiatos ($2.95), and cappuccinos ($3.75 to $4.75). Try a latte ($4-$4.50) with a twist, as baristas serve them with embellished microfoam designs of your choice. Just three years old, Roasting Buddies' signature drinks like the Chocolate Attack and Caribbean King are what make this store absolutely special. The store also serves macaroons, pastries, sandwiches and juices. The best part? They're also pet friendly.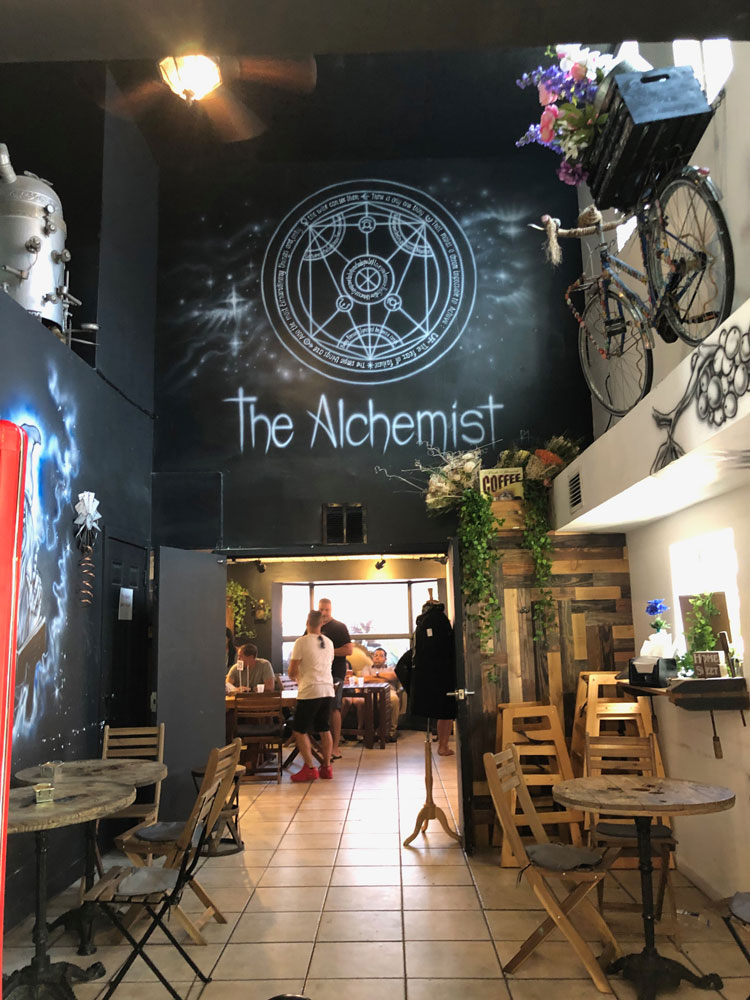 The Alchemist 
The Alchemist is the talk of the town with two locations in the 305 and more than 14,000 Instagram followers. With espressos ($3-$5.50), iced coffee ($4) and macchiatos ($3.50-$6), this coffee shop sure knows how to be Instagram famous. All locations maintain an aesthetic appeal for its customers—you can't help but take a selfie. The Alchemist doesn't just rage in delicious coffee and beautiful scenery—it also has two menus that provide a wide range of breakfast, lunch and dinner options, depending on the time of day.
"We wanted to create a nice spot for people to come study, have social interaction and enjoy not only the food but the vibes of the place too," said Chen Jacobs, owner of The Alchemist.
Versailles Cuban Bakery 
The World's Most Famous Cuban Restaurant and Bakery since 1971, Versailles remains the spot for some delicious cafecito. "La Ventanita" is open (until 1 a.m., Sunday through Thursday and until 2:30 a.m. on Friday and Saturday) to customers that talk about life, work and politics while sipping their cafecito. From coladas ($1.35) to café con leche ($1.75), Versailles brings the Hispanic community together. Coffee isn't just the only thing that's great about this place—they have croquetas, empanadas, pastelitos and much more to choose from.