The Reporter And AXIS Win Top FCSPA Honors
Two Miami Dade College publications won top honors at the Florida College System Publications Association conference in Tampa on Nov. 15.
For the ninth consecutive year, The Reporter was selected as the top state college paper in Florida. AXIS, the literary magazine at North Campus, was named the best literary magazine in Division B for the second consecutive year. 
Judging was based on newspapers and literary magazines produced during the 2018-2019 school year.  
The Reporter placed in 16 of 19 categories, including nine first-place honors. Topics included photography, design, headlines and writing.  
Christian Alexander Ortega, who served as editor-in-chief of The Reporter last year, won an inner circle award for placing in the top three in six categories. 
"After seeing how well we performed at last year's award ceremony, I knew we had to continue upholding our standards," Ortega said. "I'm glad that my staff rallied together and continued the excellence The Reporter has established for the past eight years."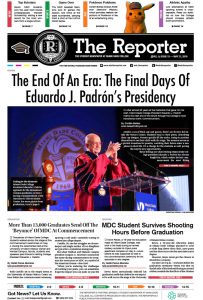 The Reporter, which was created in October of 2010, has received 133 awards from the FCSPA including 77 first-place honors during that time. The paper covers all eight MDC campuses, prints 15 times per academic year and has a circulation of 10,250 papers per print cycle. 
In early November, The Reporter was selected as a Pacemaker finalist during the Associated Collegiate Press/ College Media Association National College Media Convention and received an honorable mention award in the two-year Newspaper of the Year category at the Pinnacle College Media Awards.  
AXIS placed in nine of 14 categories including six first-place awards. They doubled the amount of first place honors they won the previous year. Topics included photography, design, cover, and editing. 
"Not only is it the officers who are being recognized for their work but the artists whose work we feature," says Izamara Zamora, current treasurer for AXIS. "It's a very special thing." 
The magazine was also selected as a Pacemaker finalist this year and won the award in 2018. They also received an honorable mention award in the two-year Literary Magazine of the Year category (Pinnacle Awards) from the College Media Association. 
Here are the FSCPA Awards won by AXIS and The Reporter: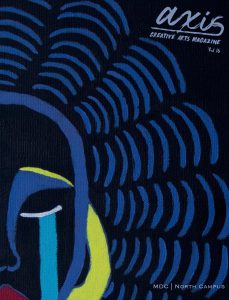 AXIS: 
First place awards: Poetry, Kathy Fernandez, Dannah Ray, and Arianna Cruz; Fiction, Ariana Cruz; Artwork, Quentin Gibson; two-page spread, Ethan Toth, Ines Alvarez, and Quentin Gibson; Photography, Alejo Storni, Benjamin Germain, and Andy Garcia; Editing, AXIS Staff. 
Second place awards: Fiction, Arianna Cruz; Cover, Ines Alvarez and Yanaira Rosa; Content, AXIS staff.
The Reporter:
First-place awards: News Story, Feature Story, Sports Column, Sports Writing, Christian Ortega; In-Depth Reporting, Corbin Bolies; General Column, Teresa Schuster; Illustration, Aminah Brown; Headlines and Best Website, Reporter staff.
Second-place awards: News Photo, Christian Ortega; Feature Photo, Elizabeth Garcia; Design, Reporter Staff; 
Third place awards: Sports Photo and Editorial, Christian Ortega; Humor Column, Teresa Schuster; Comic Strip, Alexander Ontiveros.