The 'Renaissance Man' Of Media Relations To Retire After 26 Years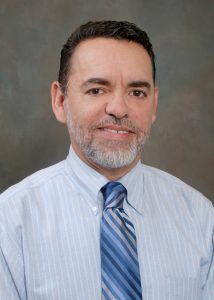 For the past 26 years, Alejandro Ríos has fueled his coworkers' days with a fresh batch of Cuban coffee.
Ríos, who is a Hispanic media specialist at Miami Dade College, will soon pour his last cafecito when he retires from the College after nearly three decades.
His last day in the office will be Dec. 21.
"You can't wait till an age when you might be sitting at home because of physical circumstances," Ríos said. "I have no plans to slow down now."
Ríos, 66, was born in Cuba in 1952, shortly before Fidel Castro began his communist takeover of the country. His family brought him to the United States when he was five, where he attended Mae M. Walters Elementary School in Hialeah. However, after relations between the U.S. and Cuba fizzled in 1962, his family returned to Cuba.
"A big mistake," Ríos said. "We never talked about it, but it was a big mistake and they knew it was a mistake."
While in Cuba, Ríos made it his mission to educate himself. His intelligence allowed him to skip several grades and he credits his teachers for reteaching him the basics of Spanish, a language he lost during his time in Miami. He eventually earned a bachelor's degree in art from the University of Havana and married his wife, Esther. But he remained focused on returning to the U.S.
"We hated [the political state] of Cuba and we wanted to get out of there," Ríos said. "It was a terrible place to be."
But that goal wasn't easy to achieve. Ríos missed the Mariel boatlift in 1980, a mass migration of Cubans to the U.S., and couldn't find another way to return to the country.
"I wasn't happy," Ríos said. "I had to come back. I didn't know how, but I knew I had to come back—it was my goal."
Thirty years later, his opportunity finally came. In 1992, Ríos received an academic invitation to come to Mexico. His wife, Esther, joined him shortly after and after three months they made their way toward the southern border where they were granted political asylum.
But where would Ríos, then 40, work? Because of his experience with book fairs in Cuba and the Cuban Ministry of Culture, he was told to reach out to Marta Franchi, who worked at CAMACOL, the Latin Chamber of Commerce in the United States.  
Franchi made a fateful phone call on his behalf.
"'I'm going to call a friend of mine, Eduardo,'" Ríos recalled Franchi saying. "She didn't say Dr. Padrón."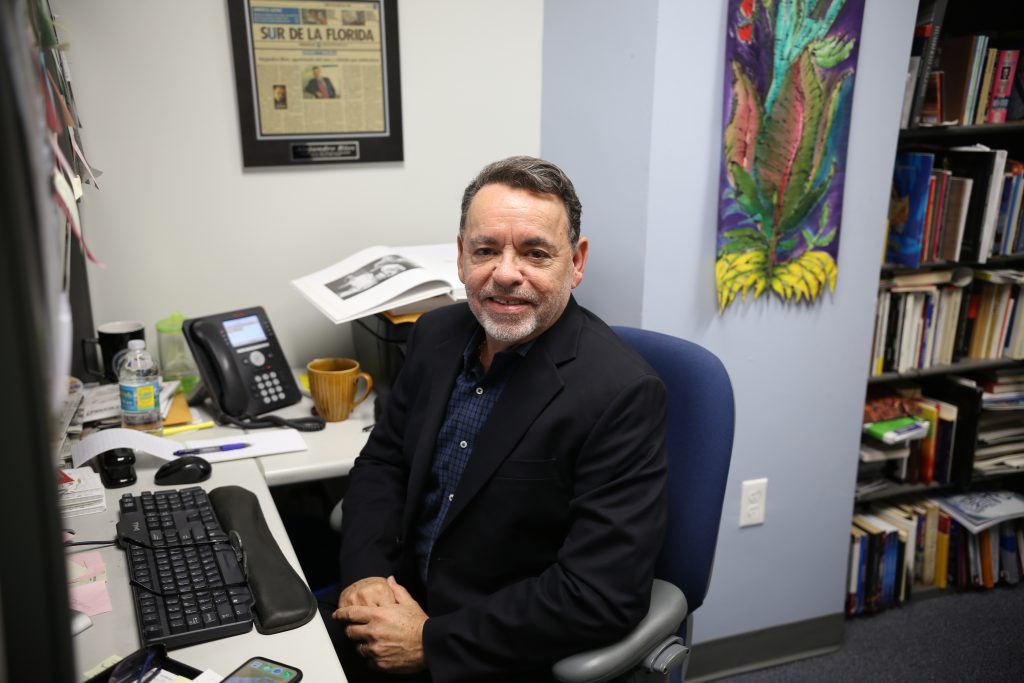 Padrón, then president of Wolfson Campus, offered Ríos a part-time job writing in Spanish for the College's media relations department. After five years, the job became full-time. He's been a fixture there ever since. His biggest achievement, he says, is establishing a network among Hispanic media for the College.
"I owe a lot of who I am here in the United States to Miami Dade College," Ríos said. "I believe in being lucky—or not—and I believe I was lucky to end up here at Miami Dade College."
Juan Mendieta, MDC's director of communications, said Ríos' retirement will leave a void that will be hard to fill because of his unique skill set.
"He's somebody who knows the oral and written communications better than most but also [has] a deep knowledge on film, books, the art, the arts in general," Mendieta said. "He is a renaissance man."
He spreads his appreciation for culture throughout the entire media relations department, where Ríos is known for having lengthy discussions about film, art and his love for the Beatles.
"He was a great coworker, a great writer and a fantastic, fantastic human being," said Ríos' boss, Hessy Fernandez, the director of media relations at MDC.
In addition to his time at MDC, Ríos is well known for his work outside of the College. Last year, Ríos published La Mirada Indiscreta, a compilation of columns written for El Nuevo Herald that focus on topics such as his life, background and film. He also previously hosted Pantalla TVM, a series delving into Cuban movies.
It's that love of film that Ríos hopes to indulge in during his retirement (along with spending time with his family—his wife, two sons and two grandchildren). He currently hosts the program La Mirada Indiscreta (which shares the same name as his book). The show focuses on Cuban cinema and airs on the Spanish channel América TeVé; he also plans to continue writing articles for El Nuevo Herald, pushing his love for culture forward.
"Sometimes I see people retire who just get sick or die," Ríos said. "I want something else."