The End Of An Era: The Final Days Of Eduardo J. Padrón's Presidency
Amidst a sea of black cap and gowns, there's an electric feel inside the Watsco Center. Students buzz to their peers, describing their cap designs. Parents quickly fill the aisles, trying to position themselves to see their child walk the stage. The moment serves as a pivotal transition for parents, watching their future enter a new phase in their life. It's a change for the students as well, paving the way for new opportunities.
These feelings are what retiring Miami Dade College president Eduardo J. Padrón has always fought for, which makes his last commencement the most fitting way to mark his end.
—
Eduardo José Padrón was born on June 26, 1944 in Santiago, Cuba during a historically tumultuous period. Fidel Castro took control of Cuba in 1959, making it difficult for anyone to prosper in the country. That led the 16-year-old refugee, with his younger brother in tow, on a quest dictated by his mother: go to the United States, get a college education and increase your opportunities.
"To me, opportunity is something I value tremendously," Padrón said during an October interview with The Reporter. "You have to create your own opportunity with what you do, your demeanor, your behavior, your ability to persevere."
When Padrón arrived in the United States, he enrolled at Miami Senior High School. It wasn't an easy journey.
He worked odd jobs ranging from delivering newspapers to washing dishes, sometimes getting only three hours of sleep.
"Whatever came my way, I did—and then [went] to school," Padrón said.
Using the savings he accrued, he applied to prestigious schools like Princeton, Brown and other nationally-recognized institutions. He was rejected by all of them
A peer then recommended he apply to MDC (then Dade County Junior College) to pursue an associate's in business administration.
"This institution changed my life," Padrón said. "My sense of gratitude toward what is now known as Miami Dade College is immense. This thing became my calling, it became my religion, it became everything to me."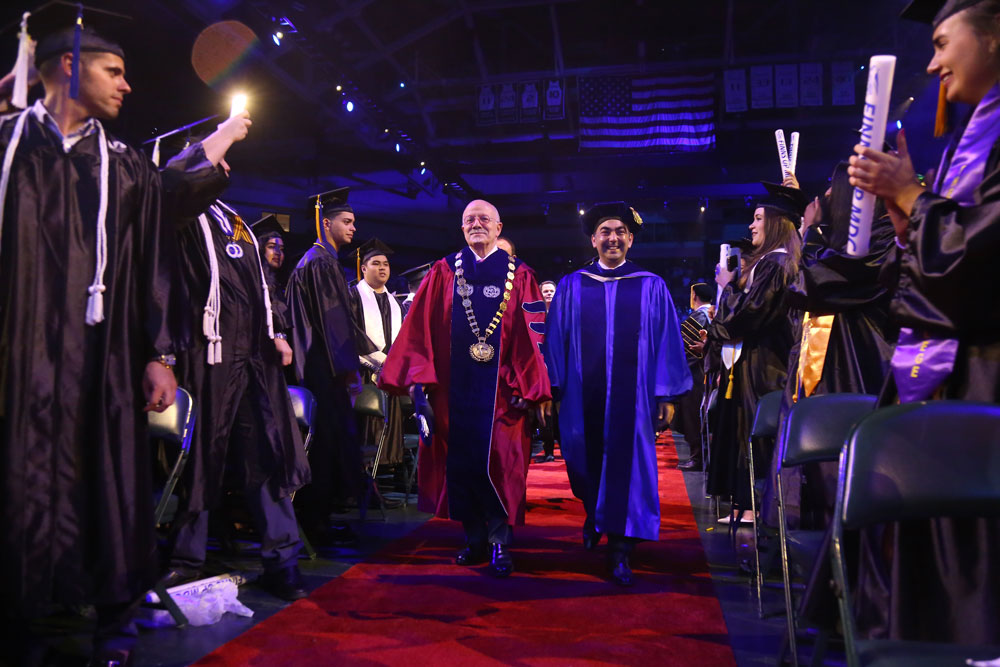 —
His calling is evident at 7:30 a.m. in the green room of the Watsco Center on May 4, the day more than 13,000 MDC students will be walking during commencement. Faced with a multitude of breakfast options, mostly pastries, Padrón greets everyone at the North and Eduardo J. Padrón Campus graduation as though they're old friends.
Even though this is Padrón's last commencement day as president, you wouldn't know it.
"There's a lot of emotion," Padrón said with a smile. "This is the culmination of students' work. I'm satisfied we were able to do what's expected of us."
He goes back to working the room before he's called to join a line of distinguished guests, including North and Eduardo J. Padrón Campus President Malou C. Harrison, MDC Board of Trustee members Jose Fuentes and Anay Abraham and commencement speaker David Oxtoby, president of the American Academy of Arts & Sciences.
The ceremony itself is, first and foremost, a tribute to him. Each student holds glowing glasses, commemorating his signature red spectacles. The opening theme from Game of Thrones plays as he walks to the stage.
"[Padrón is] a giant upon whose shoulders we stand and deserves recognition," Hansel Caudales, the EJP Campus' student government association president, said while introducing the video, which featured snapshots of Padrón's time at MDC.
A pre-recorded video featuring Finn the Shark showing students the pathway to success lies through Padrón's glasses plays for the more than 1,600 students.
The excitement carries through to the Homestead ceremony at the Kendall Campus gymnasium, where Padrón sits again center stage. The ceremony's speaker is Florida Chamber of Commerce president Mark Wilson, who gives a speech centered on the idea that, to enter the workforce today, one must compete against the "global one percent."
Almost 50 years ago, Padrón would have probably said the same.
—
After two years at Dade County Junior College, Padrón fought to achieve his interpretation of the American Dream: to become very wealthy. In his mind, making something of himself fulfilled the promise he made to his mother, especially in a country that sees wealth as the door to prosperity.
That ambition carried him on a pathway to economics, leading him to a bachelor's degree from Florida Atlantic University and a master's and doctorate from the University of Florida. It also led to several job offers, including a role with DuPont in Wilmington, Delaware.
However, when he informed his college professors, they pushed for him to take a different path: teaching a new wave of students, "paying back" his education.
After much thought, Padrón agreed to a one-year commitment to teach economics. Halfway through that year, he found his calling in education. It led to roles as a department chair, academic dean and becoming campus and college president.
"I've realized that, in life, happiness comes in different ways," Padrón said in October. "Doing what I do gives me the greatest sense of opportunities I could ever hope for."
And opportunities have surely presented themselves to him. He's been offered numerous roles in the private sector, ambassadorships to Panama and Colombia (the first under the Carter administration, the second under Clinton's) and positions on an endless number of councils and committees.
Currently, he serves as a member of Council on Foreign Relations' Board of Directors, where he oversees CFR's efforts to expand into the educational space. He recently came off a role with the Aspen Institute's Knight Commission on Trust, Media, and Democracy.
However, he's kept his priorities at home. He's worked to expand the College's programs like the Idea Center, MAGIC, the Miami Book Fair and the Miami Film Festival, aiming to give MDC a cultural and technological edge—the main reason, in 2016, former President Barack Obama awarded him the Presidential Medal of Freedom, the nation's highest civilian honor.
"This is something that, to me, everyday, I wake up and look forward to being here," he said. "It's a way of really feeling like I'm doing something meaningful and significant."
"You have to have a passion. This is my passion."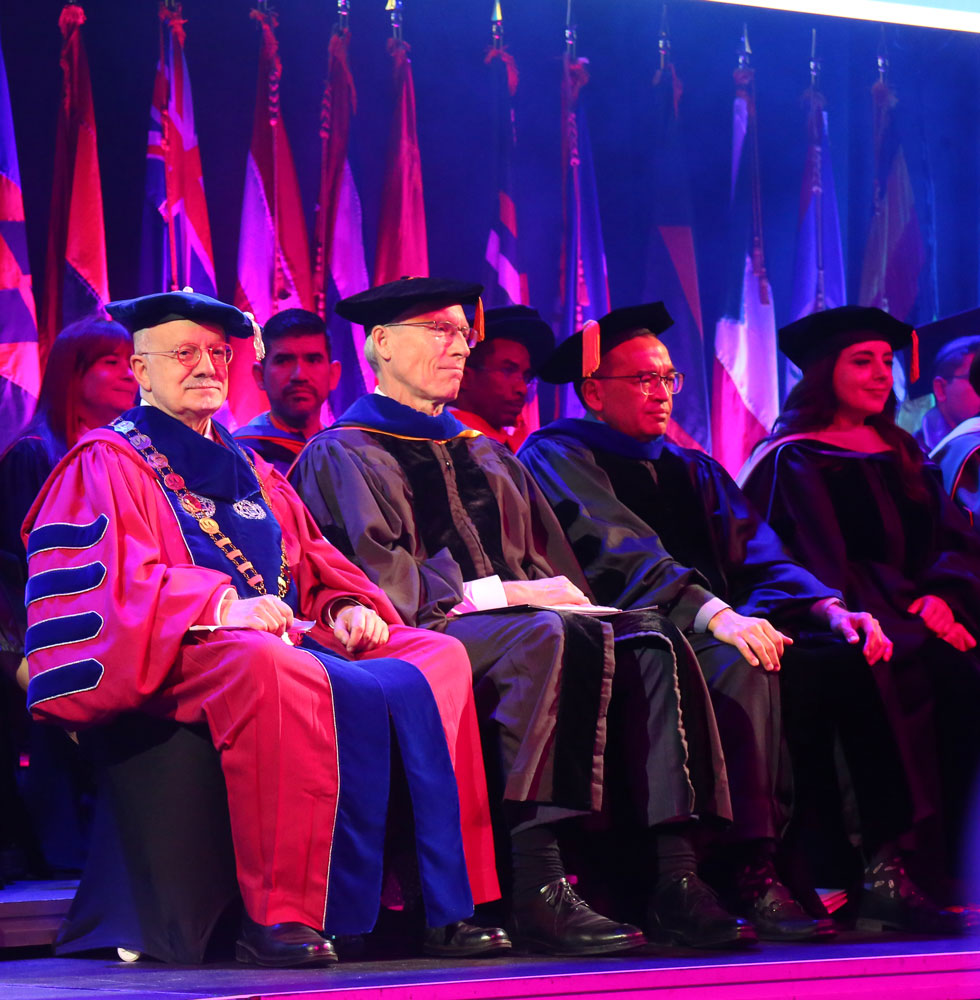 —
Passion is what took over Watsco's green room before the Wolfson and Hialeah Campus ceremony. Padrón is sitting at a table with the ceremony's highest guests, vice chair Fuentes on his left and honorary degree recipient Paul DiMare on his right. DiMare is arguing with Sol Trujillo, the commencement's keynote speaker, on whether Russia or China serves as the United States' primary adversary.
Lenore Rodicio, executive vice president and provost—and the sole internal candidate vying to be Padrón's successor—is the only other individual still in commencement regalia save for Padrón himself. She's viewed by several high-ranking College officials as a worthy replacement for him.
"It's such a surreal thing," Rodicio said. "He's such an impactful leader, [but] I'm happy he's still going to be around."
The Wolfson and Hialeah Campus' ceremony adds a special guest—TheDream.US founder Gaby Pacheco, who served as one of Padrón's mentees during her time at MDC. They became so close she asked him to walk her halfway down the aisle during her wedding in December of 2012.
So Pacheco jumped at the opportunity to honor him, knowing the weight of what his last commencement would mean. During the ceremony, she leads a group of alumni that view Padrón in high regard.
"It's a moment of reflection," Pacheco said after the procession. "He's been able to grow this institution into the staple that it is today. This serves as a challenge to be continued—that's what's going to be needed for this institution to move forward. It's a scary thing."
Can Eduardo J. Padrón be replaced? The description in the presidential profile created by Diversified Search, the group hired by the College to aid in its process, is seeking "a champion that can cultivate and support a diverse and inclusive College community built upon accessibility, affordability and transformational education" for "Democracy's College…a title that we do not take lightly."
That benchmark doesn't fully describe the role Padrón plays, but that's mainly because the one he's carved is unique.
He hasn't announced a preferred candidate, electing to stay out of the search process. The search committee tasked with finding his successor has complained the timeline to choose an appropriate candidate is too short, only agreeing on a June interview date after much debate.
But today, MDC's future isn't on Padrón's mind. Surrounded by more than 13,000 students walking during graduation, his focus lies in the success of the graduates today.
"When I retire, MDC would be 60 years old—a good time for a transition. Every chapter has a beginning and end," Padrón said. "I think we're at the top of the game."