'That Girl From Hialeah' Wants To Be Miami Dade College's Next President
Madeline Pumariega has an impressive resume.
She has served as Wolfson Campus president, chancellor of the Florida College System and is currently the executive vice president and provost at Tallahassee Community College.
But she hasn't forgotten where her roots lie—the City of Progress.  
"The truth is I'm still that girl from Hialeah and I will come here to work hand-in-hand with you, to work hard with you," Pumariega said Friday afternoon at the Wolfson Campus while making her pitch to become Miami Dade College's next president. "Together we will be stronger and together we will drive academic excellence and student success."
The Hialeah native, who has been at TCC since May of 2019, is one of four finalists for the position. Lenore Rodicio (MDC's executive vice president and provost) and Morgan Phillips (vice chancellor for academic excellence at Pima Community College) made their pleas Thursday. Gregory Fowler, president of Southern New Hampshire University's Global Campus, gave his presentation Friday morning.
Pumariega started as a basketball player at Kendall Campus in 1986 before graduating in 1987. She earned a bachelor's degree in political science and secondary education from St. Thomas University and a master's of education from Florida Atlantic University.
In 1988, she took a part-time job as an assistant women's basketball coach at MDC before completing stints as an academic advisor and adjunct faculty at Kendall Campus, dean of students at Wolfson Campus, and dean of students and administration at Medical Campus.
In 2011, she was promoted to Wolfson Campus president. Pumariega served in that capacity for two years and played an integral role in expanding the Culinary Institute and launching The Idea Center.
"This is the place that changed my life. This is the place that gave me the opportunity not only as a student but to come back to serve our state, to serve as a leader at Tallahassee Community College," Pumariega said. "It would be an honor and a privilege to come back and lead our college together with you."
After leaving MDC, Pumariega served as president and CEO of Take Stock in Children, a nonprofit organization that helps students living in poverty complete high school and get into college. In 2015, she was selected as the first female and Hispanic Chancellor of the Florida College System, which serves 28 colleges in the state.
In her data-driven presentation, Pumariega harped on the need for innovation. 
She used Uber—the company that pushed taxis out of business because of its personalized car rides—as an example of the need for ingenuity.
"Are we ready for the Uber of education?," Pumariega asked the small crowd. 
To achieve that, Pumariega believes higher education should offer personalized pathways based on students' strengths, interests and values. And that schools need to align community partnerships' needs with students' goals.
"We'll do it together because we are MDC," Pumariega said in her closing statement. "I started with 'I Am MDC' but I know that every one of you are MDC and that together we will be the best MDC we can."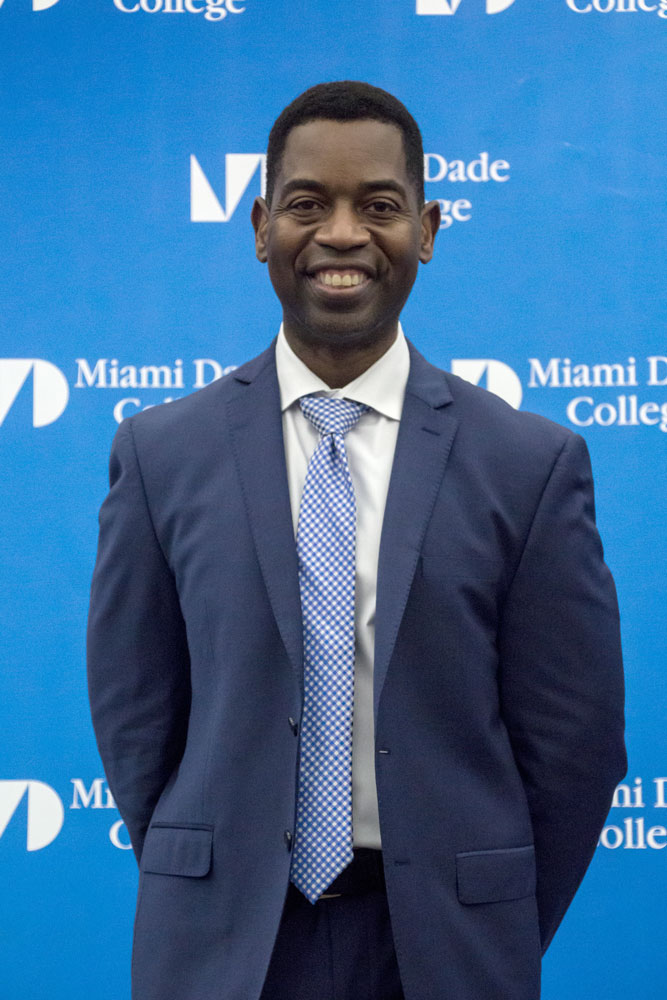 Fowler has worked at SNHU for almost nine years. He's a two-time Fulbright Senior Scholar who spent time in Germany teaching American culture and values and learning how the Bologna Accords affect higher education protocols.
He is also the commissioner and a board member of the New England Commission of Higher Education, the regional accreditation agency for colleges and universities in Connecticut, Maine, Massachusetts, New Hampshire, Rhode Island, and Vermont. The agency has institutions in Greece, Switzerland, Lebanon, Bulgaria, Bermuda and Morocco. 
The seventh of eight kids, Fowler grew up in a two-bedroom home in Albany, Georgia. His father completed ninth grade before going to the military.
He earned a bachelor's degree in English and political science from Morehouse College, a master's degree in English and teaching of reading and writing literature from George Mason University, a master's of business administration in management and strategy from Western Governors University, and a Ph.D. in English/American Studies from the State University of New York at Buffalo.
Last week, the presidential search committee was impressed by his futuristic and innovative vision, communication skills, and focus on student success and accessibility.
His emphasis on technology and disposition to out-of-the-box thinking shined throughout his presentation. That is a field he knows well—SNHU's Global Campus provides about 140,000 students across the world with online and hybrid programs.
Fowler believes that to assure its place in the future, higher education must innovate. Without innovation, companies, schools and brands will be left behind, he says. To emphasize his point, he explained how less than 70 of the companies that made it into Fortune 500's list in 1955 still hold that recognition today.
"Amazon, Google, Yahoo and Facebook are all places where they're building learning experiences into their own corporate structure in part because they say higher education is not succeeding at giving [students] the flexibility and empowerment they need," he said.
Fowler says students must learn skills that make them more competitive in the workplace so they get jobs after graduation. He wants to make sure the school is meeting learners where they are and adapting to the different learning needs that they might have.
To accentuate, Fowler gave the example of The Karate Kid, a 1984 movie about a teenager who wanted to learn martial arts to defend himself against bullies but couldn't afford classes at a dojo. However, he learns after an instructor meets him where he is and trains him.
"This is not about saying customers are always right. That's not at all what I'm saying," Fowler said. "What I am saying is [we need] the ability to hear the people who come to us for the services and opportunities that we provide. That takes into consideration where they are and what they're coming to us for."
Next Tuesday, the Board of Trustees will interview the four finalists and select MDC's next president. The schedule goes as follows:
Morgan Phillips at 8:20 a.m. 

Lenore Rodicio at 9:30 a.m.

Gregory Fowler at 10:40 a.m. 

Madeline Pumariega at 11:50 a.m.
The interviews will be held at Wolfson Campus, 300 N.E. 2nd Ave, in the Chapman Conference Center (Room 3210). Deliberations will start at 1:20 p.m. You can watch virtually at www.mdc.edu/livestream