Student Uses Medieval Instrument To Connect To Spanish Roots
Beatriz Martinez Trujillo believes in paying close attention to your dreams. 
In 2002, she dreamt of walking along a narrow path in a rugged forest in Asturias—a region of northwestern Spain. Martinez Trujillo traveled into the region's steep hills, historic sites and blue-green sea along the coast. 
"That dream was stuck in my head for a very long time," said Martinez Trujillo, whose family descended from the area. "It's one of those things that you either believe in or you don't." 
Sixteen years later, she found herself studying the Hurdy-gurdy—a hand-cranked, medieval instrument with Asturian roots—at the very site she dreamt of. 
The stringed instrument, similar to the violin, traces its origins to 10th century Europe. It uses a rosined wheel instead of a bow to produce sound.
"I love the magic that comes from the Hurdy-gurdy's sound," Martinez Trujillo said. "The Hurdy-gurdy has something special that connects me to it. Knowing that its sound is inside of me is something so rare."
Martinez Trujillo, who is currently enrolled in the English for Academic Purposes program at Eduardo J. Padrón Campus first discovered the instrument on a medieval music disc that was gifted to her by Spanish folkloric band Xaréu D'Ochobre, while living in Cuba. 
The 43-year-old ordered the Hurdy-gurdy at an artisan shop in Galicia in 2018, and picked it up the following year. 
"I never even saw the instrument, I just listened to it, and it attracted me," Martinez Trujillo said. "I blindly fell in love with it."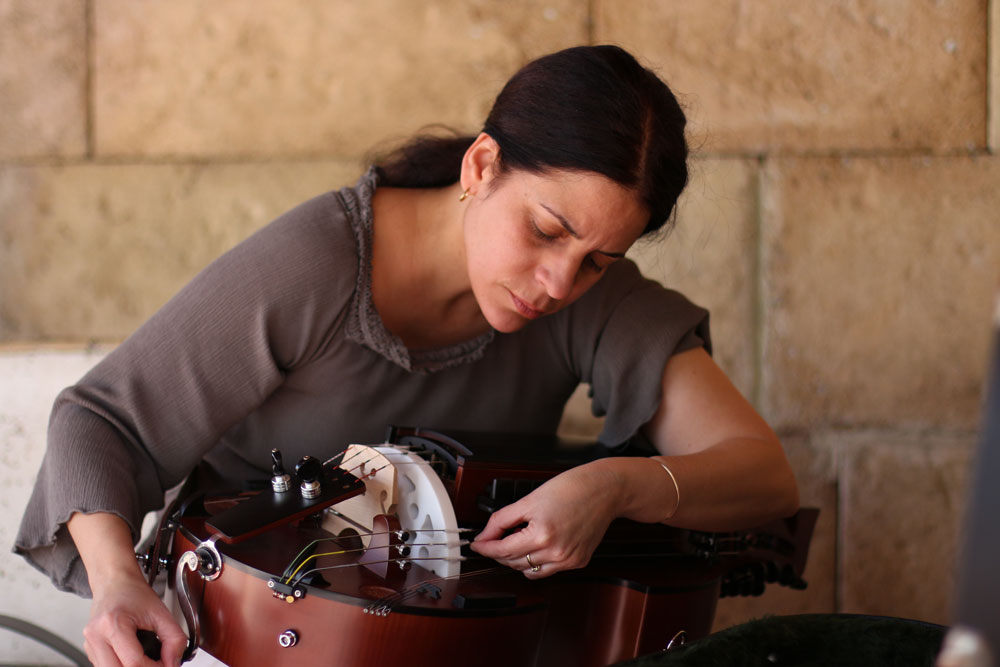 Martinez Trujillo, who practices on the weekends at the Iglesia Cristiana Juan Wesley in Coral Terrace, made her debut performance with the instrument on March 1 at Casa Juancho, a Spanish restaurant in Little Havana.  
Classic Start
Martinez Trujillo's interest in music, and in the arts, goes back as far as she can remember. 
She was born on May 9, 1976 in Pinar del Río, Cuba. 
Although she never enrolled in formal art or music classes, Martinez Trujillo kept the passion alive by participating in school-related events or national competitions. She began composing melodies from a small toy keyboard at age four. 
"I said to myself: 'This is my world,'" Martinez Trujillo said. 
Her professional career started at 17 when she studied piano at the Escuela Provincial de Arte de Pinar del Río. 
It would often take Martinez Trujillo an hour to get to class on the bus, since she lived far from the school. She recalls wearing rain boots to walk through the muddy sidewalks. 
The long-distance meant Martinez Trujillo couldn't go to class some days, and practiced from home. She eventually took a break from school to work as a hair and makeup artist, and earned enough money to build a music room inside her parents' house. 
"It was really hard," Martinez Trujillo said. "Anything I earned was for cement and construction materials to build the room. Without having any other financial support, it was very hard."
The room, located on the second floor of the three-bedroom house, housed a 500-pound piano and a bagpipe. She used the room to play on her own or work with private tutors.  
In 2004, Martinez Trujillo formed Resurrection, a music group that focused on classical music with baroque and renaissance influences. In addition to singing in the group, she organized concerts and managed the band's image. 
The band—made up of eight vocalists—performed Palestrina music, which consists of polyphonic vocal music written by 16th-century Italian composer Giovanni Pierluigi da Palestrina. 
They often used pianos, violins and cellos, depending on the repertoire. The band eventually added a bagpipe to the mix, which made them the first group from Pinar Del Río to play Celtic music, according to Martinez Trujillo. 
Bishop Siro González Bacallao, who worked at the Catedral de Pinar del Rio, let the band practice at his church. They performed partitures from baroque composer Esteban Salas. 
Due to the limited space, the vocalists practiced in different rooms in order to hear themselves, and later regrouped to practice together. Sometimes, they practiced inside bathrooms. 
Within a year of their debut, Resurrection gained an immense following. They performed at a concert salon in Havana—a major step from their roots in rural, mountainous Asturias. 
The group began experimenting with alternative rock by adding a drum set, as well as a bass and electric guitar to their lineup. 
"We were a phenomenon in Pinar del Rio," Martinez Trujillo said. "It wasn't normal for people from the province to do this kind of group." 
At the time, the musician worked as director of culture of the Federación de Asociaciones Asturianas de Cuba, a community center for Cubans with Asturian lineage. She organized parties and dances that connect to Asturian culture. 
Bienvenidos A Miami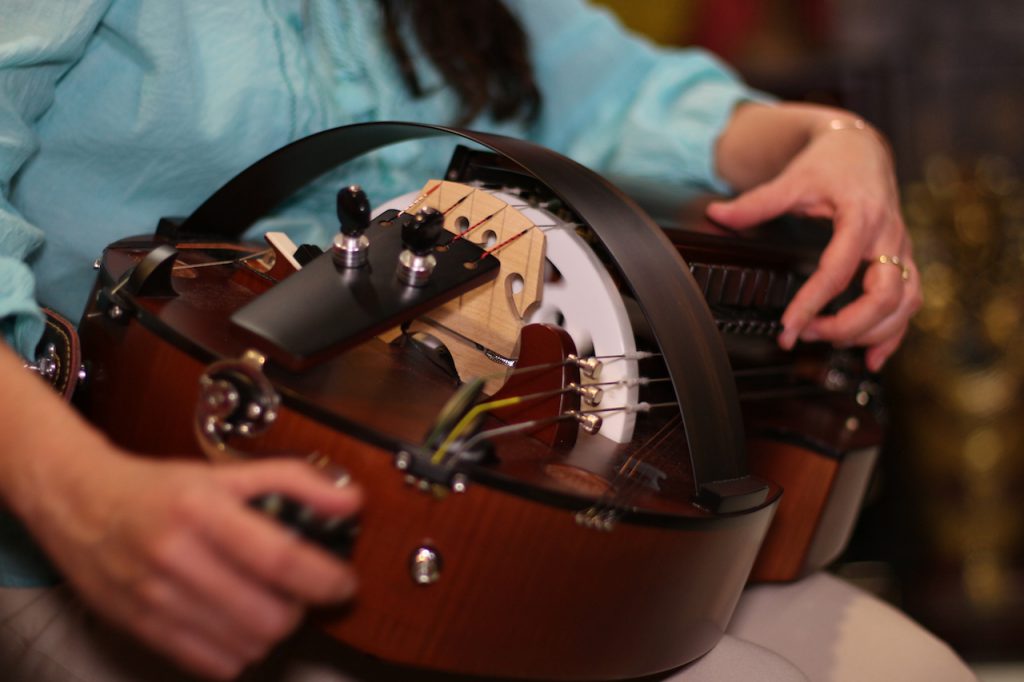 In 2011, Martinez Trujillo faced a tough choice—emigrating to the United States or Spain. Problems with traveling paperwork made Spain a difficult feat, so she moved to Miami. 
She currently works as a private tutor, giving piano and singing lessons and also teaches Spanish and French. Martinez Trujillo has remained committed to her Asturian roots. She connected with Father José Luis Menéndez, who is part of the Centro Asturiano de Miami—a non-profit organization that celebrates Asturian culture.  
"[Beatriz is someone] with a broad musical culture, talented, and restless," said Hilda Avello Garcia, president of the Centro Asturiano de Miami. "[Through the Hurdy-gurdy, she] has helped build a greater knowledge of our culture, roots and traditions, as well as a legacy for future generations."
In 2018, Martinez Trujillo was offered a scholarship to study Asturian culture at the Escuela Asturiana in Spain, where she served as an Asturian representative from the United States. She has participated in two of the annual seminars, and is set to take part in a third one in 2020. 
"Culturally, the interconnection is always interesting," said José Ángel Llaneza, who teaches history and folklore at the Escuela Asturiana and has helped Martinez Trujillo with learning the Hurdy-gurdy. "The fact that Beatriz is related to the instruments through the Asturian School is an incentive and a contribution for an institution that tries to enlarge the image of Asturias abroad. I hope that, by Beatriz's achievements, people can learn a little more about Asturias in Miami."