Stop Blocking The View—Let Me Enjoy It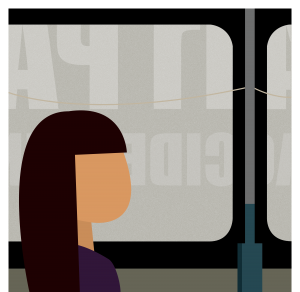 Since I moved to Florida at 12 years old, Broward has been my place of residence. It figures that when my friends were deciding which schools to attend after graduation, the vast majority chose Broward College. However, I wanted to be truly inspired, transformed and exposed to things I had never encountered before. When the time came to choose a college to attend after my glory years in high school, I remembered when my high school business teacher had taken us to visit Miami Dade College during our third year of school. It only took for me to step outside the bus to feel the calming, transformative Miami breeze to know it was my place. So, without hesitation, I chose to attend MDC.
There was just one small problem: I don't drive. Yes, shocking, I know. A 20-year-old without a driver's license. I've been putting it off for years. I mean, have you seen the traffic in Miami? It's not particularly my cup of tea. Taking the bus on the other hand is my reason to breathe. Jesus, hallelujah!
I take classes from Monday through Saturday at Wolfson Campus, and it takes me an hour and forty-five minutes to get there. While I'm riding the bus, I want to be able to enjoy the view, but my view is blocked by the advertisements on the outside of the windows.
Yes, it is true that we take the bus to get from point A to point B, but it is also true that tourists and locals take the bus to experience the culture and beauty of the city, firsthand. Think about it, when you hop in a car, I imagine there's not much room to enjoy your surroundings and focus on anything other than traffic. I have always found riding the bus to be a very comforting, intimate and all-around beautiful experience. A great part of it is our ability to see what's occurring outside in order to get a better feel of the city.
I understand that enveloping advertisements on buses is to get messages across to the public, but there are already other mediums that we can use in order to promote brands or campaigns. Trust me. Take a walk around your friendly neighborhood and you'll see plenty of advertisements. However, if Miami-Dade Transit believes that posting advertisements on their buses is still necessary, I suggest that the advertisements be posted outside the window perimeter.
I know that if the bright minds at Miami-Dade Transit put some thought into this and brainstormed to find new ways to advertise without taking our right to see the beauty and diversity surrounding us on our rides to South Beach, Little Havana, Wynwood and countless other staples of Miami, change can and will happen.
If you also agree that we are owed the liberty to take pleasure in the artistry that encompasses this beautiful town, visit miamidade.gov and make your voice heard.