Six Months After COVID-19 Sent Students Home—They Returned To MDC Monday
Ayangela Reaño stood in the hallway outside her classroom in the 7000 building for 10 minutes on Monday before realizing her English class was not being taught in-person.
She roamed the deserted hallways at North Campus trying to find a way to connect to her class remotely. The folks in the English and Communications Department didn't have an answer, she said. Neither did the staff at a makeshift information booth in the 3000 building.
By the time Reaño logged onto a computer in the library in the 2000 building it was too late—her class had already ended.
 "It was kind of a disaster because I had to go to so many places," said Reaño, an incoming freshman. "Today was scary but I made it through."
Reaño was one of several students interviewed by The Reporter on Monday who expressed confusion as to how their classes were being carried out—in-person or remotely—as Miami Dade College welcomed students back on campus for blended classes six months after it turned to remote learning.
Before entering campus, students and staff had to go through temperature checkpoints. A staff member wearing a face mask and face shield, and a light blue isolation gown raised an infrared thermometer toward the visitors' forehead. Those whose temperature read less than 100.4 degrees Fahrenheit were given a blue wristband (the color will change everyday) and allowed on campus.
By 4 p.m., the College said it had issued 5,105 wristbands at its eight campuses—that number included students and staff. North Campus had the highest turnout—1,600. West Campus reported the least traffic with 220 visitors. 
"It was so nice to see students today. It filled me with energy and optimism," said Executive Vice President and Provost Lenore Rodicio. "I have walked around campus today to ensure all our safety protocols are in place, and was happy to see all students and staff complying. Everyone appeared excited, even behind their masks. This sends a very positive message. We hope other students see this and feel reassured about returning."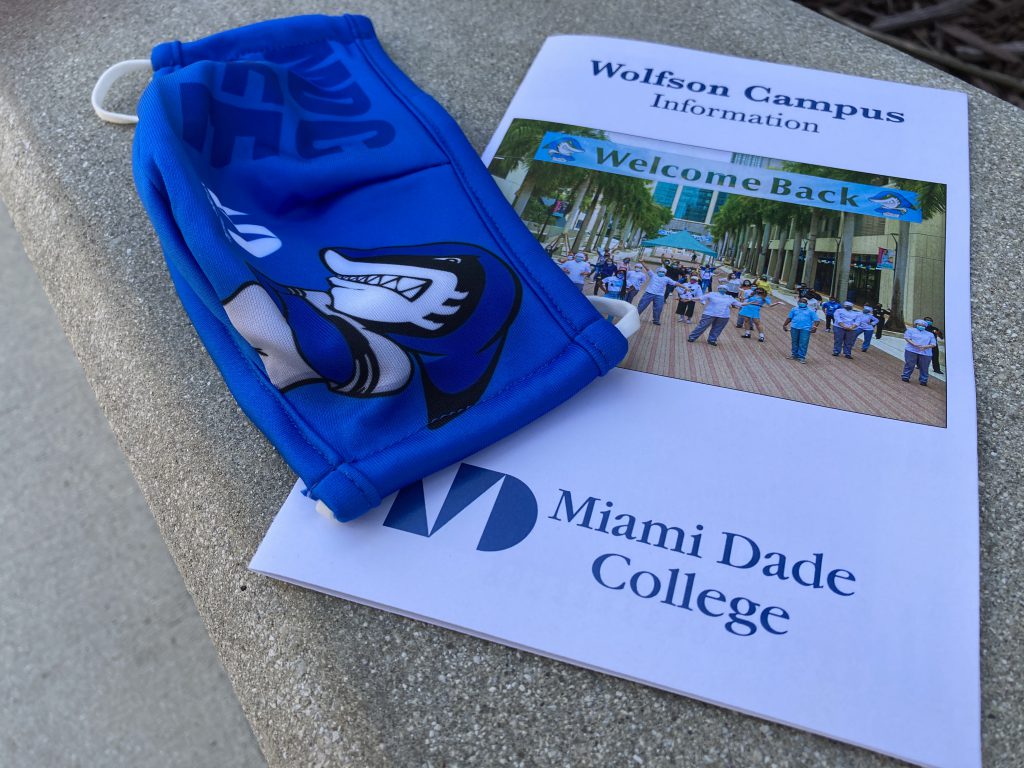 Students were greeted with MDC paraphernalia as they entered campus. Some received a blue face mask that read "MDC Safe" and had a picture of Finn plastered on the left side. Other knick knacks included small hand sanitizer containers, water bottles and campus maps. 
Red markings on the floor warned students to stay six feet apart. Hand sanitation stations and bins with wipes were strategically placed around campus.
At Kendall Campus, a group of volunteers wearing neon yellow T-shirts assisted students with directions and cleaned common areas. Some hallways and breezeways were blocked off using orange plastic cones, and some water fountain spouts were covered with duct taped so people couldn't drink from them.
Meanwhile, custodians are using three different products approved by the Center of Disease Control to keep the floors, windows, and other surfaces clean. 
"We're being more careful," said Iris Montanez, who works in the 4000 building at North Campus. "We are using new chemicals and disinfectants, and we're working more hours to make sure everything is clean."
 Professors said they are exercising flexibility with students to address their concerns as they return to campus. 
Sandra LaFleur, who teaches Introduction to Change Making and Social Innovation at Wolfson Campus, gave a lecture in front of 14 students on Monday. But North Campus professor Carlos Gil said he will teach a statistics course on Tuesday with only one student on campus and 28 others tuning in from home after he gave them the option to remain remote.
"I'm actually very happy to finally come back because I didn't much like online education. If it is safe here, then I am happy to be back," said Tetiana Yefimova, a mass communications student at Wolfson Campus. "I think everybody has their own choice and I absolutely respect those who still feel uncomfortable coming back to the campus. It's great that our professors are giving us an opportunity to stay home [or] study in person."
Classrooms have markings on the desks to indicate where students can sit—green markings say "USE" and red marking say "DO NOT USE." Students are being separated into small cohorts that are scheduled to attend class on campus on different days. When one group is attending class in person, the other tunes in remotely. Telepresence modalities are being used to connect remote students with those on campus. Desk and ceiling cameras allow students tuning in to see the professor and speakers on the ceiling allow students inside the room to hear students who are remote.
"[I've been hearing] lots of things related to the telepresence technology," said Elizabeth Ramsay, president of the United Faculty of MDC, who has been critical of the College's plan to return to face-to-face instruction. "Reports that it shuts down without warning, [some] concerns about how the audio quality is poor so students trying to participate remotely are not able to hear, and how the cameras are positioned so far away that using Blackboard Collaborate is much more effective for teaching."
But Ramsey seemed confident the kinks will be worked out.
"We're really committed to working together with the administration to get things resolved quickly and they've been very helpful and responsive in doing that with us," Ramsay said. 
Staff writers Sean Lim, Bridget Perdomo, Linda Scrivener and Jose Tovar contributed to this story.