Shrine Is A Moody Piece Of Modern Music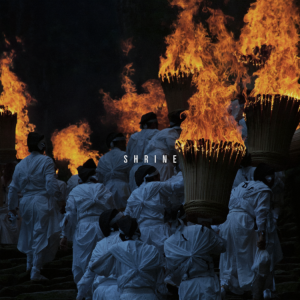 Long Island indie group The Republic of Wolves have made a name for themselves in the underground circuit. While most emo bands forming in the 2000s focused on trying to write hooks for radio stations and the journals of teenage fans, Wolves went in a different direction.
Taking inspiration from groups like Brand New and Taking Back Sunday, the band has been building on a dark and atmospheric sound since their debut EP, His Old Branches, back in 2009.
A little more than nine years and two full-length albums later, the band returned in 2018 with Shrine, a moody and downright dark project that feels right at home with the rest of their discography. It not only feels like a proper evolution of a young band who only gets better, but a proper way to pay tribute to the bands that influenced them.
The album opener, The Canyon, is a meditation of mortality and faith. Using a latter-day Deftones sound, it slowly builds to this loud and passionate mix of screams and guitar shreds.
That can easily define the rest of the album, though that is far from a bad thing. If anything, that makes this effort more concise and clear with its sound. Themes of life and death are spread across 48 minutes and 10 tracks.
It is excellent to say the least. Most emo or post-hardcore albums find themselves struggling to maintain a consistent tone. Shrine does not lose itself in experimentation—it thrives in it.
Every song is a diary entry written by someone who appreciates the emo genre. Whereas the genre was popularized due to most songs dealing with break ups and adolescence, existentialism has caught the attention of Wolves lead singer/songwriter Mason Maggio.
Other highlights of the album include the two more pop-sounding songs, Sundials and Colored Out. No, these songs don't feature catchy hooks like an old Fall Out Boy tune or any bubblegum production like a modern day Fall Out Boy tune. Instead, there is a more easy-going sound, one that would fit on a modern rock station. Granted both songs deal with the same dark themes and still pretty loud/aggressive compared to most pop rock.
The consistency, even with the more upbeat songs, is something that impresses with Shrine.
For fans of the dark and calculated emo musings of bands like American Football or Taking Back Sunday and who feel guilty about listening to Brand New, Shrine might be one of the best choices.
Of course, that comparison would not be fair. Shrine stands as one of modern rock's best efforts in the longest time. The band wears their influences on their sleeves but rather than merely copy them, they use it to craft a fresh sound among the mass produced wasteland that the genre has become.
Maggio sings on the closing track Worry If You Want (Yume) about how no matter what people fight for death is a reality. So, why not sit back and enjoy the music by those who are beloved?