Shot Blocker Brings International Experience To Lady Sharks Basketball
Alise Markova, who traveled more than 5,000 miles to join the Lady Sharks women's basketball team, brings an abundance of international experience to Miami Dade College. 
The 6-foot-1 inch freshman forward played on Latvia's national team at the 2018 FIBA U18 Women's European Championship. She averaged 7.3 points and 7.3 rebounds per game as a center and Latvia placed fourth. 
In 2019, Markova played on the FIBA U19 Women's Basketball World Cup. She averaged 1.9 points and 2.7 rebounds per game.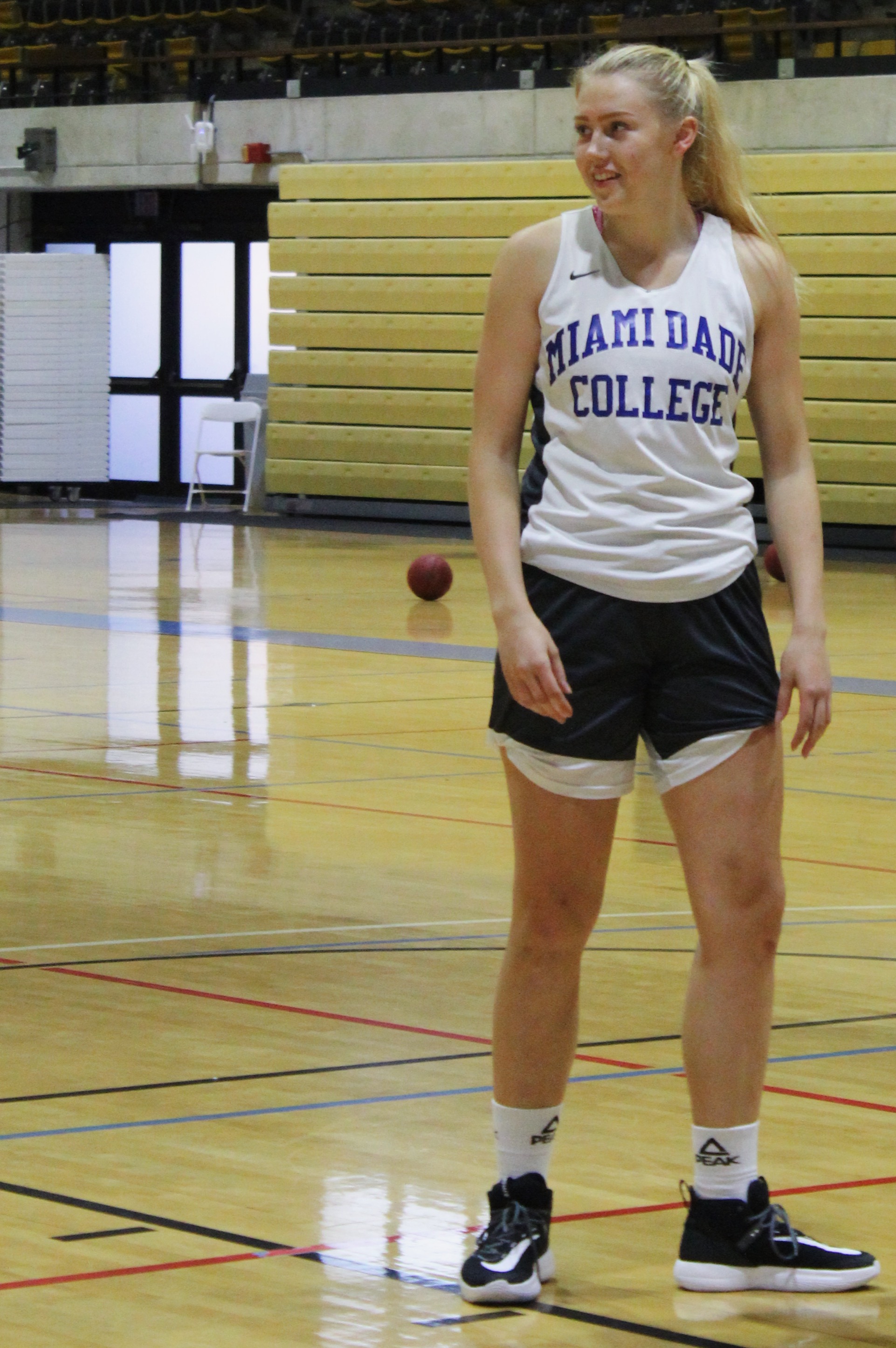 "The feeling when you represent your country for a championship that huge, there are no words to describe it," Markova said.
Markova, 19, didn't always have a natural inclination toward basketball. She didn't pick up a basketball until she was 10 but quickly fell in love with the sport.
"I just couldn't live without it anymore. I had practices, games every day for the whole year," Markova said. "Whenever I skipped them it felt like something was missing. It just became a part of me, of who I am."
After graduating from Rigas Long Distance High School in Italy in 2019, Markova said she drew interest from various schools such as New Mexico Junior College, Seward County Community College and Independence Community College both in Kansas, the University of Maine, Chicago State University, Central Michigan University and Wichita State University but decided to sign with MDC. 
"I had a lot of options but when I talked to [Lady Sharks] coach [Susan] Summons, it was different than the other coaches," Markova said. "She cared about me and was actually interested in helping me become a better player."
But the transition to America wasn't a seamless one for Markova. She missed her family in Latvia and was used to the cold weather, not the heat and humidity that Miami offers. Markova also wasn't accustomed to the style of basketball the Lady Sharks play. 
"When we had the first game I was really lost. I didn't understand what was happening because I played more combinations [in Latvia]. But here it's more like one on one [defense]," Markova said. "In the beginning, the first game definitely was my worst game. But now I think I do a great job adapting, and understand more so it's way better now."
Markova brings a diverse game to the Lady Sharks, who are 6-1. She is a solid rebounder, has a penchant for hitting three-pointers and plays tenacious defense, adding a shot blocking element to the squad. Markova showed off that skill in the preseason, blocking at least five shots in most of the team's five games, according to Summons.
"Alise is extremely dependable. If you're slacking off you know that she's there to have your back. She's a fast and aggressive shot blocker," said Lady Sharks forward Nazlah Morrow. "She's consistent, even on her bad days she shows up, can knock down the three."
In the Lady Sharks first seven games, Markova is averaging 4.1 points, 4.1 rebounds, 2.43 blocks per game and is shooting 40 percent from three-point range. She is ranked eighth in the country in blocks.  
"She's quickly becoming a big name. She plays center at the five, we can swing her to the fourth spot, we can swing her to the three on the wing," Summons said. "She can play multiple positions, which makes her very dangerous to predict."
At MDC, Markova is studying mass communications and hopes to write a book one day. 
"I like to go with the flow, so we'll see where life takes me," Markova said.
The Lady Sharks' next game is Nov. 26 versus Daytona State College at 5:30 p.m. at the Theodore R. Gibson Health Center, 11011 S.W. 104th St.