Defensive-Minded Shortstop Flashed Offensive Skills Before Season Was Canceled
Coming into this season, shortstop Raphy Almanzar-Rosario was confident about his defense.
Last year, the Sharks' slick-fielding infielder won a gold glove and was tabbed as the Florida College System Activities Association Defensive Player of the Year.
But he lacked consistency at the plate, batting a mediocre .267 with six doubles in 51 games. 
This off-season, Almanzar-Rosario made a commitment to improve offensively. He spent the summer playing four games a week in Liga del Cibao, an amateur league in the Dominican Republic, took batting practice using softballs instead of baseballs to enhance his power and hit corn kernels to improve his hand-eye coordination.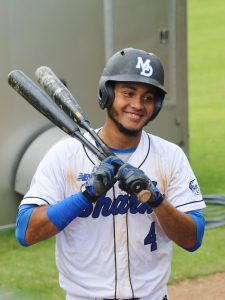 The hard work paid off. 
Almanzar-Rosario led the Sharks in RBI (15), doubles (6) and was third in base hits (24) while hitting a robust .324 in 20 games before the season was canceled due to the coronavirus on March 12. Despite striking out at an alarming rate—every 5.28 at-bats—his new-found aggressiveness served him well.        
"He's gotten a lot better with the bat," said Sharks' head coach Adrian Morales. "Now his game is more well-rounded. He's not just a defensive player. We trust him now more with the bat and expect him to be one of our key contributors."
Baseball has always been in Almanzar-Rosario's blood. He grew up playing the sport in Bonao, a small city in the Dominican Republic. 
When he was seven years old, he joined Liga Bonao Sport. Originally an outfielder, he switched to the infield at Academia Fausto Mejia when he was 13 because his wiry frame was better suited for the position. Four years later, he entered the scouting program Dream Big, which helps Dominican players get baseball scholarships in the United States.
On the strength of his defense, Almanzar-Rosario was offered a scholarship to Mid-America Christian University in Oklahoma, but picked Miami Dade College on the recommendation of one of his coaches at Dream Big who knew Danny Price, who was the Sharks' head baseball coach at the time. 
Almanzar-Rosario was an integral part of the Sharks' strong start this season. The team won 12 of their first 13 games and were off to a 17-6 start including a 7-1 record at home before the season was canceled. They had a .329 team batting average (best in the state) and had scored 130 runs in 23 games.
The team's offensive prowess was aided by consistent performances from multiple players including second baseman Erick Orbeta (32 base hits), first baseman Sujel Arias-Auzon (.347 BA), third baseman Henry Wallen (12 RBI) and outfielder Ian Jenkins (five home runs).