She Wanted To Be Like Spider-Man, Now She Has A Gold Medal In Gymnastics
Fourteen years ago, Bianca León fell in love after a field trip to Octavianos Studio of Gymnastics in West Kendall. That day, the hyper four-year-old found an outlet for her pent-up energy.
Since then, her passion for gymnastics has not waned.  
León, 18,  won a gold medal for Puerto Rico at the Central American and Caribbean Games in Barranquilla, Colombia last July. In doing so, she became the first female gymnast in the island's history to earn a gold medal in gymnastics.
"I can't imagine my life without it," León said. "Everything about it has become like another sense, almost. You can tell when you're too low and about to faceplant while flipping just because your body is so used to the movements and all the feelings are second nature."
Working on a beam that's only four inches wide and 16 feet long, the five-foot-tall, 125-pound León has developed a knack for exploding off a narrow plank and repeating her routine over and over with the spryness of an alley cat.  
"Just being upside down is what caused me to love [gymnastics]," León said. "Like many other gymnasts, you start off because you have way too much energy and I would run around my house, couch and counter trying to be like Spider-Man."
The dream started with that field trip to Octavianos, a facility that has since closed. The coaches at the large complex were left awestruck with the talent she displayed. After enrolling in classes, her career snowballed.  
León spends, on average, six hours a day training. She splits each session, varying from uneven bars, floor exercises, conditioning and balance beam, her specialty. The rest of the day is spent homeschooling through her high school curriculum and college courses at Kendall Campus.   
She is expected to earn her high school diploma in June and her associate's degree in psychology in May of 2020.
Though she was born in Miami, León is eligible to represent Puerto Rico because her parents were born on the small island, which is a territory of the United States.
"Being able to represent my family's country makes me proud," León said. "Seeing everyone's face light up when I returned from Colombia made everything worth it."
León will once again represent Puerto Rico at the Pan American Games this summer. The competition will be held in Lima, Peru.
But it hasn't been easy reaching the pinnacle of her sport.
She has overcome various maladies. León has torn the meniscus in her right knee, suffered countless ankle sprains and has had both shoulders pop out, common injuries in a sport that is notorious for ravishing the body.
At 15, the psychological aspects of participating in gymnastics for more than a decade began to take its toll. She felt burnt out—a symptom of the mental demands the sport makes on its young athletes.
"I was an awful competitor," León said. "I couldn't shake my nerves whenever I went to perform and it led to many mistakes."
León took a year-and-a-half hiatus.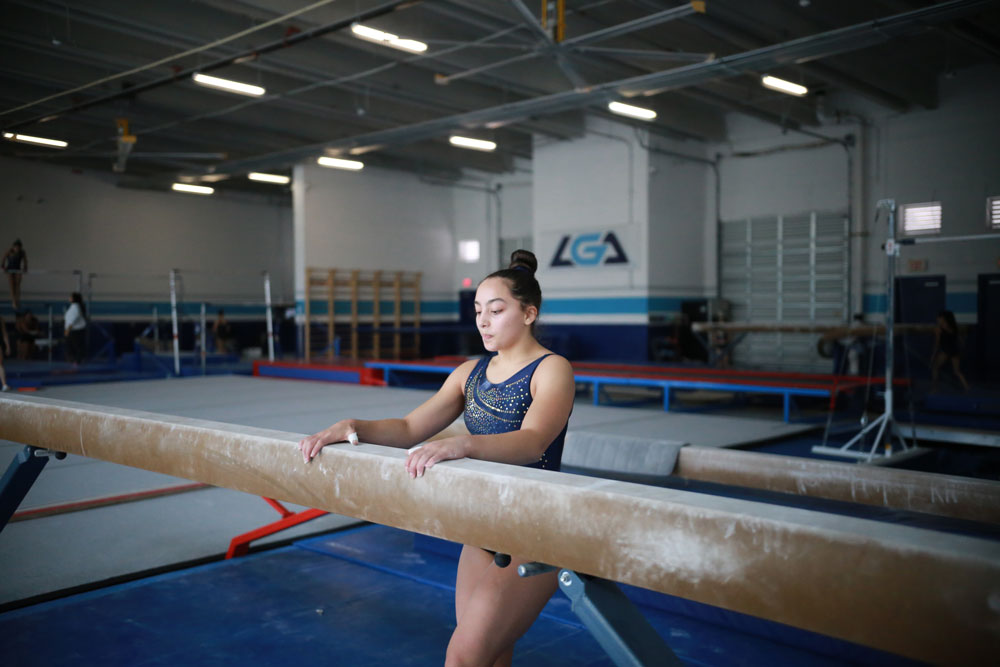 With the assistance of a sports psychologist, she was able to return to the sport. León came back reinvigorated under the tutelage of a new coach, Maria Gonzalez, and gym, Leyva Gymnastics Academy, which is named after Gonzalez's son, Olympic silver and bronze medalist, Danell Leyva.
Despite the renewed exuberance, León faced an uphill battle. She was not in condition to face the sport's rigorous demands. As Gonzalez put it, she was overweight and her muscles had begun to show signs of atrophy because they were not being used at the same rate she normally used them during her break from the sport. There was also mental rust to overcome.   
"Before I started coaching her, she would always compete nervously. I remember watching her compete and she would warmed up well and then when it came to her routine, she would lose her balance and she had a hard time keeping her emotions under control," Gonzalez said. "When she started training with me, I already knew her weaknesses. It wasn't easy and she had to get back to her old form. It was hard, but now she's another person."
In the gym, León provides relentless energy to her teammates. Between routines, she is chatty and quick to share laughter with those around her.
During a recent session, as she practiced a difficult variation of an aerial cartwheel followed by a progression of flips, she quickly got off the mat after each failed repetition with a smile on her face, laughing off the thoughts that at one point delayed her ability to progress.
After a handful of attempts, she finally landed her routine and unleashed a hearty laugh before announcing: "It's about time." She briskly moved on to practice dismounts.
"She's incredibly supportive as a teammate," said Paula Mejías, a teammate of León's on the Puerto Rican National Team for the past five years. "She's a very hard working person and she's always pushing herself to do better."
But León knows that there will be a time when she has to step away from the beam and stop competing.
Her time seeing a psychologist inspired her to pursue sports psychology. She hopes to help athletes who experience the same issues that once plagued her career.
"I fell in love with [sports psychology]," León said. "I love helping people and I figure I have an advantage. I want to use my experiences and past to push people to reach their peak as athletes."