She Took Her Name From Led Zeppelin And Now Rocks Crowds In Miami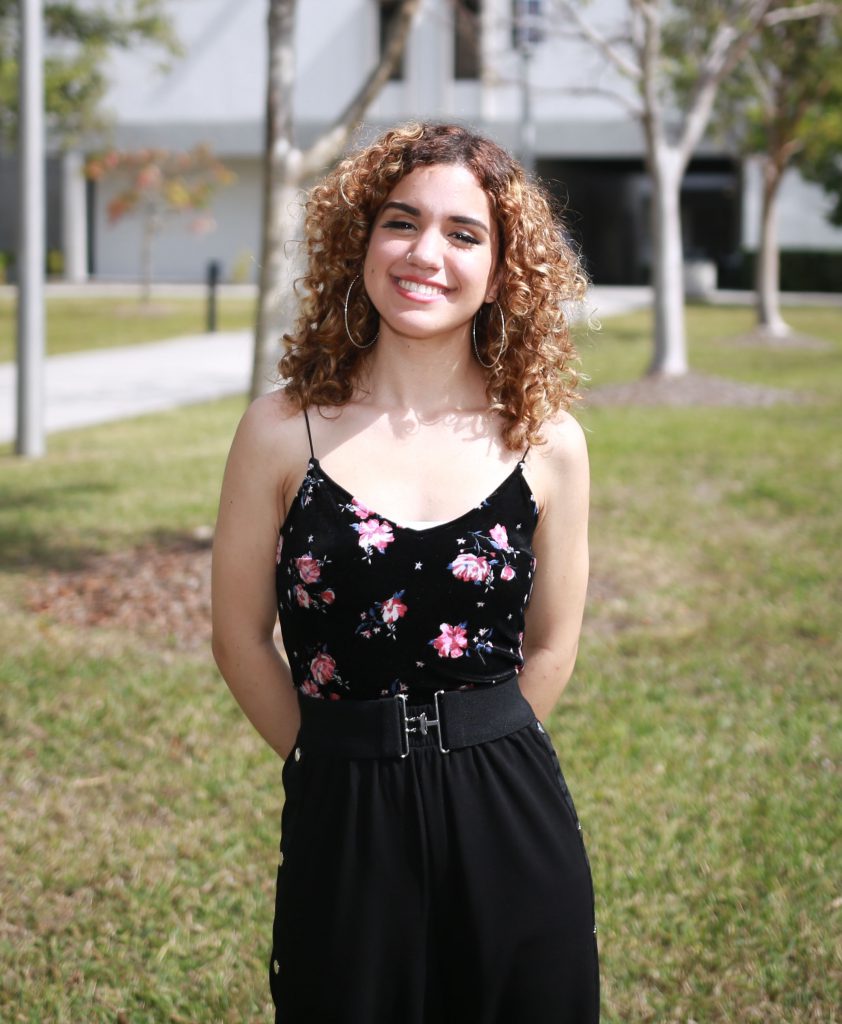 Music is something everyone can talk about. But for Arlene Rondon, it goes deeper.
Rondon, a 19-year-old jazz vocal performance major at Kendall Campus, goes by the stage name, Paiige. The name is in homage to Jimmy Page, the founder of her favorite band Led Zeppelin.
"The only name that really fit to be a stage name was Jimmy Page's last name," Rondon said. "So I got his name and added the two "I"s to make it like my alter ego."
That push to make it her own is what surrounds all of her musical efforts.
Rondon discovered her love for music at an early age. She started as a dancer when she was six years old. Then, at E. W. F. Stirrup Elementary School, Rondon joined the chorus after her music teacher, Steve Scherker, urged her to.
"I ended up doing solos and I just felt like I belonged on stage," Rondon said.
That breakthrough propelled the once-shy Rondon into a new vocal realm. She began to perform at concerts organized by Scherker, playing for larger crowds, introducing more people to her voice.
"When I got into music, I gained this confidence on stage that was just so powerful," Rondon said. "After I started singing and just being on stage, it opened a lot of doors for me and helped me express myself."
Rondon's potential was apparent from the beginning.
"From the time she was in third grade, she was an inspiration to me and everyone around her," said Scherker, who has since retired. "She was one of those that sang from somewhere deep inside herself."
As she progressed, Rondon became confident enough to share original music.
Her first performance of an original piece was in high school. As a sophomore at Doral Academy, Rondon spent an evening agonizing over a break-up. It led to her first song Inner Daily Thoughts.
Once she shared the song with her choir teacher, he convinced her to play it at small shows at the school.
"People would come up to me and tell me, 'You sang something that I've been wanting to say for a while,'" Rondon said. "That's when I realized I could also share my own music."
As Paiige, Rondon estimates she has written 80 to 100 songs, many of which are featured on her first album, The Honeymoon Era. She now performs in Miami with her backing band whom she met through the Kendall Campus R&B ensemble.
"I've always wanted a live band with me, but I just didn't know where to get it," Rondon said. "When we did it together, I realized that I really wanted them to be the ones performing with me."
The music she performs is comprised entirely of original songs, though her recording process is almost as unique as her stage name. Rondon records in a makeshift studio in the garage of her friend-turned-executive producer Matias Poro, a mass communications and film major at North Campus.
The two met in high school. They bonded over Sam Smith music and Poro took a liking to her voice and convinced her to join the high school choir.
"I heard her voice and was just blown away," said Poro, 20. "When you hear her voice, you just know she's going somewhere."
Three years into their friendship, they began working on music together. Rondon provided vocals and piano demo and Poro added a backing track. That collaboration led to her debut album, which combines a range of R&B, rock and funk into something that, in Rondon's view, aims to mean something.
"It's supposed to be the story of love from the very beginning all the way to the very end," she says of her 11-track album. "When it sometimes doesn't last and, you know, it's supposed to represent what happens after that—you find someone else and become happy again. It's not the end of the world."
It's that view that brings into focus what Rondon is—an artist that is unafraid of being personal with her music to forge a connection with her audience. It's part of what her producer describes as "the Paiige aesthetic."
"I wanted to bring the deepest emotions [my listeners] have, that they've suppressed for a while because they haven't been able to find a way to get it out," Rondon said. "I want it to be music that's comforting, music that speaks what they can't say with words."
That's evident to her earliest supporters before anyone else.
"I have 26,000 songs on my iPhone, a thousand LPs and just as many CDs. I can't think of anything that I have that touches more deeply than Arlene Rondon's voice," Scherker said. "I think she's going to be a huge star, if there's any justice in the world."